Every voice matters.
At Blizzard, that simple phrase is more of a rallying cry. It's one of the game developer's eight core values. You can see it inscribed at the base of a massive orc statue at Blizzard's main campus in Irvine, CA. According to this tenet, every employee should feel free to speak up, whether they're sharing a great gameplay idea or criticism of executive management. However, employees feel that company leadership have forgotten that every voice matters and have strayed from the rest of Blizzard's stated values.
It's been one week since Bloomberg Law revealed the details of a lawsuit levied against Activision Blizzard Inc. by the state of California. The suit comes after a two-year investigation that found a "pervasive frat boy workplace culture" that was hostile to marginalized groups, particularly women. In the days since, several members of Activision Blizzard's senior leadership have responded with their own statements, including CEO Bobby Kotick. But even as execs did their best to promise support and smooth things over, more stories of abhorrent behavior at the company have trickled out, making it clear that this a pervasive pattern, not an isolated event.
In the wake of the lawsuit and unsatisfactory executive response, Blizzard employees organized a walkout at the company's Irvine headquarters. Taking place earlier today, July 28, the strike drew hundreds of employees, many of whom wore shirts emblazoned with the Blizzard logo or logos and artwork from the developer's extensive game catalog. They carried signs reading "Believe women" and "Send the frat boys back to school." They wrote messages of solidarity on blue hearts that were strung up near the front gate. Even though there was obvious apprehension, the strikers remained in good spirits. Throughout the day, one phrase could be spotted again and again: "nothing about us without us."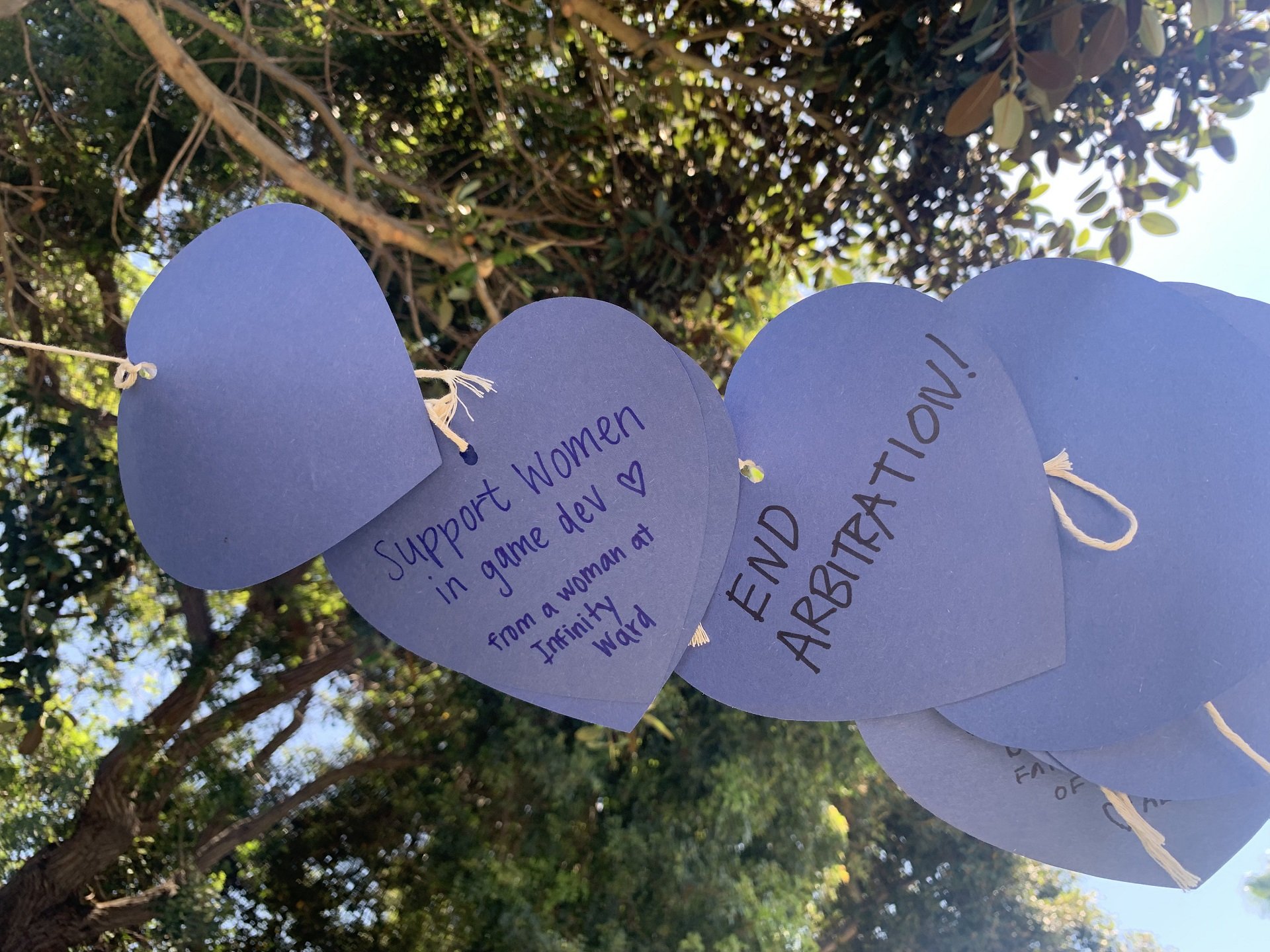 "It's a galvanizing cry around the demands that we formed, as well as our response to leadership's response so far," a current Blizzard employee told GameDaily.biz. "We feel that the statements and the actions that have been taken so far in response to the lawsuit do not represent us because they have not consulted with us."
Those who spoke with us asked to remain anonymous out of fear of retaliation, and many decided to protect their anonymity by joining the accompanying virtual walkout online.
"Everyone here today is taking an immense risk," an employee told us.
Though Blizzard provided paid time off to strike participants and executives have publicly pledged support, that's clearly not enough to assuage employees' concerns about the fallout of today's walkthrough. (That's not exactly surprising, given Activision Blizzard's lengthy history of brutal layoffs.)
As far as demands go, the walkout organizers laid theirs out in a statement sent to Polygon and several other media outlets:
An end to mandatory arbitration clauses in all employee contracts, current and future. Arbitration clauses protect abusers and limit the ability of victims to seek restitution.
The adoption of recruiting, interviewing, hiring, and promotion policies designed to improve representation among employees at all levels, agreed upon by employees in a company-wide Diversity, Equity & Inclusion organization. Current practices have led to women, in particular women of color and transgender women, nonbinary people, and other marginalized groups that are vulnerable to gender discrimination not being hired fairly for new roles when compared to men.
Publication of data on relative compensation (including equity grants and profit sharing), promotion rates, and salary ranges for employees of all genders and ethnicities at the company. Current practices have led to aforementioned groups not being paid or promoted fairly.
Empower a company-wide Diversity, Equity, & Inclusion task force to hire a third party to audit ABK's reporting structure, HR department, and executive staff. It is imperative to identify how current systems have failed to prevent employee harassment, and to propose new solutions to address these issues.
"We are hoping that leadership will see this as the beginning of a movement that is passionate about the change that we want to see," an employee said at the walkout. They also stressed that the movement was to "stand in solidarity with the victims" of harassment and assault.
While an open letter from employees criticized executive leadership and called upon Executive VP Fran Townsend to step down, those at today's walkout stressed their desire to work with Blizzard's leaders. "We want to work with them to improve… we know that they can be better," one said.
While Activision Blizzard is currently in the spotlight, the unfortunate truth is that these issues aren't limited to one publisher or its parent company. In 2018, League of Legends developer Riot Games was the subject of a Kotaku report on the "culture of sexism" at the company and later paid out $10 million to women employees while settling a discrimination lawsuit. Like those striking at Blizzard today, Riot employees staged a walkout in 2019 to protest forced arbitration. Ubisoft has also come under fire for harassment and abuse, and reportedly "nothing has changed" since then. The list is exhaustive, and there are still too many stories that haven't been told.
The pervasive nature of this behavior certainly doesn't excuse Activision Blizzard leadership from participating in it and encouraging it. Those participating in today's walkout acknowledged that Activision Blizzard was only one of the companies experiencing this toxic workplace culture.
"Just know that you aren't alone," an employee said. "It can feel incredibly isolating, going through these things… but it's not just you. You have a community of support around you."
That community of support was certainly in effect at Blizzard HQ today. Throughout the 80-plus-degree morning and afternoon, organizers reminded each other to take breaks and drink water. Across the street, a smattering of fans gathered in solidarity, offering water and snacks to passersby. Cars honked encouragingly as they drove by, resulting in enthusiastic cheers from the crowd. Other studios and gaming industry-adjacent companies sent food.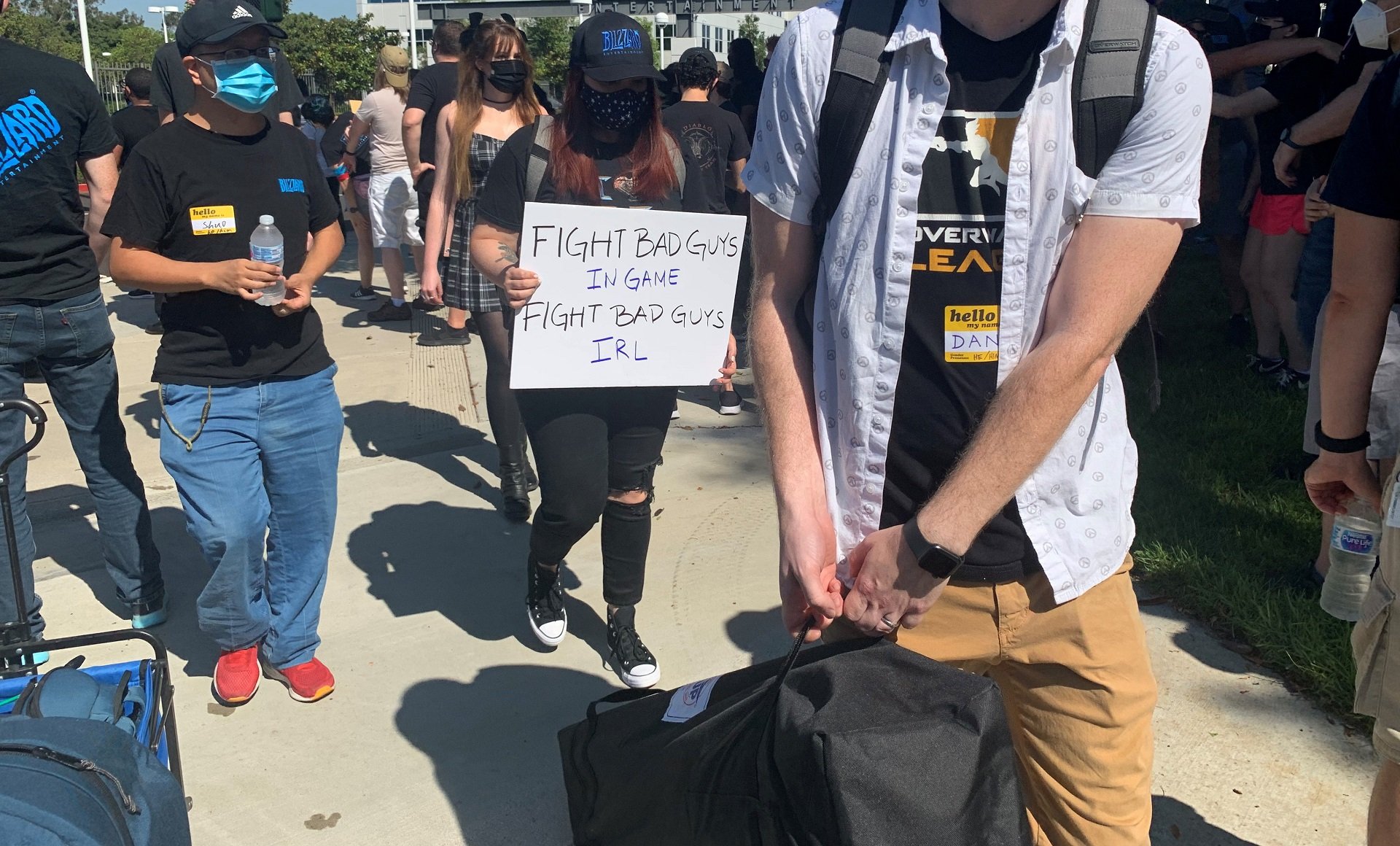 "I think the best takeaway here is that regardless of what company you are in, regardless if you are a fan or a developer, we are one community and we want to come together as one community," we were told.
The walkout might be over, but the movement is just starting. In order for them to trust Blizzard leadership again, employees say, they have to be willing to work together.
"They need to understand the values of the company they are leading, because we hold those values dear. Those are the values that we essentially live and breathe at work, and we believe in creating that environment."
"Across Blizzard, there have been a lot of voices speaking up," they said. "And it's encouraging, because it's not just me… it's not just you… it's everyone. Because we're all standing by each other, caring for each other."
After all, every voice matters.