Streaming viewership for Apex Legends has seen a significant decrease, despite the game setting a new viewership record at launch.
A new report from StreamElements and StreamHatcher said that Respawn's brilliant battle royale shooter set in the Titanfall universe has seen approximately a 75% decrease in viewership across Twitch, YouTube, and Mixer. The week after Apex Legends launched, it set the viewership record for a single game on Twitch, raking in a peak viewership of 40 million hours watched per week between February and March.
But as of late February to mid-March, Apex Legends has seen a steady decline, with 10 million hours watched per week. The report cited the decline to shifting focus from some of the major streamers across Twitch, YouTube, and Mixer.
Ten of the biggest streamers, including Ninja, DrDisrespect, Myth, and Shroud, to name a few, were all streaming the game from its launch and generated large viewership numbers. Now, according to StreamElements, it's only down to two.
Viewership for its closest competitor, Fortnite, has declined for the quarter-long period cited in the report, but its viewership number between Q4 2018 and Q1 2019 has only gone down by just over eight percent.
Although there was a decline in viewership hours when Apex Legends launched, Fortnite has since picked up steam again to surpass Apex between late February and early March, with a return of 118 million viewership hours, up from the 100 million viewership hours it had in February.
However, Apex Legends is still the third most-viewed game for the quarter, according to the StreamElements/StreamHatcher report, behind Fortnite and League of Legends, with the IRL category and DOTA 2 rounding out the top five.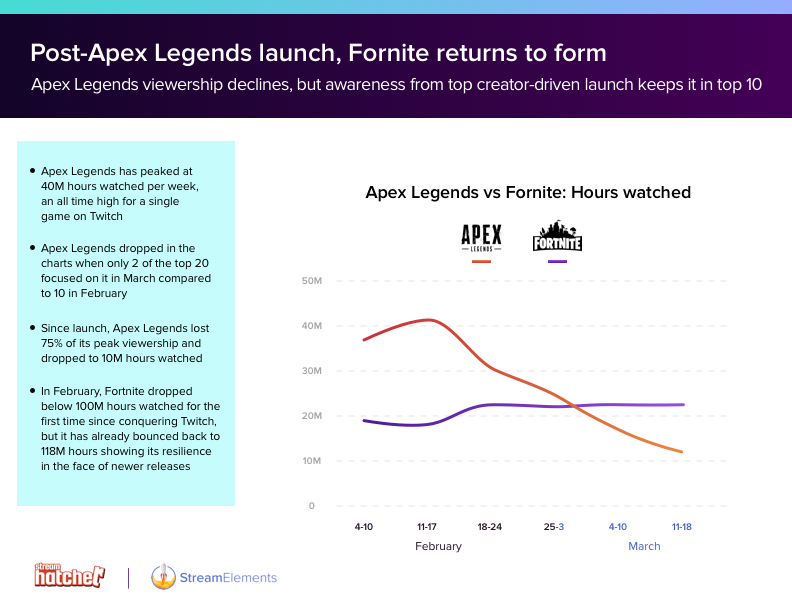 Apex Legends is still performing decently from a streaming perspective, but considering its success at launch, the viewership decrease from when it came out is a big crater. It doesn't help that there's not enough content coming in, despite the launch of its first seasonal pass in March to the point players are starting to leave playing the game on a regular basis.
The onus is now on Respawn to not only bring back those players, but welcome newer ones with more of a content rollout. We should hopefully find out what to expect on that front come E3 time.
Meanwhile, Grand Theft Auto V came seventh on the list of most viewed games for the quarter across all major streaming platforms, according to the StreamElements report.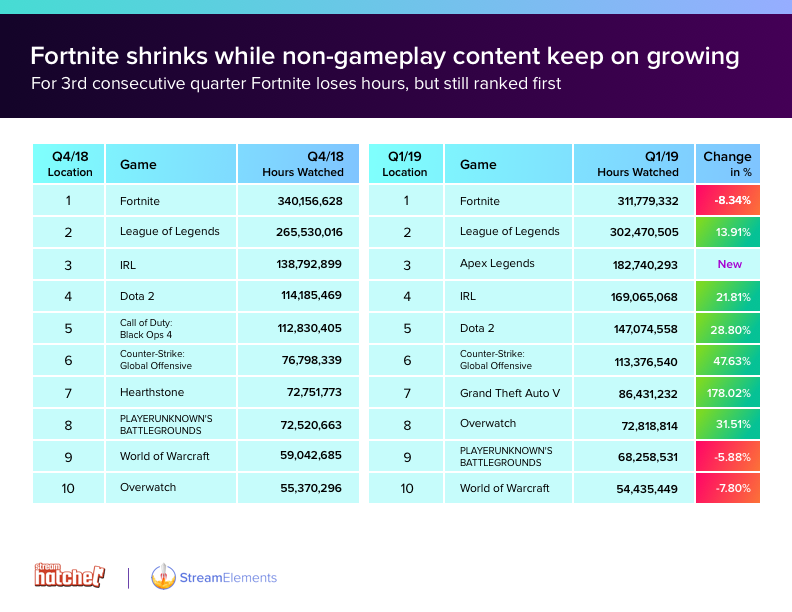 GTA Online has been out for almost six years and still has legs for streaming platforms like Twitch (where it was the third most watched game of February, compared to being the 14th most watched game in January), but for going through a small streaming renaissance recently with RP (role-play) streams, where streamers enact roleplaying for characters they've made in GTA Online on PC via specially dedicated servers.
It shows how much of a staying power the game has after almost six years on the market and how popular it is over its Rockstar stablemate Red Dead Online, which only launched in November of last year as a beta via Red Dead Redemption II.
In fact, at the time of publication, GTA V is the fifth biggest game on Twitch today, behind League of Legends, Fortnite, the Just Chatting category, and DOTA 2, with a viewership figure of just under 80k. Red Dead Redemption II, meanwhile, only has 230 viewers, and is outside Twitch's top 200 games, currently residing at 209.