At Casual Connect London (May 28-30), Sam Kennedy, CEO of New York-based Tigertron, will join a panel of VR experts in a special discussion on VR design, moderated by Cy Wise (formerly of Owlchemy Labs). Tigerton's motto is "Games That Inspire Change" and the studio calls itself "a first-of-its-kind environmentally-focused video game developer." The developer's new game is called Jupiter & Mars and interestingly weaves a message about ocean conservation and climate change into its main narrative.
GameDaily asked Kennedy about his mission and using serious real-world issues in games similar to what film and TV screenwriters and directors have done more of in recent decades. Should game developers be making use of the medium to deliver more real-world messages?
"Absolutely! But not just because I think these are important subjects to address with this medium, but also because they can make for really compelling stories and settings in their own right," Kennedy asserted. "As game makers, we don't need to necessarily go off to other worlds to deliver unique game concepts — some of the most interesting (or even frightening) stories are sitting right in front of us here on Earth. For instance, in the case of Jupiter & Mars, the issue of climate change and rising sea levels made for a really interesting backdrop to the game. If all the ice in the polar caps were to melt, we'd be looking at around 230 feet of sea level rise — at which point many of the Earth's coastal cities would be completely submerged.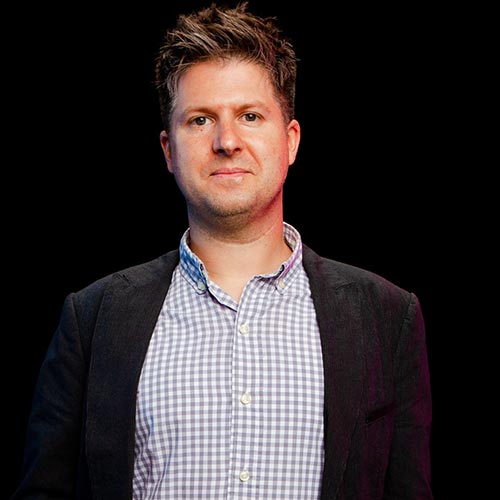 "To us, that offered not only a powerful element to the game's narrative, but also a unique gameplay experience for players as they make their way through submerged versions of cities like New York and London. Our hope is that doing so could leave a lasting impression on players and perhaps get them to think about the issue a bit — but even if certain players take no meaning from it, hopefully the subject matter at least provided a unique gaming experience. So I feel many of these sorts of subjects can be tackled in game form — as long as compelling game experiences sit at the heart of them."
Kennedy and co-founder James Mielke (Game Director) both made the transition from being longtime journalists to making games. They wanted to be able to take the interactive medium in a new direction.
"Ever since I first got my start writing about games two decades ago, I've always had a passion for helping the industry mature and reach new audiences, and for games to continually become more accepted by the mainstream," Kennedy said. "These days, almost everyone interacts with games in some form, so my passion is more specifically focused around using this medium we love to create experiences that can inspire positive change in players. I'm really looking forward to Casual Connect to meet with other like-minded developers to hear about and discuss what the future holds on this front."
Jupiter & Mars is not a VR-only title, but making the game for both PSVR and traditional PS4 simultaneously certainly posed a big challenge to Tigerton. And it doesn't make it any easier that VR designs are still very much in the gestation period.
"I think one of my major takeaways from working in VR was that one size doesn't fit all," Kennedy observed. "For instance, for vision/camera controls in our game — even for a slow moving underwater game where this could ostensibly be easy to solve, no matter how hard we tried to find something that would suit everyone, different players wanted different controls (head motion, analog controls, snap turns). Whether from a propensity to motion sickness, comfort in the headset, or simply preference, VR often requires building in more options for players. And it's paramount players find the settings that work best for them, as the enjoyment of the game absolutely hinges on it. But there were so many things that we found along the way when it came to building environments or cutscenes in ways that wouldn't contribute to motion sickness, feelings of claustrophobia, or other discomfort — I'm really looking forward to the panel to compare notes!
He added, "Thankfully the game we designed in VR lent itself well to non-VR. While a player might recognize that it's a VR-first game by its design (for instance, based on the first-person perspective), it is still very enjoyable in non-VR. In fact, many players have commented that they appreciate being able to alternate between the two modes, particularly if long sessions in VR don't work well for them. But you absolutely should design for VR first, then think about non-VR — it's much harder to make it work the other way around."
As any game developer will tell you, making games is hard. No matter how creative and talented and disciplined you may be, putting all the pieces together to craft an immersive experience is a significant challenge for many reasons. Kennedy experienced this first-hand.
"As you're planning, whatever time estimates the programming team gives you, double them," Kennedy said when asked what advice he'd give other studios.
"Also, making a VR/non-VR hybrid game is a lot more work than it seems. Everything — from how you display text, to logos, to menus, to size or resolution of objects in the world — is treated slightly differently going from 3D in VR to 2D on the TV screen. Engines like Unreal make it simple to do technically — but it's the finessing that takes time to make sure both experiences are exactly as you'd want them to be. Especially if you want to take advantage of VR to its fullest and still make things look right in non-VR. So while building hybrid games can be a great idea to reach a broader market if the game is well-suited for both displays, just budget time to make sure each experience gets the polish it deserves."
For much more on Jupiter & Mars and Tigertron, be sure to check out our in-depth interview with James Mielke.
Greenlit Content, parent company to GameDaily, owns and operates the Casual Connect event series.