Virtual reality never really saw the booming sales that some had hoped for, but the market has slowly gained users, especially at the most recent holiday season. Install base totals across the three main high-end headsets (Oculus Rift, HTC Vive and PlayStation VR) are probably in the range of 5-6 million devices, and that's certainly not a huge addressable market for developers to sell to. That doesn't mean that studios can't succeed, however. At Casual Connect London, we'll have a full VR track to discuss the challenges and opportunities in the space (more on that to come soon) and today we wanted to highlight an interesting talk from late last year at Casual Connect Eastern Europe.
Adrian Djura is CEO and founder of Flat Hill Games, a studio entirely dedicated to VR titles. There are many studios like Flat Hill, and they wouldn't be investing in VR if they couldn't survive. So what are the keys? Djura estimates that, on average, a VR game can sell around 12,000 copies on Steam, 29,000 copies on PSVR and an unknown quantity on Oculus — there's not enough public data for Oculus but the marketshare seems to be neck-and-neck with Vive. Doing some further calculation, he believes an above average VR title can amass unit sales just shy of 50,000 across headsets.
With this information, developers can plan accordingly to make sure their VR projects are not loss leaders. Setting realistic expectations for the scope of a VR game and not hiring a team bigger than about 10 people is a good starting point. He highlighted the addicting Beat Saber as a prime example of a title that's seen enormous success with a small team and limited scope.
While there are no universal rules to apply to every project, the pillars in the graphic below are what worked for Flat Hill. "The most important point is to focus on the strengths of your team," stressed Djura.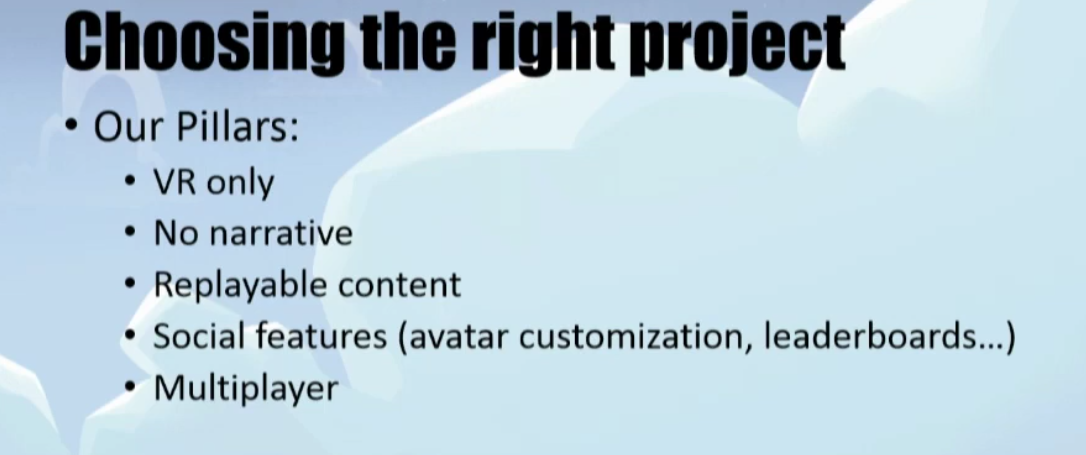 Check out the entire presentation below for more useful advice and stay tuned for details on the VR track at Casual Connect London, May 28-30.
Greenlit Content, parent company to GameDaily, owns and operates the Casual Connect event series.