Media Molecule, based in Guildford, UK, has become a staple of Sony's Worldwide Studios ecosystem. With franchises like LittleBigPlanet, Tearaway, and now Dreams, the developer has shown a knack for creativity and innovation that not only leverages the talent of the team, but puts the player's imagination in the spotlight.
The user generated content movement that Media Molecule fostered with LittleBigPlanet has flourished with Dreams (currently in Early Access on PS4), and studio director Siobhan Reddy talked all about her team's mindset in a special dev-on-dev chat at Casual Connect London last week with Ready at Dawn chief creative Ru Weerasuriya.
Interestingly, Reddy was not always passionate about games. Her interests lay more in theater, film, music and other hobbies as a little girl. Then one day she discovered Capcom's Resident Evil. It was an eye-opening experience.
"I think with Resident Evil it was the first game I ever played that actually made me feel something," she recalled. "And it eclipsed everything else at that point, and I was like, 'Wow this is where that games truly are the intersection of all these interests that I had.'"
Reddy had been working at Criterion for a number of years on the Burnout racing series, which she said was "amazing," but at the same time she knew that there was something more she could do in the field of interactive entertainment. She eventually met with Mark Healey, Alex Evans, David Smith, and Kareem Ettouney from Lionhead and Bullfrog, and the idea of doing something more in-depth and collaborative instantly drew her in.
"If I think about what they were doing… a lot of it was about that kind of tinkering, trying things out, [and] most importantly not everybody having the same experience. And I hadn't worked on anything quite like that. Everybody on the Burnout games played it in their own way, but they were making 'god' games so they were completely different," she said.
In the early days, when they thought about how to incorporate players and user generated content, there was a ton of discussion about how much hand-holding there would actually be. The hardest part was to learn to let go.
"We can't tell you whether a level's good. We have to let people be creative in exactly the way they want to be," Reddy continued. "We had to sort of figure out when we needed to hold their hand, when we needed to let go… and in Dreams, that's been exactly the same but amplified even more."
Weerasuriya, who's a passionate fan of Media Molecule and Dreams, pointed out how people can literally make anything they want to in Dreams, whether art, games or anything else. This kind of openness is something that we may start seeing more and more of in the games industry. Blizzard, for example, recently opened up their game scripting system for Overwatch with the Overwatch Workshop, and there have already been version of Flappy Bird, Uno and other games within the Overwatch universe as a result.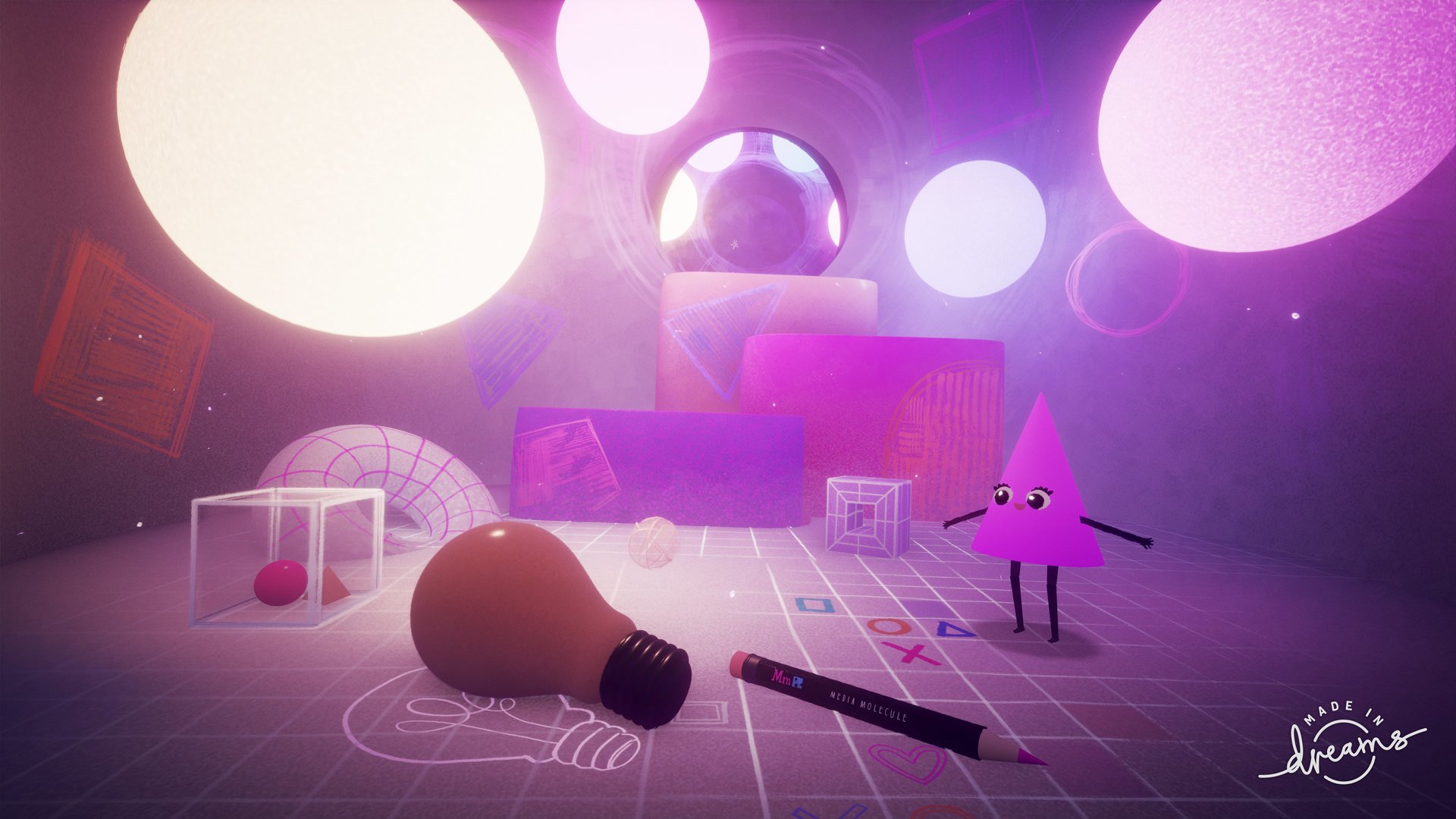 Modding, of course, is nothing new to the PC community, but Reddy believes a new generation of creatives is being spawned from experiences like Roblox and Minecraft. The expectations about what a game should be have changed.
"I think particularly in this generation of young people [who] have all grown up playing things like Minecraft and Roblox, the idea of games being just closed, is something that they're completely unfamiliar with," she said. "I think that's really exciting. It doesn't surprise me at all. In some ways that's what games used to be a long time ago. I've always thought that there's real joy in making games as well as playing them… I wouldn't be surprised if we saw more of that and we certainly know that it's enjoyable."
Being able to craft titles that present players with infinite creative possibilities requires a unique set of skills. This isn't typical game development. And most importantly, it necessitates that everyone bring their ideas to the table.
"I think we've always had a very ground-up approach," said Reddy. "It's not unusual [for us] to be co-working from the ground-up and trying things out, maybe a little more collaboratively. Maybe that's when we sort of take it to the extreme. But that's where all the magic happens. For us, it's really important to have moments where things can go off piece to make it so we can try some ideas.
"What we've always strived for is that anyone within the studio can influence projects that we're working on and so that part of the structure has always been really important," she continued. "It has to feel like it doesn't matter if you're a junior or you've been in the company for 13 years. You can actually influence the projects that we're making and the way that the studio is run. Culture is not a thing you can prescribe, culture is the people. And it's the people in the project that we're making so I know for me, I've always made an effort… if the people aren't happy in the project we're making, we'll feel it."
Fostering a positive company culture is something that Redhill Games' Matias Myllyrinne talked about at length during Casual Connect London, and you can tell by just listening to Reddy that she takes this very, very seriously at Media Molecule as well. Reddy may jokingly refer to herself as a "wild cat herder," and Weerasuriya admitted that leadership can sometimes become shrinks for their studio, but the fact is that this kind of approach is critical to making a product that everyone can stand behind.
"You can't band-aid it. If the reason people are unhappy is that, 'I'm not enjoying making the game,' you have to actually fix the problem," she explained. "I do semi-regular surveys with the studio of just how people are feeling. Particularly points when I think that there's really stuff that we need to air and try and fix. Make sure we're fixing the right things. We're always just listening, really.
"I feel like we're failing when there are people talking about problems and I don't know about them… Sometimes the emotion can take over everything because there's such passion. And so, I want to be able to make sure that everyone knows that they can just tell me, and we'll deal with it. There are very few problems that are insurmountable."
Part of good studio management is also having a vision and being able to see it through. It helps when a company like Sony gives its studios a fair amount of autonomy.
"I just feel so proud of everybody for pushing through. Because you know what it's like, that when you're doing something new, and you do know that it's a big risk, and you do know that you don't actually know how it's gonna end up… All we can do is push forward on the vision," Reddy commented.
"We worked really, really hard to fulfill it. We were lucky enough in our partnership, our relationship with Sony to be able to keep working on it. No [one] cut corners. Sometimes when you cut those corners, you'll be like, 'Ok, well we're gonna save ourselves three months by doing this thing,' and then you actually just end up not delivering on the vision."
Now that Media Molecule has been able to fulfill that vision, and Dreams has been delivered into Early Access, it's hard for the studio not to be enamored by its enormously creative community.
"We have a big TV in the middle of the studio [and we] just look at it constantly," said Reddy. "I think it's really hard not to just spend all day looking at what people are making. Because it's incredible to see fine art being made."
We'll have much more coverage from our Casual Connect London show in the coming weeks. Videos of sessions, including this one, will be made available on YouTube as well.
Casual Connect is now GameDaily Connect — stay tuned for more information on GameDaily Connect in Disneyland, August 27-29.