EA Play at E3 2018 had the usual suspects in their lineup, including NBA Live, FIFA, and Madden. The reveals fell in line with what we expected from EA, including a taste of what Respawn's new Star Wars game will be — revealed to be Star Wars Jedi: Fallen Order, set between the third and fourth films in the series.
And yes, even Battlefield V's battle royale reveal wasn't surprising — battle royale in multiplayer is the trendiest thing on the market, even though it's become more about trend-chasing than taste-making. EA peppered in a few interesting tidbits for EA Originals, headlined by Unravel Two, a follow-up to the heartstring tugfest from 2016, and Sea of Solitude, a title from Jo-Mei and Cornelia Geppert that explores pain, suffering, and loneliness.
Battlefield V battle royale mode is more than capitalizing on a fad
No one was all that surprised that battle royale made its way into Battlefield V, especially after Call of Duty: Black Ops 4 revealed that it too would incorporate the notorious (and near ubiquitous) multiplayer mode. There's a reason why we've seen, and will continue to see, battle royale dominate multiplayer first-person shooter games. It isn't just about trend-chasing (although that's certainly part of it) — it's giving players what they want.
"It makes complete sense to embrace a novelty that is popular with audiences," SuperData's Joost van Druenen told GameDaily via email. "To do that well, however, means EA has to ensure it retains its own identity and the 'feel' of its well-known properties. Ignoring this would to devalue the Battlefield IP and make it just another [battle royale] title. True game design and innovation come from providing an experience that is both familiar and novel at once. This is not the first time EA has had to answer this question."
After the Battlefield V multiplayer reveal, it appears as though everyone is running with battle royale for the sake of it. But as van Druenen said, Battlefield will have to retain the "feel," otherwise it will seem like an empty cash grab. But isn't that what this oversaturation of battle royale modes is these days: capitalizing on the flavor of the moment?
Michael Pachter, analyst at Wedbush Securities, disagrees. "I don't think oversaturation is the issue," he said to GameDaily over email. "PlayerUnknown's Battlegrounds and Fortnite success suggest real interest in the genre, indicating it is not a fad. Rather, I think this is a market expansion phenomenon. The key is to retain your customers, so Call of Duty and Battlefront [introducing] battle royale game play helps with retention."
EA Origin Access Premier is geared up to innovate "play anywhere"
EA's CEO, Andrew Wilson, came on stage to talk about EA's answer to the Xbox Game Pass. "The greatest disruption is the culmination of streaming and subscription," he said. "We believe that disruption is going to have profound impact in the next few years." Origin Access premier isn't just about providing subscribers with access to a library of 100+ games at launch — it's also a cloud-based game streaming solution.
"Origin Access Premier unlocks unprecedented levels of choice and value for players who love PC games," Wilson said in a statement to BusinessWire. "For the first time in a subscription, you're getting new games like Madden NFL 19, FIFA 19, Battlefield V and Anthem, and full access to more than 100 games from EA and other publishers with a single membership. We're thrilled to be opening up this new way for players to access great games, with the freedom to play what they want, whenever they want."
GameDaily will have a hands-on look at this cloud-based streaming service a little bit later on.
Battlefront 2 design director admits that they had to take a step back after their failure to launch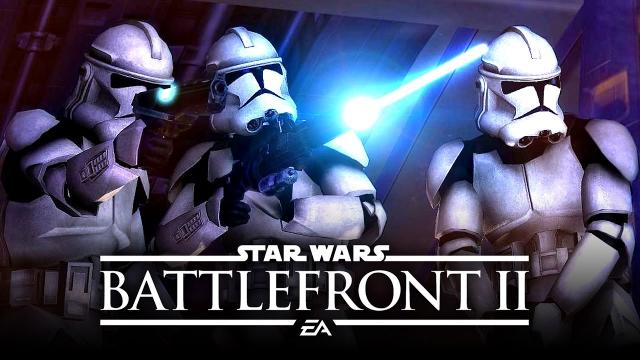 Things… happened with Battlefront 2 back in November. Lots of things. Bad things. Things involving loot boxes and explosive reactions from the gaming community. Instead of doubling down on their decision-making (and alienating their audience entirely), EA and DICE listened, pivoted quickly, and iterated the experience until it was more closely aligned with what their fans expected.
"We launched our game in November of last year and clearly, we didn't get it quite right," Dennis Brännvall, Design Director on Battlefront 2, said during today's EA Play. "So instead of coming out of the gates sprinting, like we really wanted to, we had to take a step back and make sure that we were delivering the game that our players really wanted. So, we decided to completely overhaul the progression system and add a bunch of new character cosmetics for players to collect instead."
A number of different updates are incoming for Battlefront 2, including new modes, maps, characters, and villains for players to enjoy from Clone Wars, as well as the new Solo movie.
Unravel Two builds a story that is about starting over with love
EA's first game in their EA Originals, Unravel, introduced the world to Yarny in 2016. This beautiful, heartbreaking puzzle-platformer stole the hearts of gamers and critics alike (including me). Today, EA announced that Yarny would be returning for a second installment in the series: Unravel Two.
"In Unravel, we used yarn to symbolize love and the bonds between people," Martin Sahlin, Creative Director at Coldwood Interactive, tenderly said on stage. "In the new game, we tear that bond up right at the start. But, when things are at their darkest. You find hope. You find a new bond. It's a game about fresh starts and second chances. The whole game is inspired by that spirit of optimism and togetherness."
Unravel wasn't about Yarny's story, though — it was about telling someone else's story of loss. In Unravel Two, Yarny meets up with another yarn-creature to cooperative solve puzzles and start all over again, seeking that spark that he lost when his yarn was cut at the beginning of the game.
In a surprise twist that netted the highest number of social mentions on social media, according to EA's live blog stats, Unravel Two is available now. Not tomorrow, not next week — right now.
Sea of Solitude's Cornelia Geppert is achingly raw talking about her game
Sea of Solitude (or SOS, as it's known among Jo-Mei team members) was announced as an EA Original back in 2016. We haven't seen or heard anything from the Berlin indie studio in a while, but when Cornelia Geppert took the stage during EA Play, it was clear that they've been working hard on a game that must have been incredibly difficult to make, especially in terms of the emotional investment.
"When humans get too lonely, they turn into monsters," Geppert said, leading off the Sea of Solitude presentation. "What makes this underlying concept so important and so unique is that nearly every human being can at least somehow can relate to or remember the feeling of being lonely.
In my case, I started writing the story when I was at the loneliest in my life. I think, as an artist, you process your emotional world by getting it out and putting it into your art. I'm still amazed that the concept just seemed to have flowed out of me, like right into my hand and onto the paper. Why so many people can instantly connect with the game is because it's not a made up story, even though it takes place in a fantastic setting."
Loneliness is a palpable human emotion and its effects ripple out from mere emotional consequences to a reduction in a person's lifespan. Building a game that tackles loneliness, pain, and suffering in a way that doesn't beat the player over the head with it requires subtlety and deftness in story.
"We achieve all of this in playful ways, so that players who want to simply enjoy a fantastic experience can do so," Geppert continued. "But a player who wants to look a bit deeper can reveal a whole emotional world beneath it all."
This isn't the first time that we've seen indie developers tackle big emotions with game mechanics and a fantastical environment. Papo & Yo, published in 2012, explored the torment and incredible sadness of childhood physical abuse and the anger inflicted on a young child from his father. At first, nothing was overt. But as the story progressed, it became clear that Quico (the boy) and his usually benign monster weren't what they seemed.
It'll be interesting to see how subtle (or not) the emotional cues are throughout Sea of Solitude. It'll be available to play early 2019.
Andrew Wilson talks about listening, learning, and striving to be better
EA has been listening, according to Andrew Wilson. "We are always trying to learn and listen and strive to be better," he said, likely in reference to the Battlefront 2 lootbox debacle from November of last year. "There are some things that we hope come through [when you play our games]. First, that at the very core is choice — you as players get to choose how you play, what you play, when you play it and what devices you play on."
This particular set of choices that Wilson is referring to is, of course, the EA Origin Access premier service that will spin up later this summer.
"In making those choices, you feel that you are treated fairly. No one is given an unfair advantage or disadvantage for how they choose to play. For every moment you invest, you feel like you are rewarded and you are given value for that investment. And most importantly, that the games are fun — that we move past the grind and that these are experiences that truly enhance your lives. And so, as we think through all the things that we're trying to do, know that we want to be better and that we want to make great games."
The sentiment that Wilson was getting across is crystal clear: EA is listening. They know that they've done a lot to hurt the trust of their fan-base over the years, not to mention the perception garnered from a myriad of studio closures that has made the gaming community frown. EA isn't just listening to what the gaming community wants, either. It's listening to what the community needs in order to continue moving forward socially.
"As much as we love making games and as much you love playing them, there's something that's even greater that we could do together," Wilson said with a smile. "The power of this community when we come together to do amazing things is profound."
He talked about EA's initiative, Play To Give, and how through the power of the gaming community, they raised a million dollars to give to three charities — HeForShe, PACER's National Bullying Prevention Center, and Ditch The Label.
"[These charities] share our vision for a more inclusive world," Wilson continued. "A world where representation and equality are not something we strive for — they are the standards. And where bullying and exclusion are not an everyday thread."
EA's commitment to diversity, representation, and equality aren't soundbites, either. They've been walking this talk for a number of years. It's wonderful to see the big publishers continuing to push equality in the industry and the gaming community as the norm, rather than an outlying "initiative."
Anthem is "the evolution of a BioWare game"
On a personal note, I've always had a soft spot for BioWare games. Jade Empire, Star Wars Knights Of The Old Republic, Dragon Age, Mass Effect — these are the cornerstone games that make up my love of RPGs. And as Casey Hudson returns to BioWare to continue on the game that was his brainchild, there were a lot of questions about what to expect from Anthem.
Casey Hudson, Mark Darrah, and Cathleen Rootsaert took the stage at EA Play to talk about Anthem, what it isn't, and what makes it special. Hudson talked at length about Anthem being the "evolution of a BioWare game" but that it's a "more dynamic and living world." It isn't an MMO. It isn't a "multiplayer game with story sort of bolted on the side."
How Darrah talked about it was "Our World, My Story." Other players get to play with you in this shared world. The weather, the time of day — what you the player are experience, the other players throughout the world are experiencing together. "We're seeing the same thing," Darrah said.
Rootsaert, lead writer on Anthem, talked about the challenges of making a story-driven game in a multiplayer setting. Story moments are entirely single player at base after a mission is completed. The comparisons to Destiny are easy to draw, but the emphasis on storytelling in a solo setting and multiplayer in combat is different than how Bungie handles things. The story happens at home.
"This is where your story really lives and breathes," Darrah said.
Anthem appears to be designed as a service from the ground-up, based on what Rootsaert said next. "We are designing it so that we can add story for years to come," she noted. "Players always want more story." Only time will tell if Anthem can subvert the issues that Destiny (and Destiny 2) have suffered with the promises of a 10-year experience being diluted into two separate games, fracturing their community. Whatever happens, the community is clearly excited.