Epic Games has received a brand new investment of $1.25 billion from several investors, the company announced in a press release.
Seven investment firms – KKR, ICONIQ Capital, Smash Ventures, aXiomatic, Vulcan Capital, Kleiner Perkins, and Lightspeed Venture Partners – were responsible for this injection of money, and will join Tencent, Disney, and Endevour as minor shareholders.
Epic cited their experience with technology, entertainment, professional sports, esports, and live events that brought the companies together.
"We're excited to partner with the finest minds in the financial, sports, and entertainment communities," said Epic CEO Tim Sweeney. "This reinforces Epic's position of leadership in real-time 3D technology, and accelerates our ability to improve the way people play, work, and interact with the world."
Added Ted Oberwager of KKR, one of the firms involved in the investment: "Epic Games has fundamentally changed the model for interactive entertainment under the company's visionary leadership. Alongside a special group of investors, we are thrilled to support Epic's dedicated employees and the passionate community of players and developers that lies at the heart of everything that Epic Games does."
But this deal could be the last of its kind, at least for now, according to a new report by analyst firm Digi-Capital.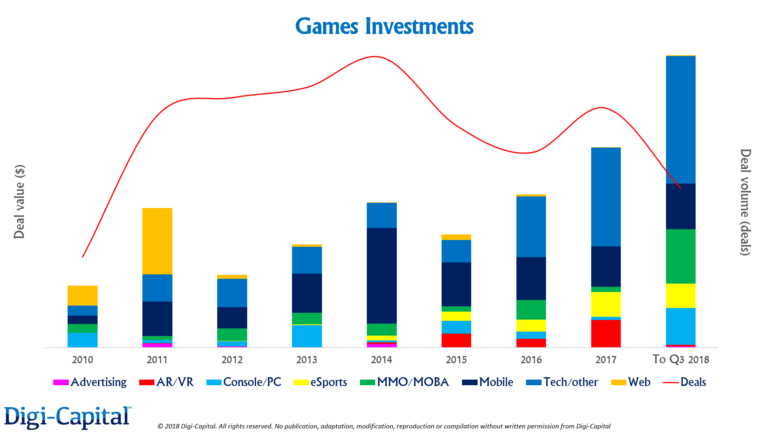 This calendar year alone, $25 billion worth of investment and deals within the games industry have been made, with $5 billion just in investments in what is already a 50 percent year-over-year (YoY) improvement. M&As (Mergers & Acquisitions) have made a staggering $20.1 billion for the past nine months, although half of that came from the South African media company Naspers selling its two percent stake in Riot Games owner Tencent for over $10 billion.
All before the end of the year.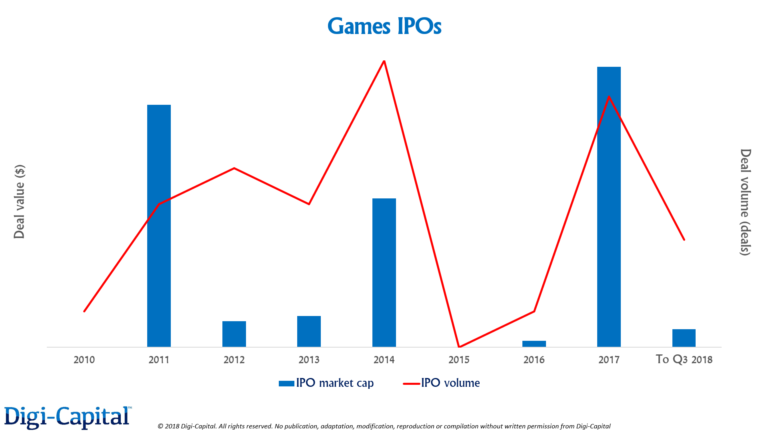 It's not all good news, though: IPOs (Initial Public Offerings) in the games industry have plummeted by 90 percent YoY to $1.1 billion, down from $17.1 billion in 2017. As Digi-Capital's managing director Tim Merel put it, the industry has now hit an impasse and expects this to be the peak for now.
"This year's record $25 billion games deals over just 9 months could mean we've hit the top of the market," Merel said as part of a new report from the firm. "Last time this happened, games investment and M&A plunged into a games deals ice age at the lowest level in a decade. The games deals cycle has swung from boom to bust twice already since 2010, so the next 6 months will determine if history repeats itself or the dollars continue to flow.
"$3.8 billion was invested in games companies between January and September, which is 50% higher than the previous full-year record from 2017. Games M&A also hit a near record $20.1 billion in the first three quarters. But as Digi-Capital forecast at the start of the year, the games IPO market has plunged over 90% from 2017's record $17.1 billion to just $1.1 billion in 2018."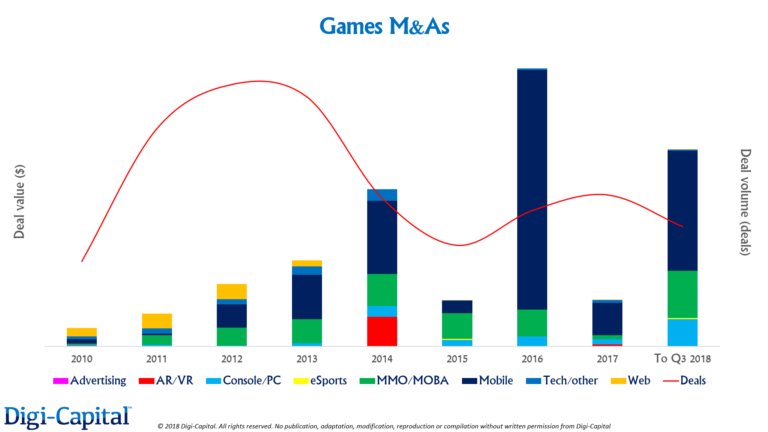 Merel said the new round of investment money into Epic Games is what's pushed games investment past the $5 billion mark this year, but warned that "these dynamics could still be early signs of game over (for now)."
He concluded by saying that while it was a massive year for deals and investments in the industry, "nobody wants to be without a chair when the music stops."