The mobile arena is one of the most lucrative sectors of the games industry, with reports suggesting that it generated around $71 billion in 2018. This puts the market on track to a $180 billion valuation by the year 2021. But while the battle for users' wallets seems to be well in hand, the battle for their time sees the advantage move to another challenger: video apps.
According to a new report by mobile analyst group App Annie, time spent in video apps has seen a 125 percent increase since 2016. In 2018, video players and editors took up a total of 15 percent of players' time on mobile devices, where time spent in games leveled out at around 10 percent. Perhaps unsurprisingly, social and communications apps took up the majority of mobile users' time–about 50 percent of total time globally.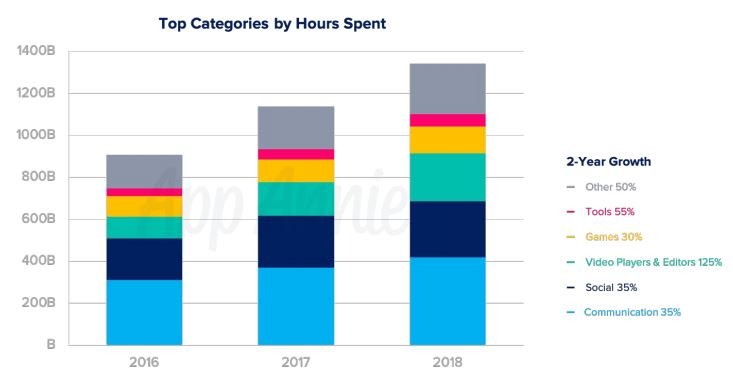 These statistics are interesting because we've become conditioned to accept that the lucrative mobile gaming economy is the be-all-end-all of device usage. But knowing that more of our time is spent watching and editing video brings a new perspective to the business side of mobile.
App Annie's report also includes a number of other statistics that offer insight into the mobile market. For example, on average each mobile device in the U.S. has eight games installed on it, and we only play roughly two to five of them per month. Even if we're not necessarily playing all the games we download, these stats contribute to the growing rate of engagement with mobile games. Overall, the growth in mobile game engagement increases at a rate of roughly ten percent per year, according to the report.
The increased engagement with games is driven largely by existing gamers who are investing more time in games than they have in the past, as well as a growing user base, particularly in "less mature markets who are using smartphones for the first time." In the U.S., users aged 16-24 years made up 19 percent of all mobile users, with the remaining 81 percent being 25 years or older.
App Annie's report also provides some eye-opening statistics regarding how mobile gaming compares to other channels, such as consoles and PC. According to the report, worldwide consumer spending on mobile games during the last four years reached nearly $300 billion, which is more than PC, handheld consoles, and home consoles combined. This gap is expected to increase over the next couple of years.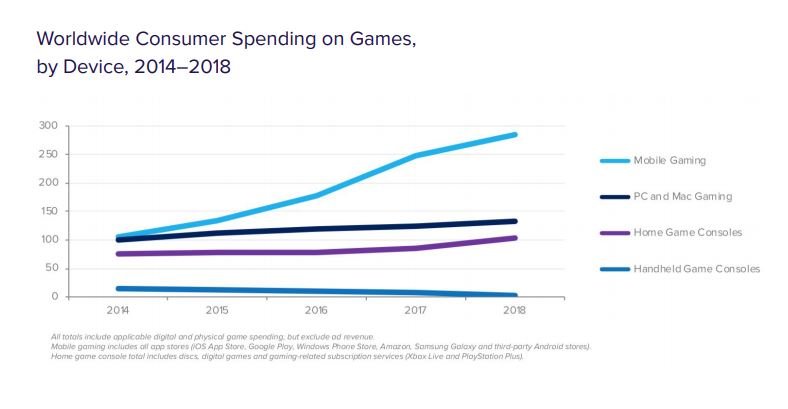 These numbers were driven mostly by games in the battle royale genre, such as Fortnite, PUBG Mobile, and the Japanese game Knives Out. The battle royale genre alone has been able to generate $2 billion in revenues, according to Sensor Tower. In the hyper-casual game market, revenue is generated largely via in-game ads. Games like Helix Jump, Happy Glass, and Rise Up led the pack in this category in terms of downloads.
Looking forward, App Annie expects the next mobile hit to be Niantic's Harry Potter: Wizards Unite, the next AR experience from the team behind Pokémon GO. App Annie estimates that the game will hit $100 million in revenue in the first 30 days, a prediction that certainly feels safe given the unparalleled successPokémon GO has seen.

The mobile market is one of the fastest-growing markets in the gaming industry, and it's unlikely that it will slow down any time soon. As advertisers continue to seek new opportunities in mobile, new markets begin to emerge. According to the report, markets like India, Brazil, Russia, and Indonesia are seeing surprising growth when it comes to game downloads. There's no telling how much untapped potential exists in the mobile market.