GameStop has been going through some pretty difficult years as it tries to navigate a marketplace that's increasingly selling products via digital storefronts. The company's net profit dipped 63% last quarter. And its used game sales fell (GameStop's bread-and-butter) fell more than 20% while the company laid off its ThinkGeek marketing and website administration staff.
At the time of the layoffs, a GameStop spokesperson explained, "We have a very successful pop culture and collectibles business, and this business decision represents our continued focus on growing that business through harnessing the power of greater efficiencies and strengths within our global teams."
It's clear that this emphasis on games culture is the path that GameStop management believes will enable it to bounce back. This week, the retailer announced a partnership with global design firm R/GA to "double-down on retail innovation." The idea is to make GameStop an essential part of gaming culture, a destination for fans to visit to get experiences they can't find elsewhere.
"The partnership with R/GA's Austin and Chicago teams is part of GameStop's broader business transformation strategy to evolve its efforts in cultivating innovative customer-centric opportunities to bring video game culture to life in every neighborhood," the company stated in its press release. "GameStop's renewed customer-first focus stems from qualitative and quantitative research led by GameStop and R/GA that identified four major motivations gaming fans have for playing video games – immersion, achievement, creativity and community."
The details on exactly how R/GA's research will lead to impactful changes for GameStop's business remain vague at this point. The retailer has indicated that it will look to pilot new concepts in select stores around the nation, including offering esports competitions, locations that focus completely on retro gaming software and hardware, and offering new ways for players to demo games.
Frank Hamlin, Chief Customer Officer at GameStop, stressed that the company's "investment in this partnership is the next stage of our transformation and growth strategy."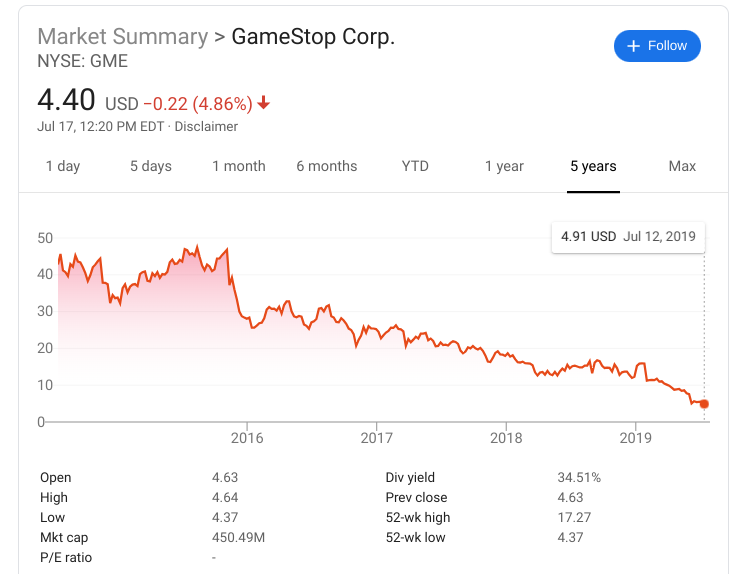 That strategy will no doubt have to be presented in a far more concrete manner to shareholders during GameStop's second quarter earnings presentation, expected in September. As it stands right now, the company's stock is trading at a five-year low (see chart at left) and is down around five percent today at $4.40. On Monday, the retailer also announced the completion of a "modified Dutch auction" tender offer, resulting in the buyback of 12,000,000 shares at price of $5.20 per share. Barron's explained that this "comparatively unusual" tender offer (which is not an open-market transaction) is part of a larger $300 million buyback plan that was announced earlier in the year.
Newly minted CEO George Sherman noted that purchasing shares appears to be "financially compelling" for the company, but some disagree.
"The company notes that it views purchasing shares as financially compelling, which would be understandable if a clear multi-year financial road map had been laid out," Credit Suisse analyst Seth Sigman wrote last month, according to Barron's. "We did not get that this quarter."
The birth of a new console generation historically has been a boon for GameStop and retailers in general. Both the PlayStation 5 and next-gen Xbox (Project Scarlett) are on track to launch by holiday 2020. It's conceivable that the arrival of these new platforms could give GameStop a much-needed shot in the arm, but it doesn't change the fact that the physical software market has shriveled to represent just 17% of total game sales, according to the 2019 ESA Essential Facts report.
At the start of the year, it was thought that a sale could be "imminent" for GameStop, but the company quickly took itself off the market, citing a lack of available financing. That said, analysts that GameDaily spoke to remained surprisingly optimistic about GameStop's chances.
"Private equity makes a lot of sense at these prices. If they can stabilize free cash flow, they're a pretty attractive investment," Wedbush Securities' Michael Pachter told us.
Regarding the R/GA partnership, he added: "I think they have another 7 – 10 years of runway, so I think it makes sense to try to make the shopping experience better. They generate over $7 billion in sales, so they're far from going out of business."
David Cole of DFC Intelligence agrees with Pachter's assessment. "I think there is room for GameStop to stay relevant," he commented. "In the early 21st century, GameStop was a prime driver of industry growth. They did that by opening stores in strip malls close to consumers. This made buying games more of an impulse decision. Mom is at the grocery and the kids hit GameStop. There could be some potential to reinvent that type of close to the consumer business model in the digital age."
Between its previous ownership of the Kongregate business and, of course, its own GameStop.com portal, some have wondered whether GameStop missed an opportunity to truly reinvent itself for the digital age. With Epic Games Store, Discord and others, we're seeing a new crop of digital retailers challenging the Steam monopoly. Could GameStop have positioned itself as a Steam alternative?
Cole was quick to note that GameStop already does offer some digital delivery "but no one has had much success replicating Steam."
IDC's Research Director, Lewis Ward, doesn't believe GameStop ever had a chance to fully go the 100% digital route.
"GameStop has a significant catalog of digital games for sale and at one point made a foray into cloud-streamed gaming if you recall, so it's not like they've ignored the shift to digital distribution," he told us. "The problem is that it's hard for them, and similar retailers, to find a sustainable edge over what other stores can do, and more importantly, what other digital storefronts can deliver. I doubt that if GameStop aggressively moved to become the next Steam five years ago that they'd be a top five digital PC game distributor today. Their strength is physical stores, and to be a clearinghouse for used game discs and consoles, and the bottom line is that the Web offers better and better alternatives year after year."
As Lewis alluded to, GameStop purchased both Impulse (a digital platform owned by Stardock) and streaming tech firm Spawn Labs back in 2011, only to shut down the Spawn Labs in 2014, noting that consumers were not yet ready to adopt that kind of service. GameStop's analysis was correct, as OnLive and other cloud services failed to make any significant impact. This year, with Google Stadia and Project xCloud, streaming games may finally become a viable business, but it doesn't appear that GameStop will be a part of it.
And if you ask Lewis, GameStop may be going the way of Tower Records and Blockbuster sooner rather than later.
"It's a good bet that by the time Project Scarlett and PS5 stop shipping that GameStop's physical stores will all be shuttered (as well comparable retailers' stores in other global markets)," he remarked. "That gives these companies until 2028 or so to either become a leader in some other aspect of the industry or cut their losses and liquidate.
"Now R/GA may deliver some secret sauce that makes some noise in the market and boosts GameStop results over the next few years, but in the long-term I think the Web is just too efficient at delivering games and that will only improve in the coming years."
(Updated 7/17/19) Added reference to purchase of Impulse