Google held its first-ever Stadia Connect stream, hosted by Stadia boss Phil Harrison. The stream offered no major surprises, as many expected multiple business models. Stadia will offer a "game pass" style subscription, called Stadia Pro, for $9.99 per month when it launches in November. Beyond that, Google will also make a free version of the service available in 2020 called Stadia Base. This will allow players to purchase titles directly on a one-off basis.
Stadia will initially launch in 14 countries and is promising more than 30 games from major publishers. Some of the notable titles featured during the stream included Baldur's Gate III from Larian Studios, Gylt (a new title from Rime studio Tequila Works), Ubisoft's Tom Clancy's Ghost Recon: Breakpoint and The Division 2, Get Packed (Moonshine Studios), and Bungie's Destiny 2. The latter will be included for those who pre-order Stadia's Founder's Edition (on sale now for $129).
The Founder's Edition comes with a limited edition Night Blue controller, a Chromecast Ultra (necessary to play in 4K HDR at 60fps on your big screen TV), three months of Stadia Pro, and a buddy pass to give a friend three-month Stadia access as well. Additional controllers can be purchased for $69, but Stadia also supports non-Google game controllers or a mouse and keyboard setup. Notably, Destiny 2 on Stadia comes with all content and you are free to transfer your Destiny Guardian from any other platform to your game in Stadia, as Bungie announced cross-save support for PC, Xbox, PS4 and Stadia today. Those who opt for the Founder's Edition will gain first access to choosing their Stadia name too.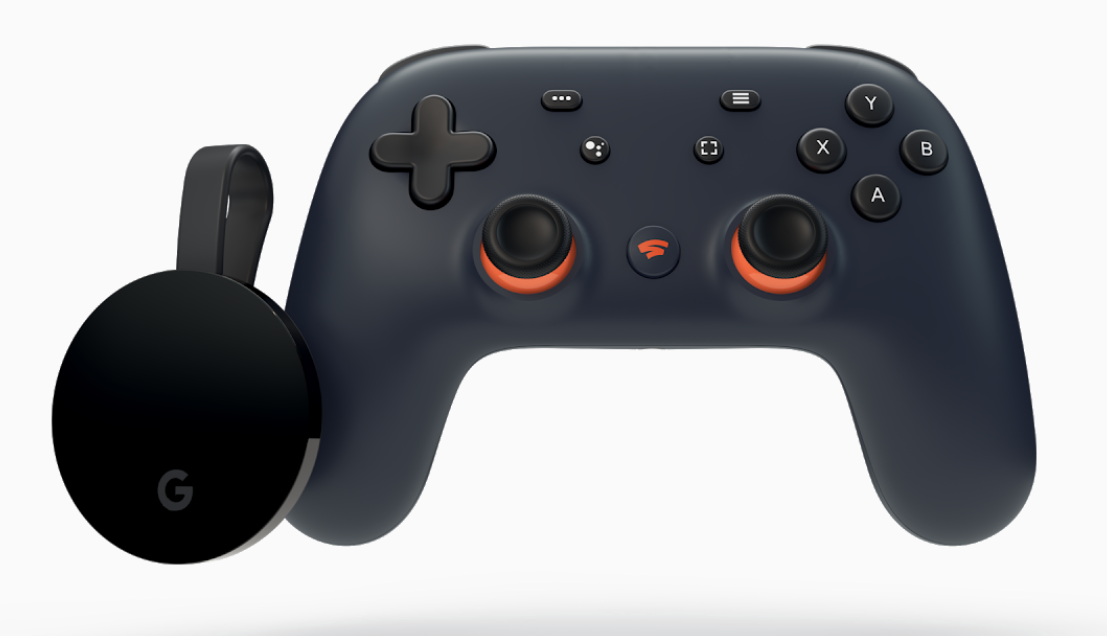 From a bandwidth perspective, players will need at least a 10Mbps connection to play with 720p resolution and stereo sound. A 35Mbps connection will enable 4K HDR visuals and 5.1 surround sound. Harrison stressed at the outset of the stream that Stadia's goal "is to make gaming more accessible for everyone" to bring together "one global community of gamers." He said that Google is already "working with hundreds of leading publishers and developers around the world" and that they will have "nearly every genre" represented.
Being able to play on almost any screen that runs Chrome or uses a Chromecast is enticing, but Google still has to prove it has the content to attract gamers. And part of securing that content will be making sure revenue splits with developers are attractive. Given that the Epic Games Store now offers an 88/12 split, Google will need to think carefully about how it positions itself. When reached for comment, a Stadia spokesperson simply told GameDaily, "We aren't disclosing any financial relationships with partners/publishers." Former Ubisoft and EA executive Jade Raymond, who was brought on to lead studios and presumably bolster Stadia's first-party content, was not present in the Stadia Connect stream either. The spokesperson promised that more information on first-party titles will be coming "in the very near future."
The base version of Stadia (not available until early next year) is clearly going to be leveraged as a marketing and acquisition tool for the streaming platform, but it's also not offering any of the games in 4K. And given the myriad options for digital game purchases, it's unclear what great advantage a consumer would have in purchasing a title, when that's merely providing cloud access and not a complete download or ownership. As Kotaku's Jason Schreier pointed out on Twitter today, "A Netflix model would be one thing, but who's going to buy games on a streaming-only platform? Microsoft has a great opportunity here to blow Google out of the water with Game Pass."
That said, Stadia Base should be a good form of advertising for the service, as Piers Harding-Rolls, head of games research at IHS Markit, observed: "Google needs a free tier for the Stadia service to serve users wanting to purchase access to new games only without paying for the Stadia Pro subscription but, perhaps more importantly, to act as a user acquisition channel for those trying out demos or trailing content via promotional links across YouTube and other sites. This tier will also allow Google to monetise this B2B marketing opportunity using the Stadia platform. It is not a surprise that Google is delaying launch of this free tier until 2020 as it gives the company the best shot of maintaining service quality as it scales its users."
Harding-Rolls remains somewhat skeptical of Stadia until he sees more content that won't be available everywhere else. Moreover, Google has yet to showcase what the power of the cloud could offer in terms of new gameplay possibilities, like 1000-player battle royale matches or something similar. This was something Newzoo's Candice Mudrick stressed in her talk on the cloud at Casual Connect London, and it could be a differentiating factor for Stadia, but Harrison and team have yet to really focus on that yet.
"The games shown were a mixture of new releases from third-party game publishers and developers, which will be available on other platforms, and catalogue titles already available on other platforms. There were a couple of Stadia launch exclusives, but these were not titles that will drive significant consumer adoption," warned Harding-Rolls.
"I believe major exclusives will be key to driving consumer awareness of and desire to adopt cloud gaming services. As such, with the selection of content on offer, Google has not yet demonstrated that it will be better placed to engage gamers than the established console and PC storefronts and that is likely to somewhat hinder its ability to attract subscribers."
David Cole of DFC Intelligence is skeptical as well, commenting to GameDaily that he just does not see a good value proposition for the average consumer.
"Once again, [I'm] just not impressed," he said. "[They are] going after people that probably can't afford a PS4 or Xbox One. Historically, a $10 a month price is a non-starter. Nvidia has Geforce Now which is free plus purchase. The free version [of Stadia] is what most people will go for, so the business model remains unclear. The Pro version simply will not attract a major audience."
Business models and value propositions aside, there's another major elephant in the room that Google would be wise to address before launching Stadia this November: online safety. Given that Stadia will create a bridge between Google's YouTube video empire and its streaming games, it's imperative that Google take a hard look at ways in which they can safeguard against rampant online toxicity. As GameDaily contributor Mike Futter pointed out after Stadia's initial reveal, YouTube is simultaneously Stadia's biggest strength and a glaring weakness.
"YouTube is a great place for gamers to find tips and tricks, watch critical deconstructions, and check out games before dropping cash. It's also a deeply broken refuge for white supremacists, conspiracy theorists, and toxic creators," Futter remarked.
"With Stadia, Google is targeting the wide range of game consumers, including minors. YouTube's house isn't in order, and it's incumbent upon Google to address this looming safety and security problem before ushering in even more children to a platform that features harmful content amidst a sea of otherwise innocuous gaming videos."