HTC Vive this week announced three new versions of the Cosmos VR headset that will join the original Cosmos. Coming in at $500*, $700, and $900, respectively, are the Cosmos Play, the original Cosmos, and Cosmos Elite. Then, at an undisclosed price, Vive will be offering the Cosmos XR to provide pass-through AR functionality.
(*Note: Ars Technica was told after the initial price disclosure that HTC is still evaluating the Cosmos Play bundle. "After additional consideration, we're taking a closer look at the price point for Cosmos Play to ensure the best value to our customers, and we look forward to sharing more soon," a representative said.)
As a base model, the Cosmos Play only has four inside-out tracking cameras, but it can be upgraded with a faceplate for $200 to bring it up to the six cameras of the original Cosmos. The Elite model, meanwhile, comes with original Vive controllers and utilizes SteamVR and base stations for more accurate tracking, but it's still capable of inside-out tracking. All versions of the Cosmos will offer the same flip-up design with a 1,440 × 1,700 LCD display.
As if three new headsets wasn't enough, HTC also teased a prototype for a more futuristic-looking XR device called Proton. And the company intends to offer two distinct models of that device as well. One Proton will become a standalone headset, while the other would need to be plugged in a powered by a PC or smartphone.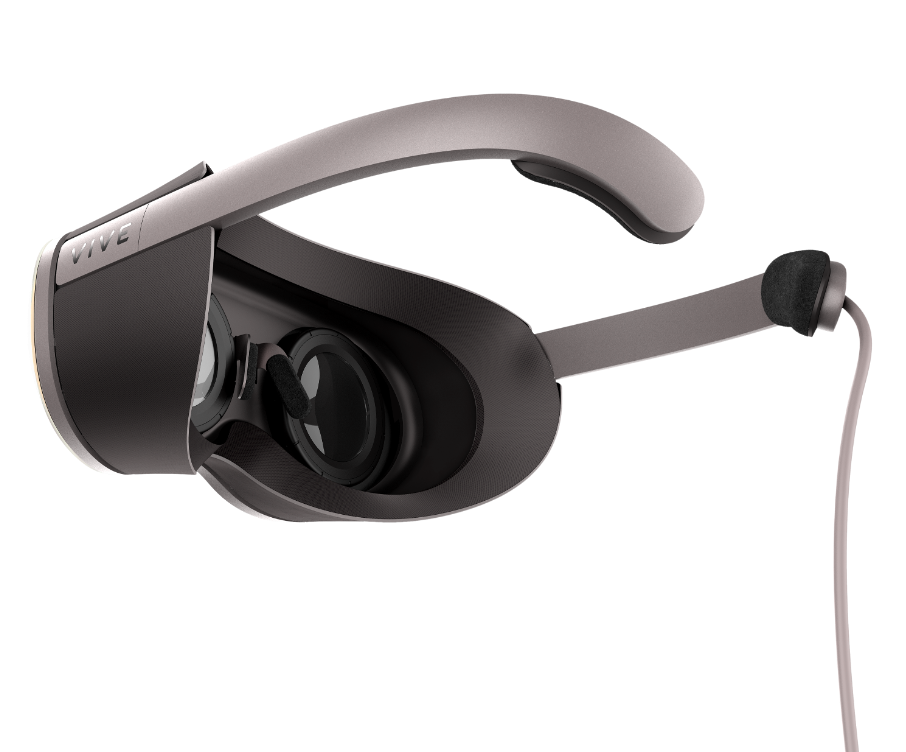 Keep in mind that consumers can still purchase the original Vive, the Vive Pro, and the Vive Pro Eye, and then there's the Vive Focus and Vive Focus Plus. It's a staggering variety of headsets to offer all at once, and it has to be confusing on some level for the potential customer base.
As Jeremy Horowitz rightly pointed out on GamesBeat, "…the current array of choices is a guaranteed formula for disappointment, if not near-term abandonment. The risk of everything flopping — 10 headsets splitting 1-2 models' sales — is the reason some ideas are best vetted internally at the prototyping stage, rather than sending them out into the marketplace to succeed or fail on their own merits. I would much sooner have a single viable Vive headset option than a collection too large to parse or support."
Even if HTC Vive discontinues some of these products, the odds of their cutting back to just three devices, as Oculus currently offers, is unlikely. And for Oculus, the reality is that the company has doubled down on its most popular offering, Oculus Quest. This is a strategy that seems to have given the Facebook-owned VR business a bit of momentum over the last year, whereas HTC Vive appears to be in decline despite the company throwing numerous headsets at a wall to see what sticks.
The latest XR quarterly update from SuperData shows that Oculus Quest sold 317,000 units in Q4 2019 and was only edged out slightly by Sony's PSVR. Even the Valve Index, which costs a hefty $999, sold over 100,000, but none of the HTC Vive headsets charted. Another research firm, IDC, backed up this trend with data provided to GameDaily that shows HTC losing significant share of the market over the last 12 months (see chart below). Facebook, meanwhile, has more than doubled its share.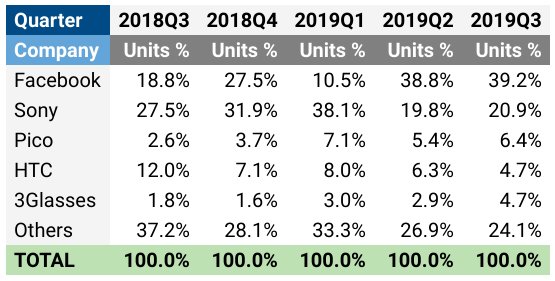 "I don't think there's any doubt but that over the past year Oculus' VR business has made significant headway relative to HTC's VR business," IDC research manager Lewis Ward told us. "Obviously, some parts of the enterprise market are hard to accurately gauge and HTC has focused more on the enterprise space than Oculus in the past couple years, so perhaps HTC's enterprise efforts have quietly paid off in ways that aren't yet apparent, but my general impression is that Oculus in 2019 took a significant step forward overall relative to HTC in VR."
Of course, with Apple strongly rumored to be entering the AR space soon, and Apple CEO Tim Cook repeatedly calling AR the "next big thing," it's not a surprise to see HTC Vive and others looking more closely at this part of the XR/MR spectrum. Once Apple throws its weight behind something, it's going to be tough for companies that are not already entrenched to even compete.
"It's interesting that HTC is now pivoting into AR with the Cosmos XR plate and the more prototype-oriented Proton," Ward continued. "Our research certainly shows that the enterprise market for AR glasses/headsets will pick up in the coming years, and that in the long-term that AR will be a larger overall market than VR, so I think the general direction makes sense. It's all about the execution. I think there have been some build/hardware concerns about HTC's VR products in recent years, so I hope those issues have been ironed out.
"I certainly think there's a chance that HTC's relatively open and modular approach to the VR-AR spectrum will pay off for them and that they can emerge as an important market player in this broader 'spatial computing' space if they execute well in 2020 and 2021."
Executing well might be critical for HTC's business as a whole. The Taiwanese firm decided to pivot away from its smartphone business, selling a portion of it to Google for $1.1 billion, and put a much greater emphasis on its VR plans. But revenue has been slipping badly, and last quarter HTC posted a net loss of about $78 million. VR/AR/XR is very clearly a long-term play for a company like HTC, but the data presented thus far doesn't paint a very pretty picture. At some point, a company needs to start building momentum. As CNBC noted, HTC's share price has dropped a whopping 97% from a high in 2011 before it ever got involved in VR.
With declining headset sales and slow uptake for the Viveport subscription service, Vive needs to act quickly to right the ship. The world may not quite agree with Xbox boss Phil Spencer that "nobody's asking for VR," but HTC Vive needs to think hard about what its next steps should be so that people at least ask for their VR.