Microsoft's indie game platform, ID@Xbox, is celebrating the launch of its 1,000th indie game since it was announced at Gamescom in 2013 and a lot has changed in the last five years. It's been almost 15 years since the advent of Xbox Live Arcade. It was a challenging time for indie developers. Tommy Refenes, co-founder of Team Meat and co-creator of Super Meat Boy described getting an Xbox 360 dev kit in those early days as "either pulling teeth or dropping cash."
GameDaily chatted with Chris Charla, director of ID@Xbox, about the evolution of XBLA's Summer of Arcade, the creation of ID@Xbox, and the ways in which they support developers on their platform.
"The biggest thing that's changed since we launched Xbox Live Arcade and today honestly has been just the development scene and the developers," Charla said. "Obviously, we sort of pioneered digital downloads on console with Xbox Live Arcade. We saw incredible [support] from independent developers, once… getting your games out there was possible. To me, it all goes back to Summer of Arcade 10 years ago now: Castle Crashers and Braid and everything like that."
ID@Xbox wasn't just about getting more indie games onto Xbox, either. Instead, Charla described the lead-up to launch as a "listening tour." Developers needed the ability to self-publish their games and more than that, they needed to have a "direct relationship with Microsoft as a platform holder versus going through a publisher."
"To even talk about this now seems kind of bonkers as it didn't use to be that way," Charla noted. "That was the real thing we did with ID: work with all our internal processes, programs, and back-end; to make sure that was ready for independent developers to get going. The net result has been amazing. Having shipped a thousand games, [it's time] to take a moment and pause. Look at what all the developers have been a part of the program have accomplished [and] what the program itself has accomplished. [It's helped] them bring this amazing variety of games to our players."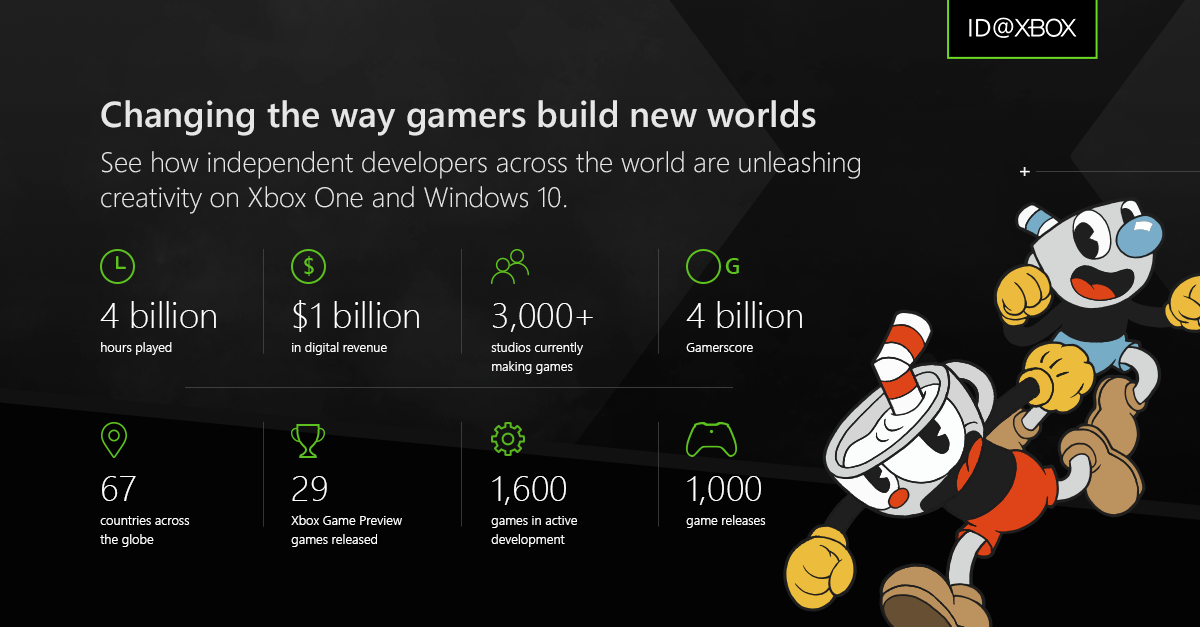 Players have clocked 4 billion hours in playtime since ID@Xbox launched, netting Microsoft $1 billion in revenue. 1,000 games may be impressive, but at this moment there are an additional 1,600 games in active development. In all, 3,000 studios in 67 countries around the world have launched (or are actively developing) games on ID@Xbox. Microsoft isn't as hands-off as you think they would be, especially with thousands of studios clamouring for attention and access.
"The number one thing we offer is platform access," Charla clarified, when I asked him about what Xbox does to work with indie developers. "We provide development kits at no cost to independent developers. We've sent kits to more than 3,000 studios, which is amazing. The developers get the same form of platform access as any other publisher on Xbox in terms of all our backend tools, all our documentation. They know what's going on with future technological improvements we're making at the same time as every other dev."
Because they don't act as a publisher, Xbox doesn't get involved in the everyday minutia of game development. The "democratization of game development" means that there's no reason for indie developers to lean into Microsoft for development support. The tools, like Unity, Unreal, and Game Maker, are readily available.
"We do get a lot more invoked in terms of platform stuff [like] certification, making sure all the technology certifications are met, how to do ratings," Charla said. "We have fantastic documentation on how folks can obtain ratings worldwide. We're really involved in terms helping people get through certification.
"We also try be as involved as possible in the marketing and promotions side. We are really looking to amplify. These games are made by these independent creators. They are self published. They are the publisher. We're really looking to amplify the promotion they are doing. We try and make sure games from independent developers are a huge part of the mix at shows like PAX, E3, and Gamescom."
Xbox isn't just "giving lip service" to the ID@Xbox games, either. GameDaily was treated to a preview of Tunic, an exclusive Xbox indie game that Microsoft showcased at E3 this year. At PAX West this year, the Xbox fan event was dedicated entirely to ID@Xbox titles and the floor was chock full of people. Gamers love indies on Xbox, it would seem. (The numbers don't lie.)
"We couldn't have a successful platform without independent developers and the great games they are bringing," Charla emphasized. "We are always excited to feature them and to work on promoting them to help players discover this amazing diverse content that's coming from independent developers."
With 1,000 games on the platform and another 1,600 on the way, discoverability is still nightmarish. Charla agreed that this is a big problem for developers, but was quick to remind me that "digital marketplaces are [only] a decade and a half old." Platform holders like Xbox have a responsibility to ensure that the developers aren't having their games buried a half second after launch. Xbox takes a multifaceted approach to addressing discoverability concerns, but Charla admitted that it's a complex problem that won't be solved overnight.
"We don't have all the answers," Charla said. "We are constantly working on improving discoverability for developers. One of the things I love about the Xbox Store, [is that] my Xbox Store experience is going to be little different than yours [and] a little different than someone else's. We do a lot with recommendations. We also [do a lot] from an editorial perspective with the store. I don't want to speak too much for those guys, but we work with them. They're fantastic. They do a really good job of making sure the content they are showing is diverse. They don't want the store to always look the same or always have the same game in the front.
"Off-store, we work hard to make sure people know what's coming. We talk about games on Xbox Wire, our official news site. We feature games at shows, of course. Of course, it's a challenge. It's a challenge of digital age [and] it's one that we are at the forefront of."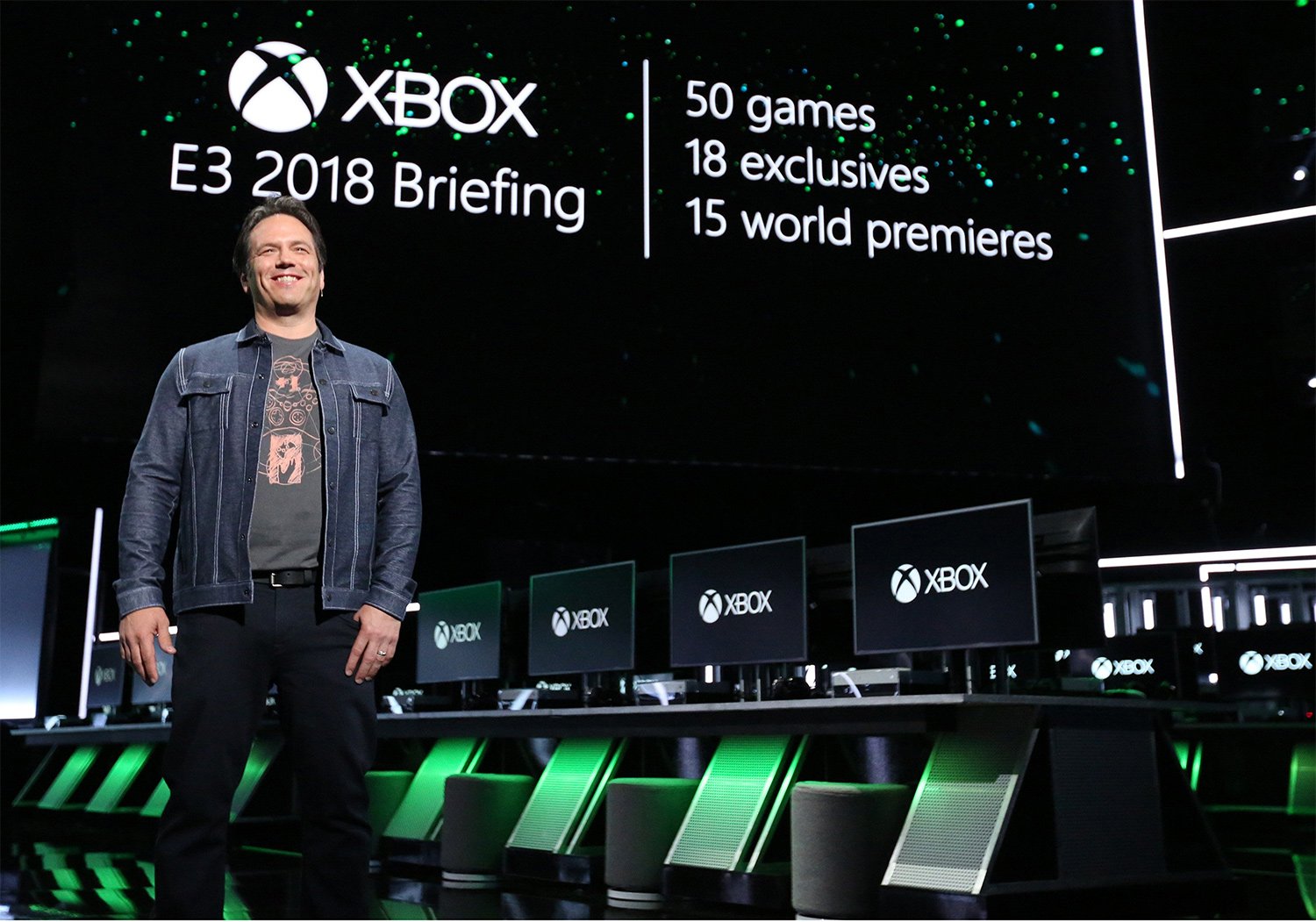 What Xbox is doing differently than all of the other platform holders is in their Xbox Game Pass initiative. Charla laid out an interesting point: Xbox Game Pass is curation on a larger scale. "[This] has turned out to be a fantastic discovery mechanism for games," Charla said.
Xbox chooses (and works with) developers to put their content in Game Pass for wide consumption. Forza Horizon 4 enjoyed a huge launch and it was a flagship title for Game Pass in September, especially. Being able to play a triple-A title without shelling out $60 is a big draw. Now that Game Pass is coming to Windows 10, Xbox will likely see further saturation (and success) for this kind of curation and access. And as ID@Xbox grows, further curation will be required, of course, but Xbox is dedicated to making sure its indie developers share the stage with their triple-A colleagues.