Improbable helps game developers build believable online worlds with its bespoke technology, SpatialOS. Now, that task is much easier and accessible for those building games on the technology with the recent release of the SpatialOS Game Development Kit (GDK) for Unity. With these kits, Improbable hopes that developers find it easier to create vast, dynamic and unique worlds.
This GDK for Unity includes a 200-gamer, first-person project that allows developers to experiment and tinker with their ideas for what their vision of a multiplayer game will look like.
GameDaily.Biz met with Improbable's Head of Product Marketing, Paul Thomas, and Head of Comms, Daniel Nye Griffiths, to speak about the SpatialOS GDK for Unity, as well as the upcoming launch of the SpatialOS GDK for Unreal Engine.
In its first week, the SpatialOS GDK for Unity achieved over 2,000 developer sign ups to use it. "What we're trying to do is basically make it really fast for people to build multiplayer games," said Thomas. "It comes with all the multiplayer networking so that developers don't have to do any multiplayer networking. It comes with feature modules to allow [easy] solutions to common multiplayer problems, like player movement and shooting. And it comes with a cool starter project where you have 200 players in a free-for-all scenario. You can obviously use the power of SpatialOS to scale that project up to more players, with NPCs, and things like that. It gives people a really good base to start building multiplayer games."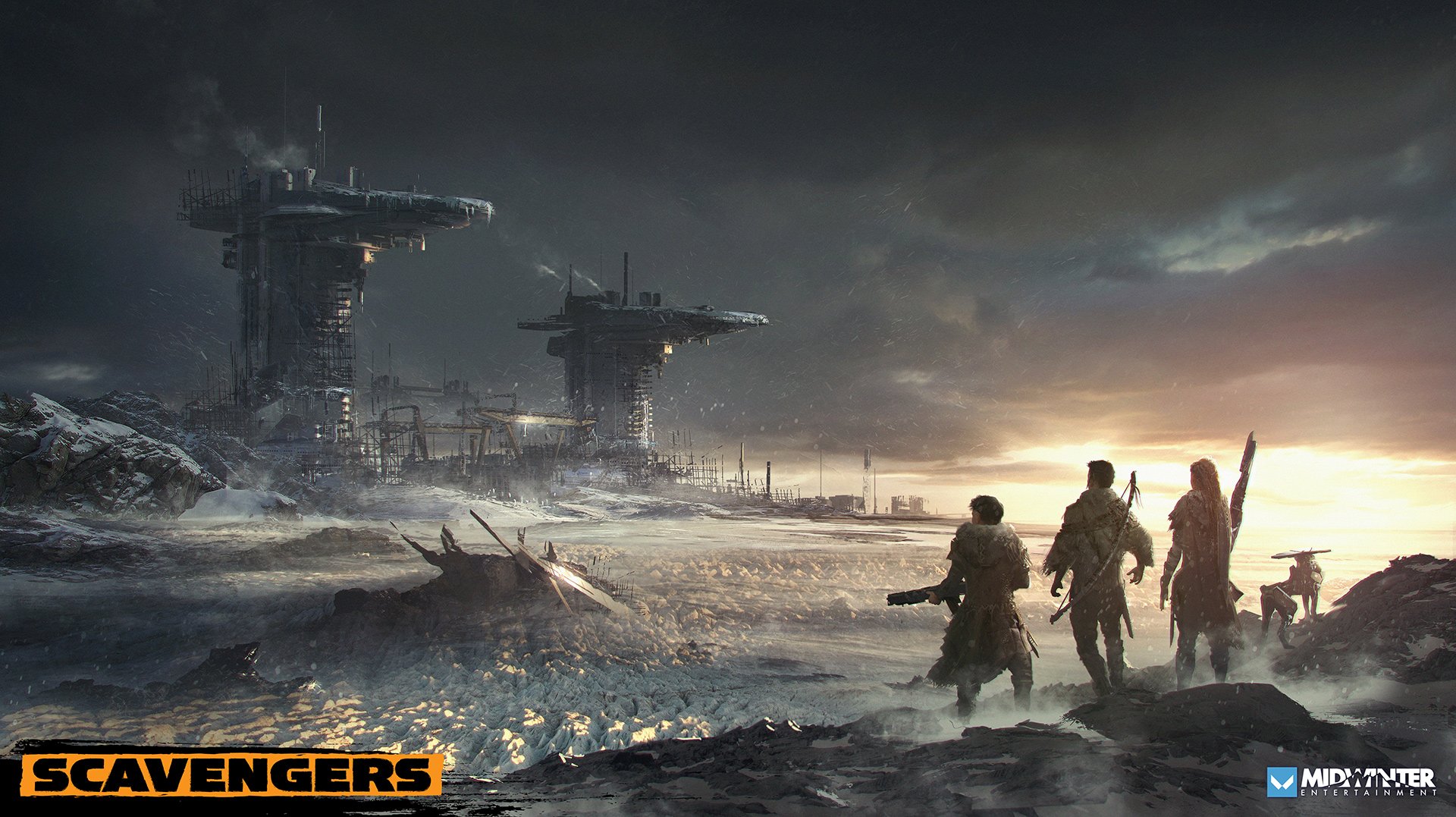 There are several games currently in development or early access that utilize SpatialOS. The first into Early Access was Spilt Milk Studios' Lazarus, a space MMO where the player becomes a pilot in a universe that ends every week, complete with a map that's twice the size of Austria. Additionally, Bossa Studios released its survival exploration game Worlds Adrift into Steam Early Access earlier this year.
Also using SpatialOS is Scavengers from Midwinter Entertainment, a studio founded by former 343 Industries studio head and Halo 4 Creative Director, Josh Holmes; the game is heavily inspired by his Halo 5: Guardians' multiplayer mode, Warzone. Right alongside that company, Berlin-based Klang Studios is working on Seed, a simulation MMO that, according to its developers, lets players "interact and collaborate to create a world driven by real emotion and aspiration."
According to Thomas, for those looking to use the SpatialOS GDK for Unity, there is no limit to what their games can do with Improbable's tech.
"What we're doing is expanding the possible gameplay you can do. Traditionally, when you make a multiplayer game, you're constrained by one single server. So you can say you have a 64-player game with a handful of NPCs or you could have a world that's 3km by 3km. With Spatial, you can go beyond that, test a much broader canvas to start thinking about different gameplay."
"You can go for a massive online persistent MMO with 10,000 players and hundreds of thousands of NPCs, something very, very vast and big like that. But you can also have smaller experiences. For example, there's a lot of interesting space in just extending what you see in the Battle Royale genre and session-based gameplay."
Thomas continued: "Our partners at Automaton have a game in development called Mavericks. The interesting thing there is they have a Battle Royale with 1,000 people, but what I really find interesting is the gameplay mechanics they've put in, like footprints so you can track people. They've added a cool fire propagation mechanic so you can start a fire that spreads across the map and changes the world. Or you can add destructible buildings and things like that."
"So I think even looking at smaller scale games, we add a lot of value in terms of the new gameplay you can start adding. I'm just interested to see what people do with this extra power – what they can come up with."
While Battle Royale games and MMOs are obvious standouts for genres that best fit with SpatialOS, Thomas introduced some other ideas of genres that could benefit from the technology.
"I also think there's a space for very interesting MMORTSs as well," he said. "An RTS where you have persistent systems, like telling AIs to do things and then coming back to them a week later and seeing what's happened is an interesting space."
"I also see interesting mobile experiences that could come up. Having these worlds where you lay down some interesting things and then come back a few weeks later to see how they've evolved and changed, and the massive player interaction. Say for example with Pokemon Go, we can actually roam around the world and battle on the streets. I can see something like that working very well. Again, these are just ideas we've had and talked to people about. It's about giving people that flexibility and the ability to explore these ideas."

Griffiths added the possibility of events in a game that will have a massive, rippling, and lasting impact on its world as something that has people excited. One example he gives is how someone on one side of the map can do something that'll have a knock-on effect for the rest of the world in real time.
"There's a whole bunch of different angles you can take, some of which are about much larger player numbers or a much larger map, but there are other things you can do which are taking a relatively constrained game experience, a smaller map, a smaller number of players and adding richness to the game as well."
In fact, this is something that Thomas refers to as a "persistent in memory database," meaning that for every object in the game world, there's a history. Two examples cited by Thomas: "…a player could chop down a tree and that tree stays disappeared forever. Or a player can kill a big monster that was raiding a town and that town no longer gets raided by that monster, and this changes the dynamics of the world. Worlds can have a history. That means players can have a lot more meaning in these MMO worlds."
"Normally in MMOs, they're kinda like roller coaster rides: you go into a dungeon, you kill the boss and that guy respawns. It all resets," Thomas continues. "But in Spatial MMOs, you could have these persistent effects that should change the gameplay meaningfully for all the rest of the player base."
"The other one I think that is interesting is the level of dynamism that you could have. So because you can have so much more server-side compute, you could potentially have NPCs roaming around the world changing their mind and deciding all of a sudden, 'oh, we're going to attack this player's base' or 'we're gonna go attack this town' and they have a lot more range and emotion and intelligence to them that you'd not see in other MMOs.
"Normally in MMOs, NPCs sit there tethered. You go near them and they come and attack you, you run away, and they go back to where they were. In a Spatial MMO, that NPC can trace you across the whole map or a group of them can decide to get together and attack someone.."
Bossa Studios — Worlds Adrift
Next week, Improbable plans to launch its SpatialOS GDK for Unreal Engine, which will have a big focus on ease of use for access to Unreal, as well as a big emphasis on porting your projects to SpatialOS.
"One of the things we'll be trying to push is a porting guide so you'll be able to take your existing Unreal game, move it onto SpatialOS and then you can grow to expand it with new and extra gameplay," says Thomas. " You can bring across your existing Unreal game and it feels very, very native and similar to Unreal if you're familiar with Unreal."
Griffiths continued, explaining how testing these experiences includes free cloud deployments, to a certain point. "If you're developing in SpatialOS in other ways, we provide a sandbox environment so you can get your game running. When you're happy, you can port it over and sort of experiment with it in a free sandbox environment with a small number of cores to get started."
Based on what we learned, Improbable's SpatialOS GDK for Unity will give developers enhanced flexibility to produce more in depth and engaging videos games. That said, we look forward to catching up with the company in the near future to see how this exciting technology is being used in the different games that we play.