Over the last couple of years, Manticore Games has been building and polishing Core, its game creation platform, in an effort to "revolutionize game development the way YouTube revolutionized video creation," according to CPO Arash Nia. By providing a suite of easy-to-learn development tools, Manticore hopes to lower the barrier for entry into game creation.
Part of attracting new users to Core is offering them a way to earn money for their efforts. Manticore's first initiative in this regard was its $1 million payout program this summer. This week, the company doubled down on making sure its creators get paid via Perks, Core's new economic engine through which Manticore is offering creators a substantial 50% revenue share.
Frederic Descamp, CEO and co-founder of Manticore Games, told GameDaily that this summer's payout program served as a springboard for Perks. The payout program will continue until Core launches in early access in early 2021. Creators who qualified will automatically gain access to Perks, which will allow them to choose how to monetize their creations. Through Perks, creators can sell in-game items in exchange for Core Credits, which can then be turned in for real-world money.
"It matters a lot to us that game creators are paid fairly," Descamp explained. "We think that Core can be an economic springboard for creators on the platform, giving them the tools and access to create their own game development businesses. And so by offering an equitable split like 50%, we can attract more and better game developers who will stay on the platform and build their own portfolios of great games to play."
Perks can accommodate any and all monetization models present in the games business, Descamp said, from free-to-play, to subscriptions and premium content. The goal with Perks, as with the Core platform at large, is to fully democratize video game development.
The vehicle for this ambition is Manticore's all-in-one approach to game development and user generated content (UGC). Core offers resources for every stage of the development process, from conception to monetization. According to the announcement of Perks, Core offers a more robust suite of resources when compared to other UGC platforms like Roblox. The goal, Descamp said, was to put the creator first by paring down some of the more complicated parts of game dev.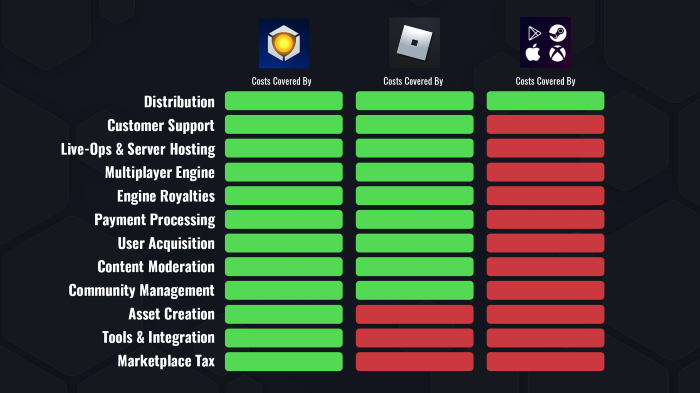 "Part of Manticore's vision is to lower the barriers to entry to game creation and gaming in general," he explained. "This starts by providing an easy-to-use, full-service game creation and publishing platform like Core. When YouTube began to monetize videos on its platform and share those resources with the creators of those videos, they created an entirely new class of talent, one that didn't have to go through the almost impassable gates kept by the entertainment industry."
The vision for Core is similar to YouTube in this way. Because Core is merit-based, it's a "democratic way for game development talent to rise," Descamp said, a quality that is highlighted by the Perks program and its 50% revenue share.
"The Perks system is further empowering game development talent by allowing them to make their own living making their own games. And soon we expect to see this new generation of creators rise to the same heights as some of the most recognizable talent on YouTube, Twitch, or any other content creation platform."
Moving forward, it will be interesting to track the success of Core and its Perks-based economy. Descamp's ambitions are certainly lofty, but offering a 50% revenue share is likely to go a long way in manifesting his vision of a democratized development environment. It's a respectable goal to be sure, but a daunting one. Still, there's something to be said about wanting to make game development more accessible.