After a strong E3, Microsoft has shown that the Xbox is fighting to regain its once proud position near the top of the gaming marketplace. They've acquired four prominent third-party studios that have produced (and are producing) stellar games for a multitude of platforms, in addition to opening a new studio in Santa Monica, CA called The Initiative. And despite lagging Xbox One sales, Microsoft has reported that its end-of-year gaming revenue has increased by $643 million, in addition to the 36 percent growth in Xbox software and services revenue "mainly from third-party title strength."
Xbox Live's numbers are up, too. As of EOFY (end of fiscal year) 2017 (Q3 2018), there are 57 million Xbox Live users currently active, an 8 percent jump YOY (year-over-year). It's a promising prospect for Xbox, especially as they ramp up support for Xbox Game Pass alongside Xbox Live.
In the investor's earnings call yesterday, Satya Nadella, Microsoft's CEO, said, "In gaming, we are pursuing our expansive opportunity from the way games are created and distributed to how they are played and viewed, surpassing $10 billion in revenue this year for the first time. The combination of Xbox Live, Game Pass subscriptions and Mixer are driving record levels of growth and engagement."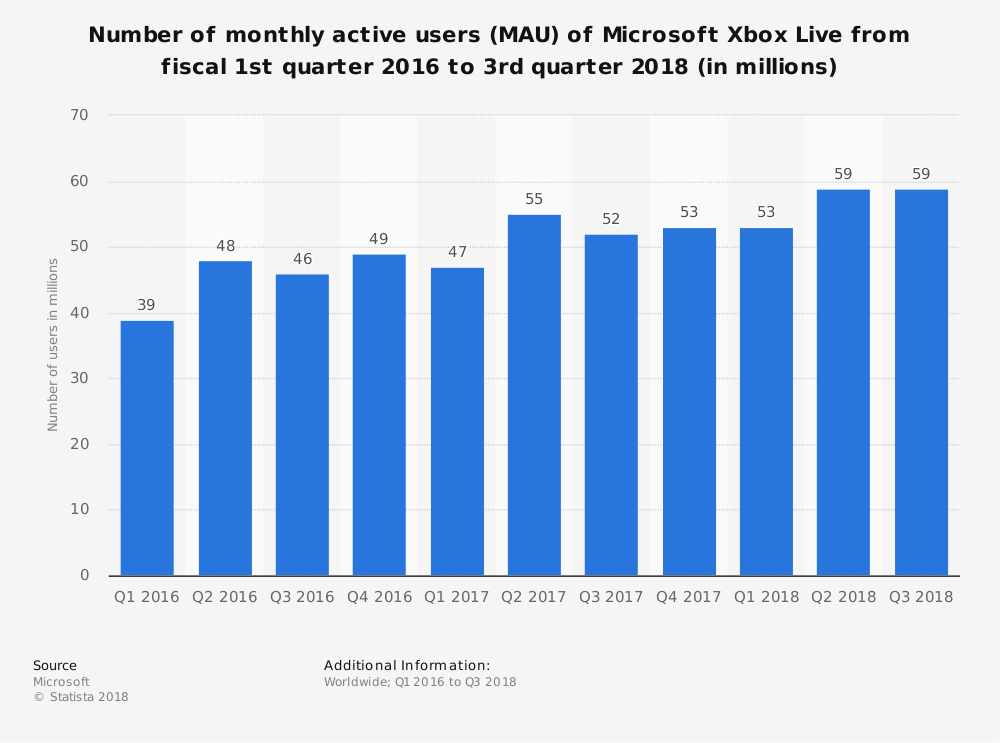 Amy Hood, Microsoft's Chief Financial Officer, weighed in about what the future of Xbox gaming will look like for FY 2019: "We expect mid-teens revenue growth with continued strong user engagement on our platform. The software and services growth rate will moderate due to strong third-party titles launched a year ago."
There's still quite a bit of year left for 2018, even though the fiscal year has come to a close for Microsoft. Unfortunately, they don't have a whole lot going on for first-party games for the rest of the year outside of Forza Horizon 4, which will be out in the first week of October. We Happy Few will be out in August, giving Compulsion Studios (one of the acquisitions from E3's announcement) a chance to bolster Xbox One sales through the slower summer months.
Gamescom will supposedly have an Xbox accessories/hardware announcement, but it's likely nothing more interesting than a new Xbox Elite controller (or something of the like). We'll have to see how Microsoft will further invest in its gaming division to drive hardware sales alongside bolstering both first- and third-party games.