ArenaNet co-founder and president Mike O'Brien has announced that he will be departing the studio after nearly two decades and opening up his own studio, ManaWorks. He broke the news via a blog post on the Guild Wars 2 website where he waxed nostalgic about the origins of developer and hinted at what comes next.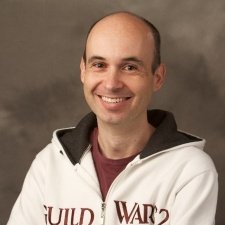 "For the past two decades we've gotten to work with brilliant developers and advisors, we've enjoyed an amazing relationship with the Guild Wars community, and were able to pursue the games of our dreams," O'Brien wrote. "I've appreciated every moment of it. But the time has come for me to take a step back. Next week I'll join some of my friends in forming a new studio. We'll go back to the beginning and make small games again."
O'Brien explained that Mike Zadorojny, who has served as game director on Guild Wars 2 since 2017, will be taking on a larger leadership role moving forward.
"I want to personally wish Mike the very best in whatever is next for him," Zadorojny said in a statement. "Though he is leaving the studio, his presence and legacy will always be a part of the team, and I am going to make sure I do everything I can to keep the torch he passed me burning brightly into the future, both for the Guild Wars franchise and ArenaNet itself."
GameDaily reached out to NCSoft, ArenaNet's parent company, and received the following statement:
"We are very appreciative of Mike's leadership and contributions to Guild Wars over the years and wish him well in his future endeavors. The Guild Wars 2 team continues to be led by Mike Zadorojny and is excited to continue development of the game and bringing The Icebrood Saga to players over the coming months."
O'Brien's departure comes after a rough 2019 for ArenaNet. In February, the studio suffered significant layoffs, and engaged in a restructuring that resulted in nearly 150 lost jobs, as well as the cancellation of a number of unknown in-development projects. The NCSoft spokesperson had no comment on how the two teams will avoid a repeat of this moving forward.
It's always hard to see people lose their jobs to corporate restructuring, but, by all accounts, O'Brien did his best to soften the blow and reduce casualties. "He loves this place," a source said in February. "He kept wandering around just saying 'we'll get through this' over and over and I think it was the only thing he managed to say."
According to a report from Kotaku, O'Brien and seven other colleagues who are also leaving ArenaNet, were working on an unannounced Guild Wars project, which could have potentially become Guild Wars 3. GameDaily hasn't been able to confirm this information independently, however.
With the three original ArenaNet founders gone, as both Patrick Wyatt and Jeff Strain left in 2009, the studio's future could be anything. Unfortunately, ArenaNet has been quiet about what O'Brien's departure will mean for the rest of the teams at the Bellevue, WA studio.