Today, data analytics group Nielsen released its annual Most Anticipated Games list for 2020. It's a report that identifies the titles releasing in the last few months of the year that consumers are most looking forward to, and assigns them a numerical value based on surveys and historical data. This is known as the Game Rank Index, and Nielsen notes that this year's crop was impacted by two major factors: the arrival of upcoming next-gen consoles and the COVID-19 pandemic.
"The biggest impact of COVID-19 on this list would be the games that are not present due to a delay in launching," Scott Pitchford, director of research and client consulting at Nielsen, told GameDaily. "The video game category is infamous for delays to release dates to begin with. The need for teams to work remotely as a result of COVID-19 seems to have exacerbated that issue further, creating even more delays than usual."
Nielsen's methodology for assigning a Game Rank value to anticipated games involves its weekly Video Game Tracking survey. After collecting this data, Pitchford said that the analytics team builds a model from performance indicators such as past sales data, where a particular game is in its development cycle, and what platforms it's releasing on.
"By inputting these measures into the model, we arrive at a composite score. That composite score is then compared against the historical database to arrive at a percentile rank, which is the Game Rank value shown," he explained.
So, a Game Rank of 100 would mean that the game is one of the most anticipated Nielsen has ever collected data on for the history of the platform. As an example, Pitchford pointed to Cyberpunk 2077, which boasts an index score of 95. This means that it has higher anticipation levels from consumers than 95% of previous games that came before on the same platforms.
Pitchford said that there were a handful of games that were on the list until recently, but some high profile delays have whittled the final crop down a bit. Halo Infinite is the most notable case here, but Pitchford also referenced Lego Star Wars: The Skywalker Saga.
Among the games still launching this year, it was Marvel's Avengers (97 on the Game Rank index), Call of Duty: Black Ops – Cold War (97), Cyberpunk 2077 (95), Assassin's Creed: Valhalla (95), and FIFA 21 (85)that earned the highest Game Rank Index scores among multiplatform games.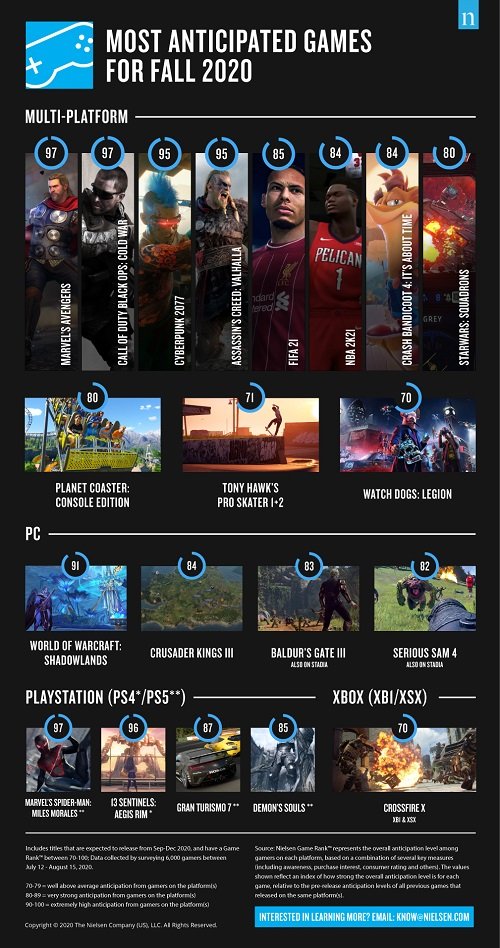 Over the last year, the Call of Duty propertyhas seen substantial expansion. With three main pillars–Call of Duty: Mobile, Warzone, and the annual premium game release–the franchise has never been as big as it is now. It's also worth noting that last year's Modern Warfare is the highest-grossing entry to date, cementing Call of Duty's indomitable standing in the games industry.
"Looking at the data we have, including some newer metrics for engagement we have started tracking, now that the property has evolved into a larger ecosystem, both the breadth and depth of the franchise's reach are growing," Pitchford said of Call of Duty's success. "Activision has created more touchpoints and more opportunities for gamers to be involved with the franchise, and that greater accessibility combined with more integration across the various sub-brands could be the driving factors for continued success."
On the PS4 exclusives side, Marvel's Spider-Man: Miles Morales earned a 97 Game Rank, followed by 13 Sentinels: Aegis Rim at 96, Gran Turismo 7 at 87, and the Demon's Souls remake at 85. Meanwhile, only one Xbox-exclusive game received substantial attention: Crossfire X earned a 70 Game Rank Index score.
Crossfire X is the upcoming western version of Crossfire, a free-to-play tactical multiplayer FPS from Korean developer Smilegate. The game is extremely popular in Asia, having surpassed 1 billion registered users last year. Interestingly, Crossfire was released in 2007, making it 13 years old at this point. That a version of a game this old is the most anticipated Xbox exclusive for 2020 comes with some interesting implications.
"It's more of a reflection on the popularity of the game itself," Pitchford explained. "It is extremely popular in other parts of the world and is now finally becoming available for players in the west. Not only that, but this represents the first appearance for the game on consoles. As for the lack of other highly anticipated exclusives for Xbox in the fall season, that is perhaps related more to the impact of COVID-19. According to our data, there are certainly other upcoming games that consumers are very excited for on the Xbox platforms, but they simply slipped out of the fall 2020 release window."
Of course Microsoft's overall strategy for next-gen isn't all that concerned with exclusivity. It's the Xbox ecosystem that defines the company's efforts, and it's built around Xbox Game Pass and the upcoming xCloud services.
Looking at Nielsen's report in a larger context, Pitchford said that the fall's release lineup is dominated almost entirely by sequels, expansions, remasters, or a new game built on an existing IP.
"The only truly new IP on the list is 13 Sentinels: Aegis Rim," Pitchford noted. "Over the past few years, we've seen publishers gravitating more towards the spring for launching new IP, and filling the fall months with more familiar franchises. That's not always the case, of course, but the trend is certainly there."
In the end, if there's one theme that characterizes the report, it's "uncertainty." The pandemic has wreaked havoc on work environments and consumer expectations, making it nearly impossible to predict what will release and when. Exacerbating the issue is the plethora of variables surrounding the launch of next-gen consoles.
"We still do not even know the release dates or prices for PS5 and Series X, let alone the games that will be available for them," Pitchford said. "That feeling of uncertainty is a theme of sorts, and one that is very well aligned with the rest of 2020 thus far."
Still, Pitchford said that despite all the uncertainty, anticipation levels for upcoming games are as high as they've ever been. Some games may not be available on next-gen consoles right away, and some of the titles mentioned in the report may yet slip into next year, but that doesn't diminish overall enthusiasm. Despite the whirlwind that 2020 has been, a love for the medium remains a constant.