The PlaySation Now subscription service has surpassed 2.2 million users as of the end of April 2020, according to a presentation from Sony president and CEO Kenichiro Yoshida. According to the report, the number of PS Now subscribers has more than doubled in the last year thanks to updated pricing strategies and expansion of the available catalog of AAA games.
For Lewis Ward, research director of gaming at analyst group IDC, PS Now's impressive growth over the last year paints the service as the industry's most profitable cloud-based gaming subscription.
"The reality is that PS Now is the most lucrative cloud-streamed gaming service on the planet as far as I can tell," Ward told GameDaily. "I lived through the OnLive and Gaikai days. My guess is that Sony's PS Now monthly active user base from a game-streaming angle is less than 1.5 million, but that's still an impressive achievement given the history of that particular market segment."
On the surface, Xbox Game Pass might seem like PS Now's biggest competition, and, in sheer numbers, Microsoft's subscription service beats Sony handily; Game Pass recently surpassed 10 million subscribers. However, David Cole, analyst at DFC Intelligence, points out that this comparison is moot.
"The big difference between Game Pass and PS Now is that Game Pass is not cloud gaming," Cole told GameDaily. "It is a game download service. Game Pass also has options for a PC-only subscription. Overall, Game Pass is a significantly more attractive service to the consumer base because they have a lot of AAA games that work without the challenges of streaming. This includes new Microsoft releases such as Minecraft Dungeons coming next week."
Game streaming services like PS Now or Google Stadia can be spotty thanks to the variable of internet connection strengths. For that reason, it's understandable that the ability to download games and play them offline offers some peace of mind. Sticking strictly to game streaming, though, PS Now is far and away the market leader. Still, there's a lot of room to grow.
"PS Now was at 700,000 last summer. They slashed their price in October and immediately passed 1 million," Cole explained. "Getting to 2.2 million shows some people are trying it out, but clearly cloud gaming has a long way to go. PS Now, along with other cloud services, are clearly going after what is currently a fairly small niche. With an impressive content library and attractive pricing, PS Now is clearly a leader in this area, and so the small number shows how limited the audience is."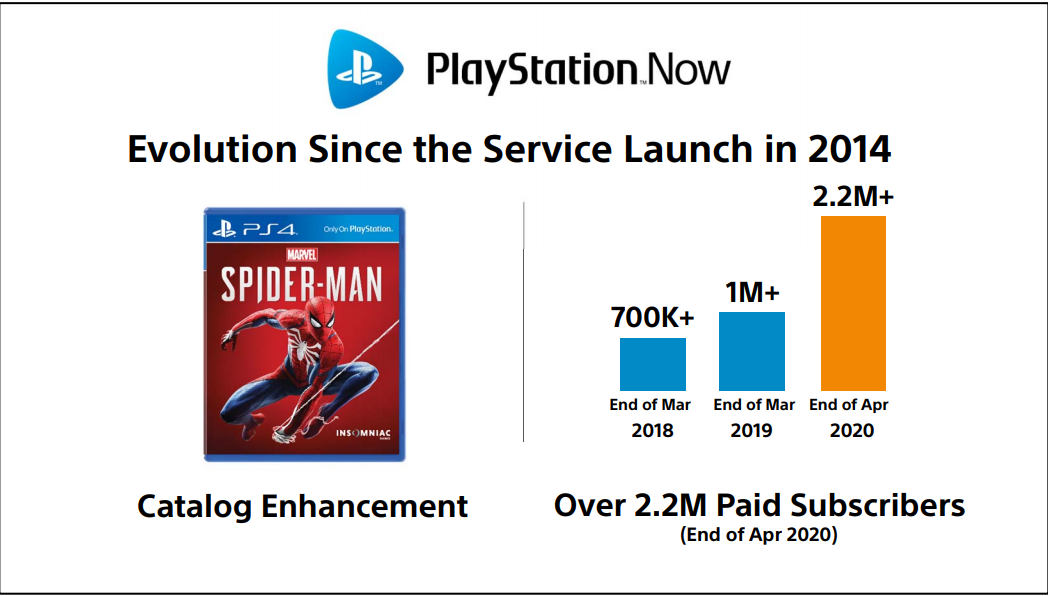 That's not to say that Sony has ignored the ability to download and play games locally. In September 2018, that functionality was added to PS Now, which could be seen as a way to more directly compete with Game Pass. Inversely, Microsoft's upcoming Project xCloud is a cloud-based game streaming service more in line with what we've seen from PS Now and Stadia. This proverbial crossing of the streams points to a games landscape where competition will unfold on multiple fronts when the next generation of consoles launches later this year.
For Ward, Microsoft has an advantage in this regard thanks to the way it has been building a connective ecosystem across its various Xbox platforms.
"Xbox gamers have generally been more receptive to digital services over the years, partly because Microsoft has been more aggressive in rolling them out," he said. "They even tried that not-so-popular all-digital Xbox One S, which is something Sony never even contemplated. Also remember that Microsoft has given out tons of free trials for XGP, and they were careful to state there were ten million 'members' of XGP. Don't confuse that with actively-paying subscribers. I bet a large portion of that 10 million aren't paying at present."
Looking forward, Ward said that if Sony hopes to keep growing the PS Now subscriber base, it needs to address a handful of issues that have been holding it back. For instance, PlayStation 3 games can't be downloaded via PS Now because the PlayStation 4 lacks compatibility with the PS3 system architecture. In addition, PS Now streamed games run at 30 to 60 frames-per-second, and are limited to 720p resolution.
"They have to get to full HD for the cloud-streamed gaming segment at some point, and I know it's not looking good today, but perhaps PS5 will eventually support a PS3 emulator of some kind, so that at least some PS3 games can be rolled into the download model," Ward said. "Then Sony would really be cooking, and the comparison between XGP–with xCloud–and PS Now would be apples-to-apples.
"Sony also needs more day-and-date releases for PS Now," Ward continued. "Microsoft has gone all-in from a first party angle on XGP, and I know Sony's been more focused on backwards compatibility with PS Now, but if they want to get more aggressive here, another big step would be to dump in more first party AAA titles at launch moving forward."
Cole said that if Sony hopes to remain competitive in the cloud gaming market, it's going to need to challenge not just Microsoft, but other cloud titans as well.
"The question for PS Now is whether they can grow as an early pioneer, or are quickly overtaken by newer players as cloud gaming takes off," he explained. "Compared with other cloud players like Microsoft, Google, and Amazon, Sony is a relative David to their Goliath. The question is will PS Now give them an early market mover advantage."
This is an aspect of the cloud business that is not lost on Microsoft. Earlier this year, Xbox head Phil Spencer noted that he views Amazon and Google as main competitors because of their already-substantial cloud presence.
If there's one big takeaway from the news that PS Now has crossed the 2.2 million user mark, it's that the cloud is the next battleground for video games. Manufacturers are clearly aiming to make the cloud a central pillar of business in the next generation, and Sony seems to be building momentum on that front. PS Now is already the perennial cloud-streamed gaming service; Sony just needs to focus on the download-based subscriptions if it wants to truly compete with Xbox Game Pass.