Last week, mobile analytics group Sensor Tower reported that Pokémon Masters EX from developer DeNAhas brought in more than $75 million in player spending in its first year, making it the second-highest grossing Pokémon game on mobile platforms behind Pokémon Go. It has out-earned all other Pokémon titles in terms of first-year performance, Go excepting.
The Pokémon franchise's history on mobile is something of a roller coaster. For every mega-hit like Pokémon Go, there are a number of underperforming titles like Pokémon Duel and Pokémon: Magikarp Jump. Matching the titanic success of Pokémon Go may be a pipe dream at this point, even for other Pokémon games. But that doesn't mean the bar for success is too high to reach, according to Sensor Tower analyst Randy Nelson.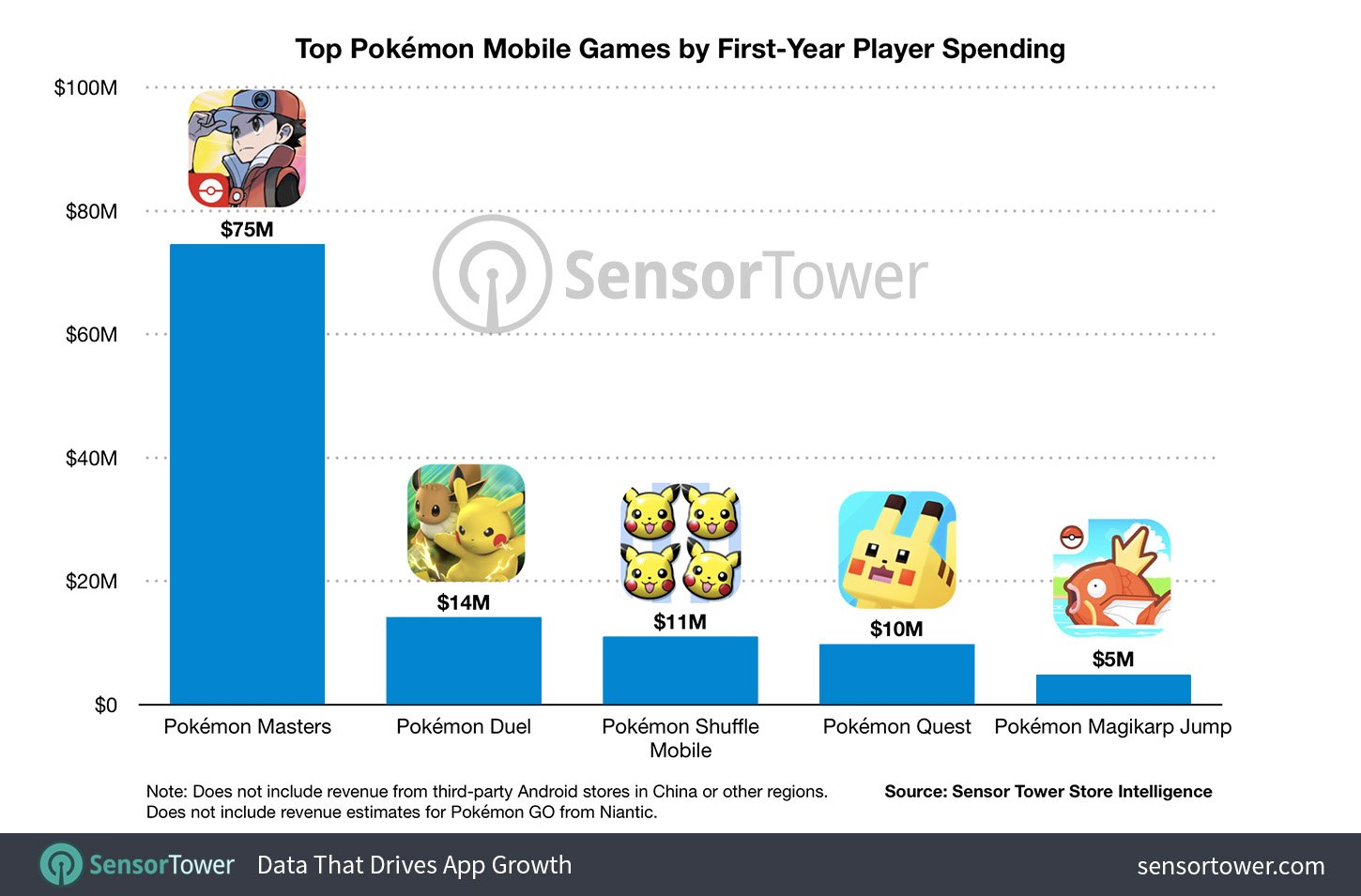 "Pokémon Masters is the closest approximation of the traditional Pokémon game formula yet on mobile, which has no doubt helped it win a following among fans of the franchise," Nelson told GameDaily. "In our research, we've also found that squad RPGs are riding a wave of popularity on mobile, so it hit at an opportune time."
The "squad RPG" is a mobile genre that has been rising in prominence in recent months thanks to titles like Marvel Strike Force, Raid: Shadow Legends,and Fire Emblem Heroes. The primary appeal, Nelson said, is the strategic elements that require players to put together a strong team to overcome challenge after challenge.
"We define the squad RPG as RPGs that focus on drafting characters and building a synergistic team," he explained. "Encounters and battles are typically low-touch or have an auto-battle mode. Characters are drafted through some form of a gatcha. According to our data, the top 10 titles in this genre generated $2.2 billion in consumer spending worldwide during 2019, not excluding third-party Android stores."
Looking at The Pokémon Company's stable of mobile titles reveals a keen eye for popular trends on the platform, and Masters is no exception. With a strong foothold now established in the squad RPG genre, we can expect the studio to turn its eye toward other lucrative subgenres.
"We expect The Pokémon Company to continue paying close attention to trends in mobile gaming that are driving the most engagement and spending with mobile players specifically, as it's done with Pokémon Masters and the squad RPG genre," Nelson predicted. "It's unlikely that we'll see a 'traditional' Pokémon game on mobile as that would be more challenging to monetize, and premium games as a business model wouldn't support what the investment required in developing or porting such a title."
Whatever The Pokémon Company has up its sleeve, you can bet that Pokémon Masters EX will continue to receive support in the form of content updates and special events. In the unforgiving landscape of mobile gaming, a rapid content cadence is a must lest fickle consumers move on to something else. $75 million in a year is a good start, but the biggest challenge is maintaining momentum.