Games market research group SuperData has released a new report examining the state of augmented reality across several tech sectors. The firm's data shows that AR has exploded in popularity over the last five years thanks to social media apps like Snapchat and TikTok, as well as the enormously successful Pokémon GO. As a result, AR is becoming an increasingly attractive (and necessary) business sector for many tech companies.
"The release of Pokémon GO was a seminal moment for AR gaming and AR as a whole," Carter Rogers, principal analyst at SuperData told GameDaily. "Several games have attempted to apply the Pokémon GO formula to other IPs like Jurassic World and Ghostbusters. However, no other title has come close to Pokémon GO in terms of revenue or user numbers. Even Harry Potter: Wizards Unite only earned 1% what Pokémon GO did in its first full month on the market. The second most successful AR game is Let's Hunt Monsters from Tencent, which has succeeded by appealing to Chinese players who don't have access to Pokémon GO."
By far, the most prominent way for consumers to access AR is via social media apps. According to SuperData, 63% of AR users regularly utilize effects that alter the appearance of selfies and other pictures. Programs like Snapchat, TikTok, and Instagram allow users to customize their photographs with fun effects and borders. Several prominent brands have jumped on this trend, such as Disney offering the ability to look like its most popular characters. Other film and TV companies also offer tie-in filters in order to promote upcoming releases.
Games are another important way to consume AR content. Since its 2016 release, Niantic's Pokémon GO has uncovered the potential of the technology in the mobile gaming sector. In August, Niantic reported that the game had been downloaded 1 billion times, and in October it surpassed $3 billion in lifetime revenue. Niantic's follow-up, Harry Potter: Wizards Unite, did solid numbers in its first month, but has since levelled off. Other properties, including Minecraft, have recently made bids in the AR wars as well.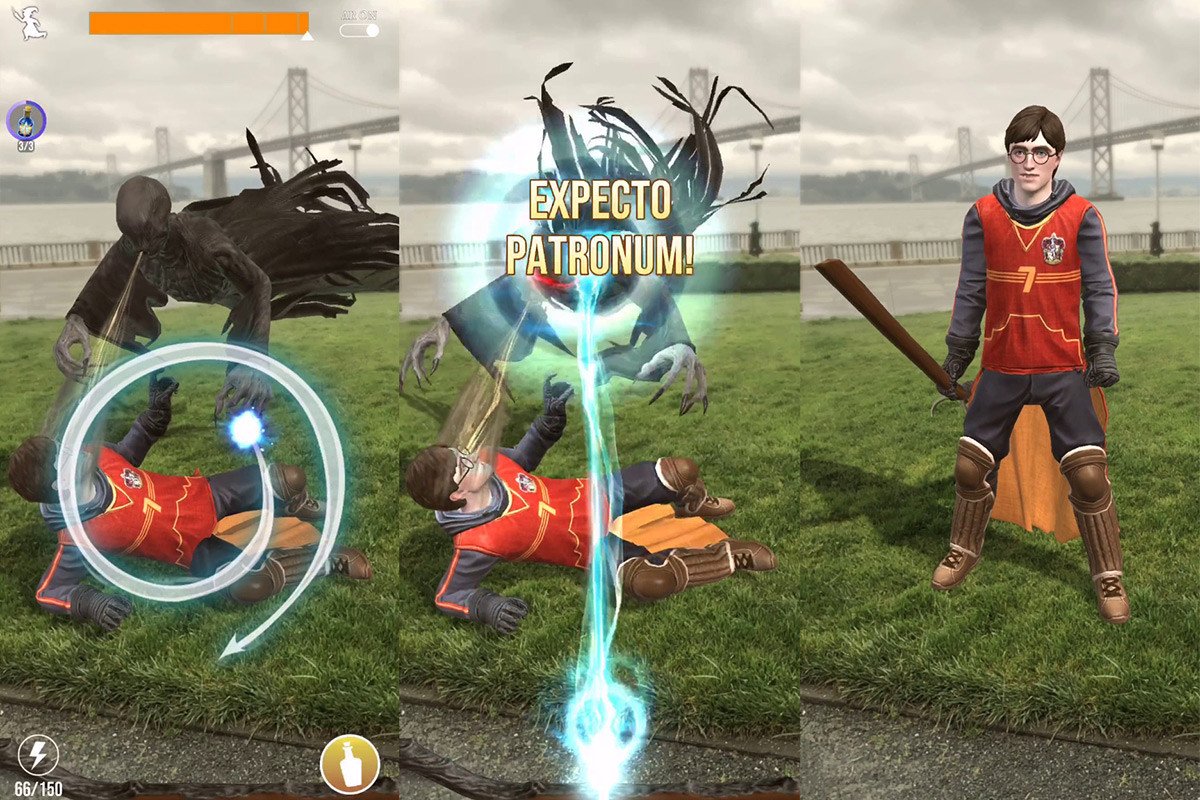 Another growing segment of augmented reality is utility apps. Nearly one third of AR audiences use utility apps like virtual tape measures, navigation, and language translation.
"The use of AR as a tool or utility has grown tremendously in the past 12 months," Rogers said. "Among current AR users, 49% have used it to translate words written in other languages and 29% have used it as a virtual measuring tool in place of a tape measure."
Despite the enormous growth of augmented reality, it is far from ubiquitous. Some of the world's largest brands, like Amazon and Facebook, have yet to fully embrace it, pointing to a rich vein of untapped ad dollars. According to the report, only two in five users regularly see branded AR advertisements. SuperData posits that this could be attributed to the fact that companies are still learning how to advertise AR.
That's not for lack of trying, though. SuperData points to an ad campaign on Facebook that allowed users to virtually try on Michael Kors sunglasses, and one on Instagram that let them see what different brands of makeup might look like. These ads have the potential to be highly effective because consumers are more likely to share personalized content with their friends, which lends some extra reach organically. Still, it's up to brands to create engaging AR content that consumers will want to use.
"It's hard to convey the appeal of AR unless someone is actually using it, much like how difficult it is to showcase the magic of VR," Rogers said. "Web browser-based AR, and AR features in a wider range of apps should make it easier for users to conveniently try it with the tap of a finger instead of going through the hassle of downloading a new app focused on AR."
Right now, a big selling point for augmented reality is the sheer novelty of the technology. However, moving forward, that novelty will wear off and companies will need to rethink their strategies. AR requires consumer engagement for an ad campaign or app to truly take off, and figuring out the best way to foster that engagement is the next great challenge for brands in the sector. Knowing the audience is part of the battle. SuperData reports that, while 52% of the AR user base is women, they account for only 38% of users in AR games. Considering disparate-yet-symbiotic statistics like this, AR companies have quite an uphill battle ahead of them.
"It's very important to realize that there is not as much novelty around AR as there once was," Rogers explained. "People are using the technology more frequently in a wide range of apps. Simply having AR features in an app or game is no longer enough to stand out. Instead, the implementation of AR has to be creative or engaging."
There are rumors that tech giants like Apple, Valve, Magic Leap, and Microsoft will be releasing new AR headsets in the near future. Rogers doesn't anticipate much of an impact on AR games revenue if such devices from to fruition, but it's clear that the technology is more than just a blip on the radar. When we see big market players taking an interest in the rise in popularity of augmented reality, it may be a sign to keep a lookout for exciting developments.