Battle Royale is coming into its own. What started unofficially with games like H1Z1 and a mod for Minecraft has evolved into a genre so lucrative that the mobile sector alone has now been able to generate over $2 billion in player spending in less than two years, according to research firm Sensor Tower.
Fortnite is the game most people would assume leads the category, but Epic's blockbuster is actually just slightly behind Knives Out from NetEase, which generated over $643 million compared to Fortnite's $630 million. The strength of the Chinese games market and top companies like NetEase cannot be overstated. Keep in mind, however, that because Epic elected not to release Fortnite on the Google Play store, Sensor Tower's revenue estimate is for iOS only.
There's a fairly significant drop-off of about $200 million from Fortnite to the next title, PUBG Mobile, which has seen players spend about $438 million worldwide. That said, it's important to recognize that PUBG Mobile was dropped by Tencent in China and replaced with a quite similar title called Game for Peace, which features nationalistic, pro-military themes instead. PUBG Mobile had been seeing "around 70 million average daily active users" in China according to Reuters, but Tencent was never approved for a monetization license thanks to China's restrictive game approvals.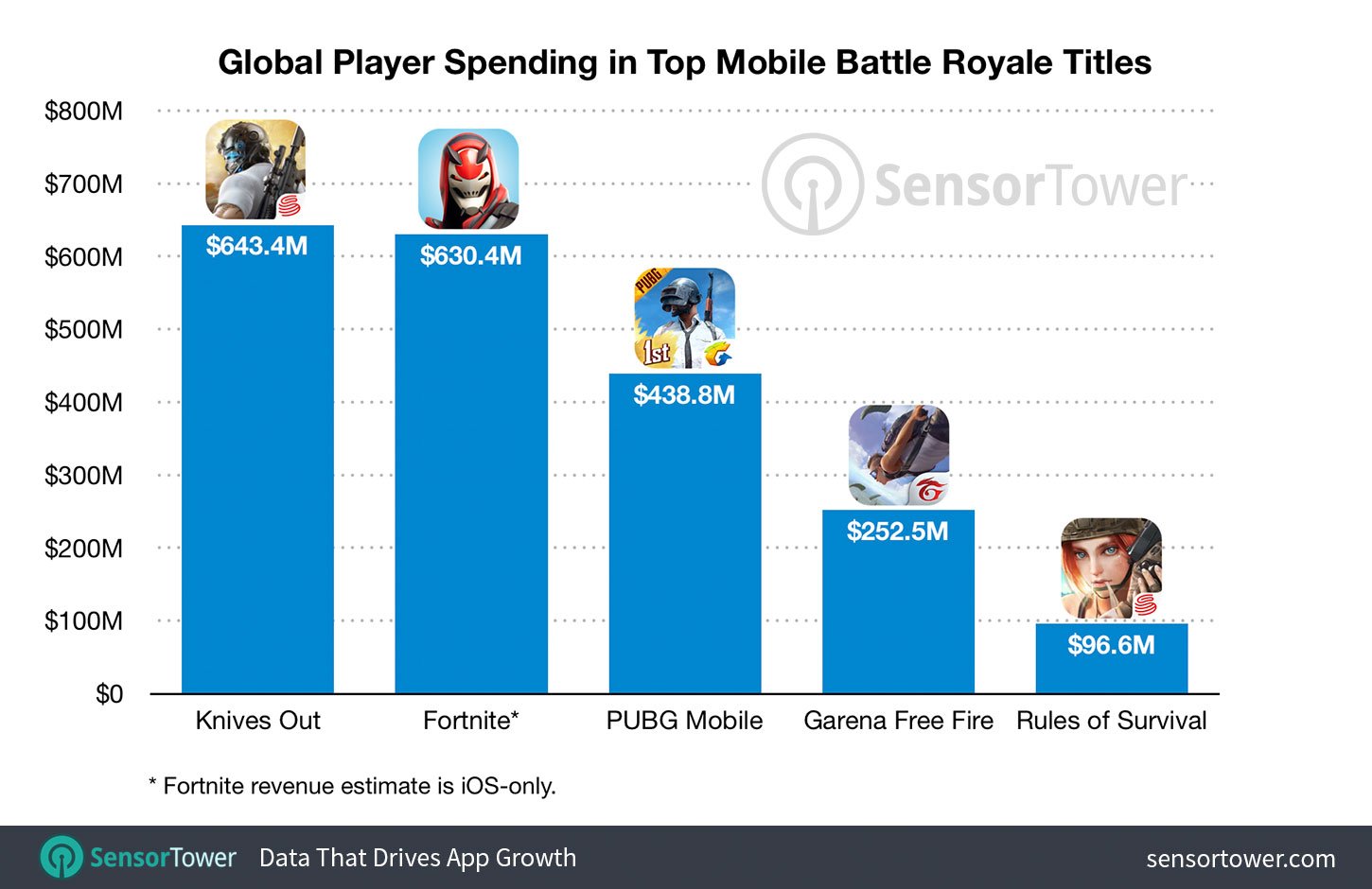 Even without China, PUBG Mobile has managed to amass over 100 million monthly active players in just over a year, according to App Annie (via GamesBeat). The mobile title has brought in more than $100 million for Tencent, and PUBG Corporation as a whole earned over $300 million in profit in 2018. PUBG Mobile is likely about to see another boost as well, as Tencent just released the Royale Pass Season 7 to coincide with PUBG Mobile's 0.12.5 update. The Royale Pass is Tencent's way of getting players to come back each month, and it ensures a steady stream of recurrent revenues.
Factoring in other titles like Garena Free Fire and Rules of Survival, Sensor Tower reported that the first quarter of 2019 was especially productive for the Battle Royale genre on mobile, yielding about $476 million worldwide, representing a 63% jump over the previous quarter, when PUBG Mobile accounted for 19% of player spending out of the five leading titles. In Q1, PUBG Mobile saw even more momentum, accounting for $148 million in revenues, or about 31% of the total.
Fortnite, meanwhile, actually saw its revenue share decrease by 25% from the previous quarter, with spending at about $119 million. Epic's massively popular title hasn't even launched in China yet, however, and it's expected to do so by the end of 2019, so the Battle Royale genre's "momentum on mobile doesn't appear set to slow down anytime soon," Sensor Tower observed.
Moreover, Tencent's Game for Peace is only just beginning to monetize in China. Analysts at China Renaissance recently told Reuters that Game for Peace could see annual revenues approach $1.5 billion. As Niko Partners' Daniel Ahmad previously explained to GameDaily, the patriotic replacement for PUBG Mobile is actually likely to fare even better for the publisher.
"We expect a majority of PUBG Mobile players to move over and for Game for Peace to generate significant revenue for Tencent this year," Ahmad said. "We are already seeing positive signs for the game as it has debuted at #1 on the iOS game revenue charts."