London-based analytics company IHS Markit has released its quarterly report on the state of the mobile games industry. Penned by research analyst Dr. Louise Shorthouse, the report takes a deep dive into the current top mobile games, how apps from AAA publishers are performing, the obscenely popular battle royale market, and more.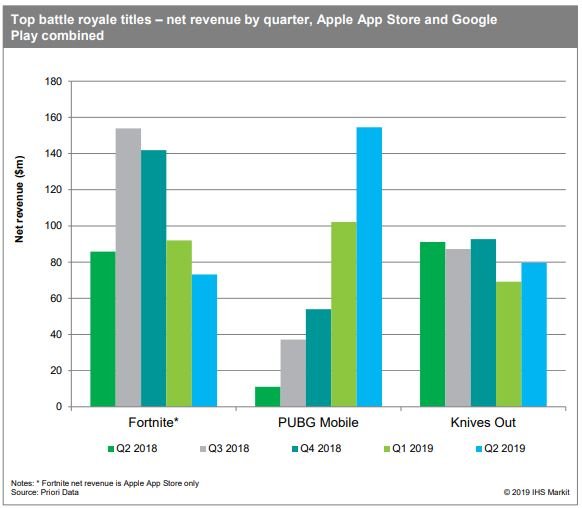 According to Shorthouse's research, battle royale games like Fortnite and PlayerUnknown's Battlegrounds are still massively successful, with a 158% increase in spending year after year. However, Fortnite's revenuehas been on the decline since Q3 2018, while PUBG has risen significantly over the same period, becoming mobile's victor royale. NetEase's Knives Out also contributed to the genre's success, though its performance has been up and down over the past year.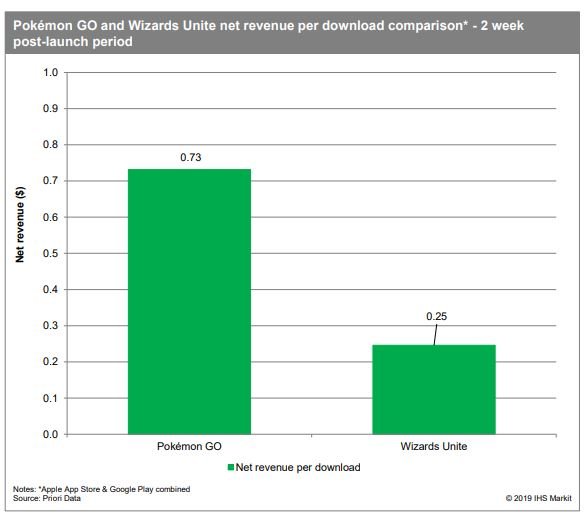 Additionally, there are some interesting stats about Niantic's two high-profile games, Pokémon Go and Harry Potter: Wizards Unite. Unless you've been living under a Geodude since 2016, it's no secret that Pokémon Go has continued to thrive thanks to the addition of new features. It's far outperforming Wizards Unite, which had a promising launch last month but hasn't come close to capturing Pokémon's post-launch popularity. Shorthouse theorizes that its "complex" nature and "aggressive approach to monetisation" are factors in Wizards Unite's lackluster performance.
Overall, Candy Crush Saga still runs the world, bringing in $233 million in revenue in the second quarter of this year despite not even being in the top ten for number of downloads, suggesting its most loyal fans are continuing to support it. The "most downloaded" list, topped by Run Race 3D, looks significantly different, serving as a reminder that just because a free-to-play game is installed a lot doesn't mean it will generate the most revenue.
The report is full of insightful information and analysis showing that the mobile gaming industry continues to be a driving force in gaming. As we reported earlier this month, mobile gaming made up nearly 75% of all mobile revenue in the first half of 2019, and Candy Crush Saga helped propel Activision-Blizzard to a $1.8B first quarter. There are still some out there who don't consider mobile fans to be "real" gamers, but millions of players (and their wallets) beg to differ.