Livestreaming analytics provider StreamElements, along with influencer tracking provider Arsenal.gg, have released their State of the Stream report for the second quarter of 2020. The report outlines enormous growth for Twitch viewership as many have turned to livestreaming as a primary form of entertainment for those sheltering against COVID-19.
According to the data, Twitch viewership grew by a massive 56% in Q2, amassing more than 5 billion hours watched. In June alone, viewers watched around 1.5 billion hours on Twitch, a number that is 60% higher than June 2019.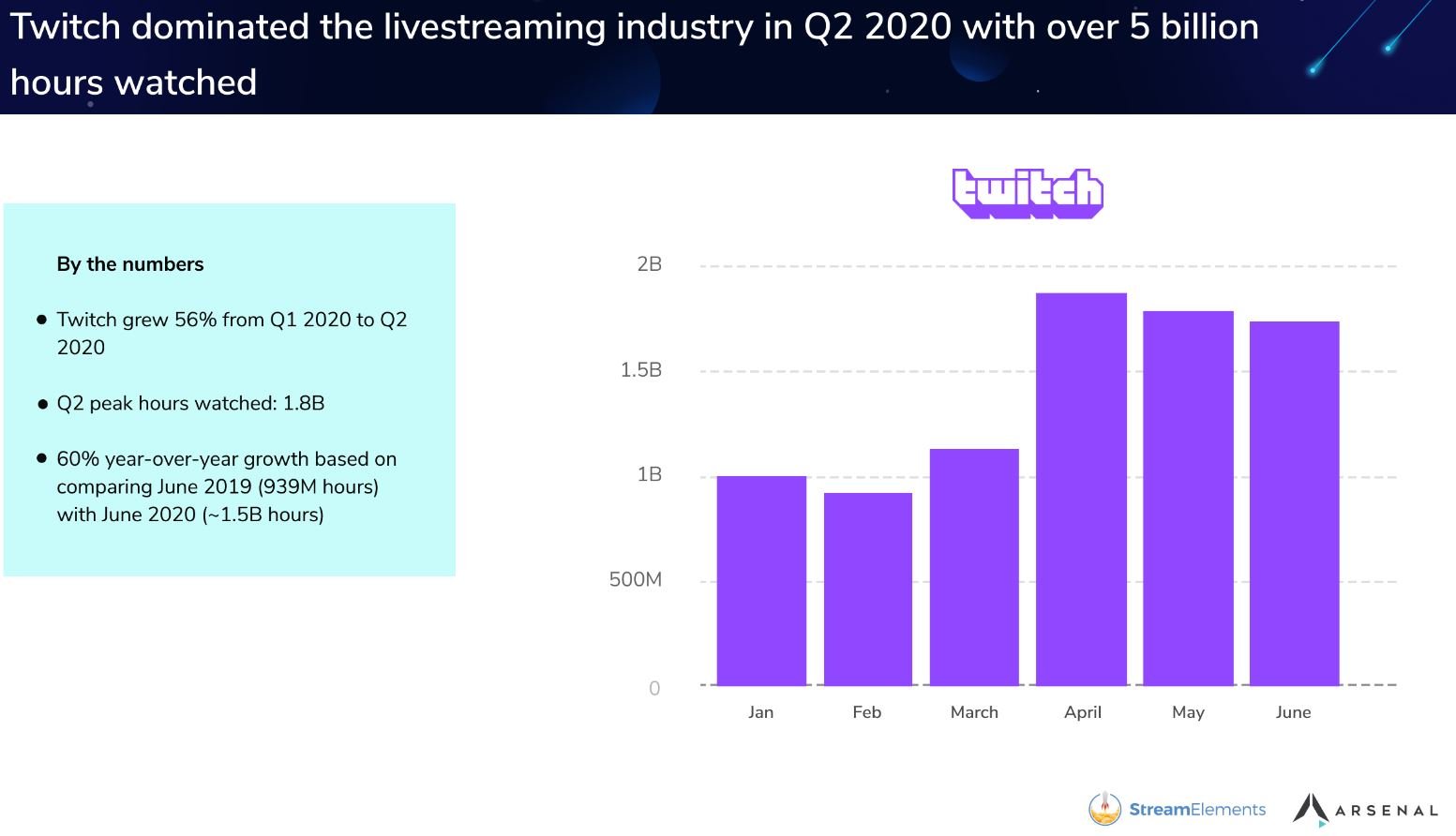 Elsewhere, Facebook Gaming saw enormous gains as well. The platform grew by 75% in Q2, and commanded 334 million hours of viewership in June. Doubtless this growth was in part caused by the news that Microsoft announced the shuttering of its Mixer streaming platform. However, for Doron Nir, CEO of StreamElements, the long-term effects of this development on the streaming landscape remain an unknown variable.
"Since Mixer had the smallest market share, they were not making a big dent in the streaming landscape, and most of their streamers who were serious about it will continue to stream on other platforms," Nir told GameDaily. "Whether they choose Twitch, YouTube Gaming, Facebook Gaming, Trovo.live, Caffeine, or some other startup remains to be seen, but we should know more in the coming months since Mixer only officially closed its doors this week."
One of the more prominent trends in the livestreaming landscape is the perpetual growth of non-gaming channels. On Twitch, for example, the Just Chatting channel has grown by 94% since January, with 167 million hours watched last month. This figure actually put it on top of the most-watched channels in June, edging out perennial top performers like League of Legends, Grand Theft Auto V, and Fortnite.
"Just Chatting is frequently used by gamers who are taking a break from gaming which provides them with a more direct way to interact with their fans," Nir said of the channel's appeal. "Freed from having to multitask, it's easier to respond to the chat in a more focused environment. The category has definitely grown during the pandemic, but the Twitch community as a whole has skyrocketed, all of which speaks to audiences gravitating even more towards online entertainment and interactions."
Beyond simply offering a peek into the personal lives of popular streamers, Nir said that Just Chatting's social impact has the potential to be far-reaching. It can be a very conducive forum for discussing important topics like quarantine life, the Black Lives Matter movement, and other meaningful subjects.
In that same vein, the Travel and Outdoors category on Twitch also garnered expansive growth; the segment grew by a staggering 183% in June compared to January.
"The Travel and Outdoors category is home to both animal channels and mobile travel videos, but with less people traveling, nature streams have definitely bubbled to the top," Nir explained. "While people might be looking for escapism content given the shelter-in-place mandates, there's also a huge fascination with animals in general across all social media."
Even if non-gaming categories saw the most growth on Twitch last quarter, that doesn't mean that the games segment didn't see some big shakeups. Most notably, Riot Games' Valorant has managed to retain a large percentage of its impressive initial viewership; the game charted at number eight in June with 47 million hours watched. Still, Nir said it's too new to be making any long-term predictions.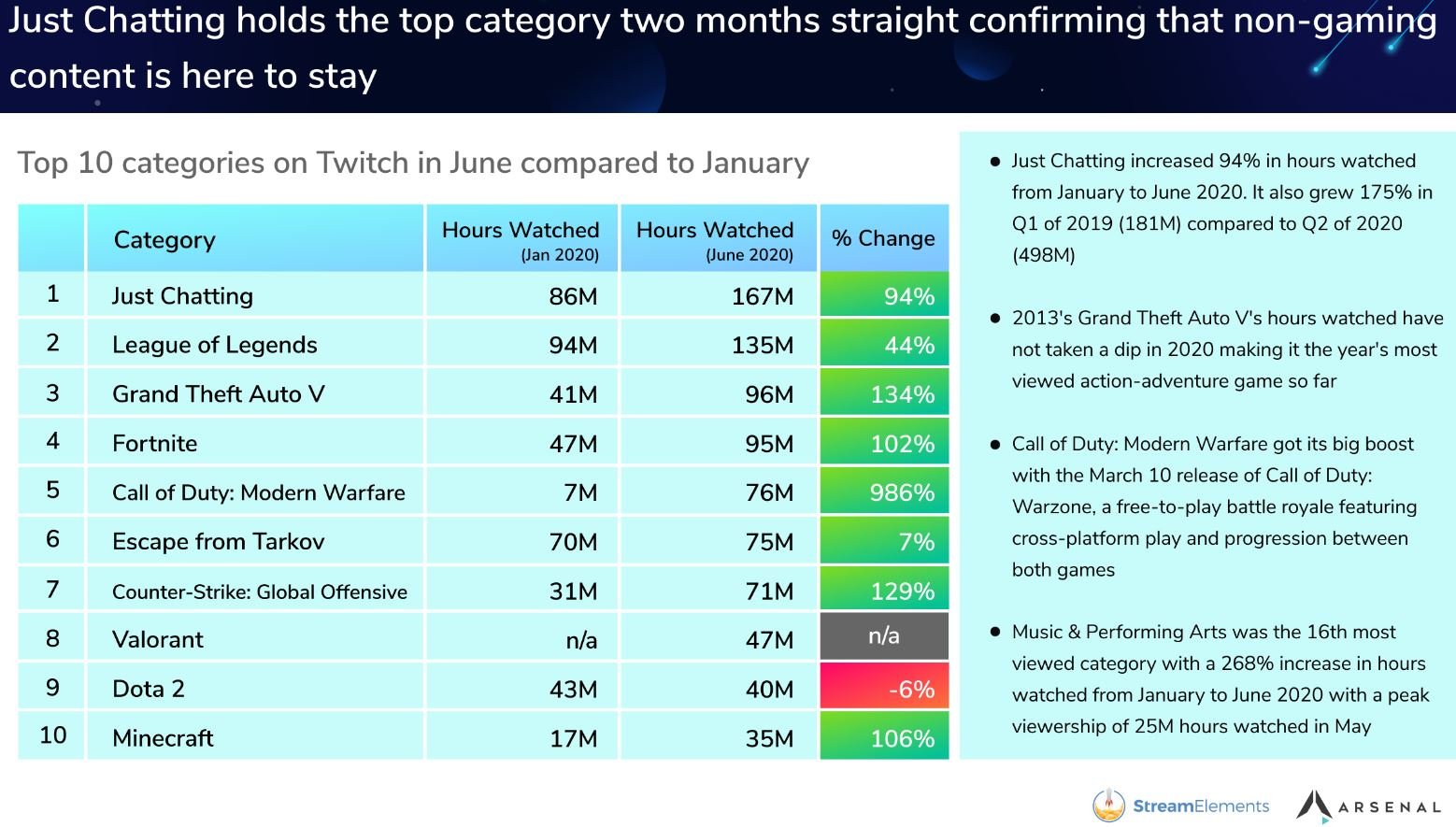 "A game like Valorant, coming from a company like Riot, is likely to be with us for years," Nir explained. "We will see new updates and it will go up and down in the top games list, but it is still too early to tell what will be its life cycle. It is off to an amazing start though."
In the end, Nir said that the biggest takeaway from this report is that livestreaming continues to experience massive growth on a global scale thanks to the COVID-19 pandemic. Additionally, the livestreaming audience is clearly interested in more than just games, pointing to a potentially untapped audience for advertisers.
"Brands that missed the boat need to get some oars, get educated, and get involved," he said.
Moving forward, it will be interesting to see how these numbers evolve as the pandemic continues its course. Another unknown variable is the launch of next-gen consoles from Sony and Microsoft this holiday season, which will no doubt have viewers glued to screens in the coming months.