On November 12, Ragnarok Game published Rune II, a survival action-RPG from developer Human Head Studios two years in the making. The next day, on November 13, Human Head suddenly announced that it was closing its doors, and immediately reopened as Roundhouse Studios under the ownership of Bethesda, leaving Ragnarok to carry both the publishing and development duties of Rune II.
Complicating issues is the accusation that ex-Human Head employees deliberately withheld the Rune II source code and associated assets, resulting in a lawsuit from Ragnarok. Since then, Ragnarok has regained the source code, and the game has spent the last six months undergoing reconstruction under the watchful eye of Matt Candler and Studio 369, a brand new developer established specifically to support Rune II, which is currently an Epic Games Store exclusive.
"When Human Head left the project and joined Bethesda, I started talking to a bunch of developers," Candler told GameDaily. "I talked to a lot, like six or seven really top notch developers. They all said they wanted to help us. And in March, we'd done a lot of work to fix the system, and our team had gotten up to about 12 people. I'd brought 12 people on, all these guys and we all said, 'hey, why don't we just form a studio here and make this our company?'"
Thus Studio 369 was formed.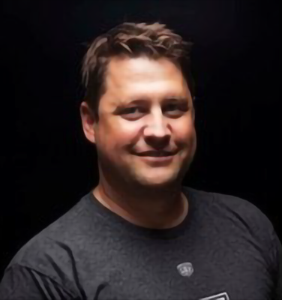 While Candler recruited some top-notch developers and close industry friends, including Dan Nikolaides and Vic Lopez, there was a strong possibility that facing the uphill battle of an abandoned project and an ongoing lawsuit could result in low team morale. Candler notes that this was not the case, though.
"Team morale is really good," he explained. "We're all a distributed studio. So some people in Vegas, some people in Chicago, some people are in southern California. We do weekly dinners with the team where we buy everyone dinner and just get together on Discord and talk about not game stuff or not business stuff. In Discord, we put up a channel called 'Venting,' where we can vent about some of the difficulties of what we're encountering."
Regarding the lawsuit, Sam Goldberg, general council at Studio 369, expressed frustration toward the former Human Head devs, saying that the studio's closure and move to Bethesda was a complete blindside to Ragnarok.
"It was a betrayal. It wasn't that Human Head went off the project or left. It was a total stab-in-the-back betrayal. And they held our code hostage," Goldberg said. "And so what are we supposed to do? Now, Matt puts together Studio 369 of people that are so passionate about doing right by the fans. The story of Studio 369 is really the story of the phoenix."
Emphasizing the phoenix metaphor is the fact that Studio 369 titled the most recent update to Rune II the "Lazarus Update." In the months since launch, Candler and company have revisited most of the game's major mechanics and overhauled many of the systems. While the primary focus was on the in-game combat, the list of retooled features is a mile long.
"We all decided we really wanted him to go back and touch the core system," he explained. "So we went back and touched combat, we went back and fixed the loot system and how loot drops. We went back and fixed the crafting system. We fixed the UI. We added a paper doll for inventory and we also started working on the animations. But for the most part, it was really combat and making that feel really good."
With most of the fundamental gameplay issues addressed, Candler said Studio 369 has turned its focus to the core loop of Rune II, and to the story. The team is actually rewriting the game's entire narrative and re-recording all voice work. Additionally, the studio is building a competitive multiplayer mode called Conquest, which revolves around base building and base raiding, which Candler hopes to have ready by the time Rune IIlaunches on Steam in mid-November.
He also expressed plans to bring the game to consoles sometime in 2021, and will convert to Unreal 4.25 in order to make the transition smoother.
Most publishers, when encountering the kind of setback that Candler and his team has, would likely have given up on Rune II, chalk it up as a loss. But rather than abandon the game altogether, Studio 369 has embraced the challenge.
"When we were dealt this situation in November, we all could have just packed it up and just said, 'well, that's it, right?' And we didn't. And a lot of people ask me, 'well, why didn't you do that?'" Candler explained. "We'd spent so much time working on this game and we were so blindsided, it was kind of like the white rage of anger to say, we're not going to put up with this. We're not going to accept this thing. We're going to fix this."
Whether out of spite, pride for its project, or some combination thereof, Studio 369 is determined to keep Rune II going strong.