This week, Montréal-based technology startup Edgegap announced the closure of a Series A funding round totalling $7 million. Led by Konvoy Ventures, the investment will help the company develop its infrastructure platform aimed at reducing latency in online games and closing the gap between developers and players.
"Users today expect a flawless experience when using real-time applications," Mathieu Duperré, CEO and founder of Edgegap, told GameDaily. "Using a centralized infrastructure like a cloud provider forces developers to steer their traffic long distances, sometimes around the globe, to reach their users–causing lag along the way. They also have to hire at least one engineer (if not more) to handle those infrastructure services."
This is the primary issue Edgegap hopes to address. The goal is to reduce the backend work necessary to building a smooth, user-friendly online experience by streamlining the data retrieval process. In most cases, cloud-based game data is stored on centralized server farms, and sending the data back and forth across long distances can result in latency, or lag, for the end users–game players, in this case. Edgegap hopes to tackle the problem by utilizing "edge computing," a term that describes physically moving the location of data storage servers so that they are closer in proximity to the users.
Obviously, it's impossible to move entire server farms, let alone do it in a way that will benefit all players. After all, video games are a global medium. Edgegap's solution to this problem is to build and deploy small servers that are easy to install and maintain.
"Take a data center as we know it, squeeze it down to a cereal box, and slap it on top of a telephone post, at the corner of each street," Duperré explained. "We are not at this stage yet, but that's where we are heading. Edge computing is this notion of deploying a smaller data center, closer to users, spread around a territory, instead of being centralized."
Today, edge computing primarily takes the shape of shipping container-sized servers that are deployed on existing servers, but a handful of industries are experimenting with ways to reduce this footprint. For instance, Duperré noted that some wireless companies are currently experimenting with using miniature data centers in their cellular towers, in effect building out a decentralized network of servers.
By using this methodology, technology companies have been able to reexamine how they approach the exchange of data, which has resulted in new ways of transfer. For instance, Duperré said that edge computing has enabled two-way data transference rather than the one-way methods that have defined the technology until now.
"The result is that the communication between the device and the infrastructure is as quick as possible," he explained. "This allows developers to leverage high compute power to perform tasks that may not be possible with the user device. Think of image recognition with IoT, image pre-processing for augmented reality, or even simple video conferences where there's no lag."
In today's tech landscape, device users expect instant responses from their devices, and delivering anything less than that is becoming increasingly detrimental to business for many technology companies. For example, Duperré recounted that Edgegap recently changed video conference vendors because team members were experiencing latency in communication during meetings.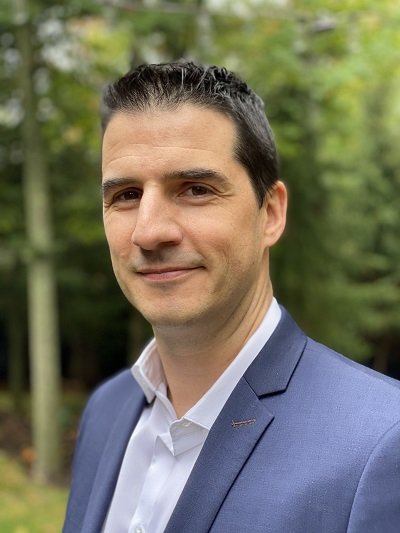 "This vendor lost our business not because their application was bad, but because our experience due to the backend infrastructure was not on par with what we were expecting," he said. "The same is true with anything 'real-time.' How many games have you stopped playing because of lag?"
This is the primary focus of Edgegap's business; to reduce latency by mobilizing a series of small servers, and make it easy for developers to offer real-time applications and games without requiring a full understanding of the tech involved.
"You get the best of both worlds: extra-low latency for all your players while spending zero effort to use hyper-distributed infrastructure," Duperré said.
In the hyper competitive gaming space, developers are competing for the attention of players. In many cases, tech performance can make or break the success of a title. Players are less likely to spend time on experiences they feel are hindered by severe lag. This obviously has a direct impact on revenues, so devs are incentivized to offer the smoothest experience possible.
Edgegap has already seen great success with its platform. According to data from the company, tests conducted in conjunction with two AAA game studios have seen reduced latency for 91% of players by way of a 46.5% decrease in data transfer times. Now, with this week's $7 million influx, Duperré is optimistic about Edgegap's ability to further decrease latency and bring its technology to a larger audience.
"We are growing our team to build more features around our core platform and expand in even more regions," he explained. "With such a distributed environment, there is a lot of stuff we can do now that we just did not have time to execute before. Now we will have the manpower to dig deeper on features like machine learning based on real-time telemetry and traffic patterns based on the context of the communications."
Additionally, the funding will allow Edgegap to build and deploy more of its edge computing servers in order to get as close as possible to its end users. The company is also working with a variety of other tech providers to reach more regions, and is even targeting specific countries based on the needs of its current audience.
Assessing these needs is also crucial for the game developers working with Edgegap's platform. Duperré explained that developers know the behaviors of its players well, like what kind of DLC they'll buy or what cosmetic items will appeal to them. What they may not be aware of, however, is the role the overall online experience plays in audience retention.
"We are helping them understand what's happening between you and the infrastructure, so we can improve your life as a player without necessarily taking the shotgun approach and maybe breaking the experience of others along the way," Duperré said. "A simple Twitter search for the latest popular game and the word lag will tell you all you have to know. This directly translates into a loss of revenue and higher churn."
It's an ambitious mission to be sure, but he's confident that Edgegap is well-positioned to execute. The rapid advancement of technology over the last several years has afforded the company the chance to deliver on some lofty promises, and if it is successful in addressing a legacy problem like game lag, it's not hard to imagine a technology like edge computing becoming commonplace. If nothing else, it should be fascinating to watch the development of such tech and its impact on the gaming landscape.