When Animal Crossing: New Horizons released in March, it was to cacophonous praise. In a world stricken by pandemic-fueled quarantine orders, the life sim offers a much-needed escape to an idyllic island life free of viruses and recession and fear. Here, in this small digital world, you can mingle with your neighbors without wondering if you're going to infect each other, or take a shopping trip to Able Sisters or Nook's Cranny, which have mercifully remained open during the chaos.
In the weeks since its launch, New Horizons has helped fuel enormous growth within the games industry. According to a March report from NPD Group, market revenues jumped an impressive 35% compared to March 2019, putting an end to several consecutive months of steady decline. For its part, Animal Crossing can proudly claim a large share of the credit; it now boasts the second-largest launch for a Nintendo Switch game right behind Pokémon Sword and Shield. It is by far the most popular entry in the long-running franchise, and owns the third-best launch month of any Nintendo game in tracked history.
"There is a synthesis between this game and this time in history that will leave the two forever connected in the world of video games," NPD's Mat Piscatella wrote last month. "Practicing social distancing and observing stay at home orders have motivated many people to play more video games in order to find connection. Animal Crossing: New Horizons, a game designed around developing communities and forging connections, was certainly the right game at the right time. And there's no doubt that its success helped lift an entire market beyond what would have otherwise occurred."
It's safe to say that Animal Crossing has breached the world's collective consciousness in a huge way. Educators, Politicians, and celebrities have taken up island living, and the game is having a notable impact on how we consume entertainment. For instance, writer Gary Whitta has been producing an in-game talk show for the last couple weeks called Animal Talking.
"Honestly I was just curious and looking to experiment with what I could do with the game. I've been playing Animal Crossing every day since it came out; it's been great therapy for me to escape to a relaxing island world where the worst thing that can ever happen to you is getting stung by a wasp," Whitta told GameDaily. "And I've always loved late-night talk shows; they are a cornerstone of American popular culture, and I thought it would be an interesting experiment to try and recreate a classic talk show set in the basement of my in-game house."
Whitta–whose writing credits include a range of movies (Rogue One: A Star Wars Story, The Book of Eli), comics (Death Jr., Oliver) and video games (Halo 5: Guardians, 2006's Prey)–has interviewed a number of showbiz and games industry bigwigs. Naomi Kyle, Mike Drucker, Elijah Wood, and Felicia Day have all made appearances, and Whitta has a number of other personalities lined up for future episodes.
On Twitter, some other prominent names, such as Alexandria Ocasio-Cortez, Reggie Fils-Aimé, and Geoff Keighley, have expressed to Whitta their interest in appearing on Animal Talking. Despite this level of notoriety and exposure, Whitta doesn't want Animal Talking to get too overblown.
"It's very flattering, and we do have some big guests coming up, but I don't want this to get out of control and have the show become something it was never meant to be," he said. "It's just meant to be silly fun, and as soon as it becomes more of a hassle I'm going to lose interest."
Whitta promised that Animal Talking will never be about getting the biggest guests based solely on fame. The only criteria, he said, will be if he thinks potential guests are interesting and cool. There are upcoming guests that Whitta is sure that his audience will not have heard of, but they're just as interesting as any big-name celebrity or game developer.
Beyond the world of entertainment, the influence of Animal Crossing has managed to reach other cultural sectors of society, including art. Late last month, in the wake of closure against the pandemic, New York's Metropolitan Museum of Art made much of its collection available for import into Animal Crossing. The initiative is an extension of the museum's Open Access program, which was established in 2017.
Now, when browsing The Met's collection online, one of the sharing options is a QR code that is scannable from the official Nintendo Switch Online app. From there, you can import the work directly to your Animal Crossing island.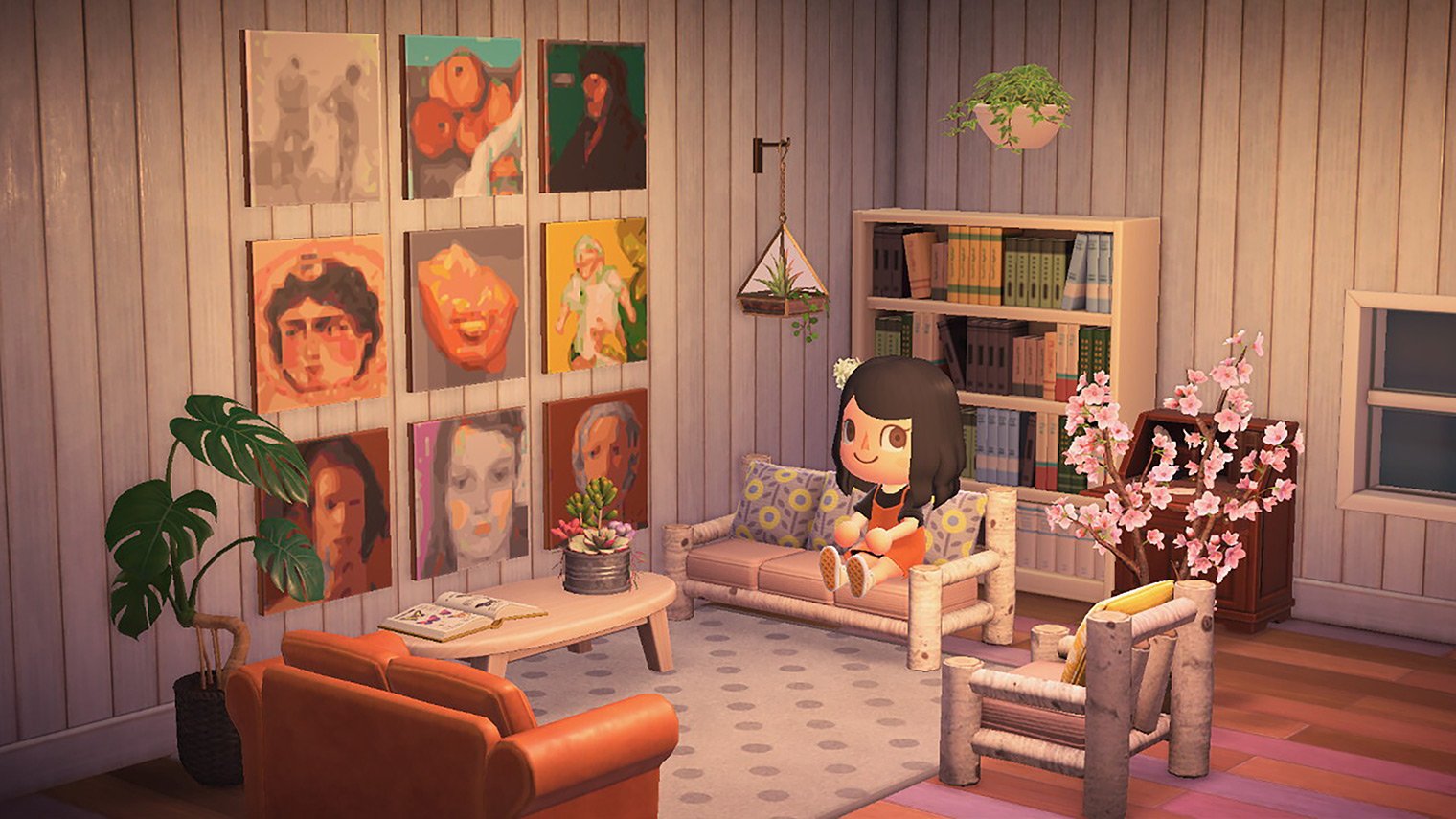 "I've been a huge fan of Animal Crossing for years, so I've found myself playing a lot of New Horizons," Joseph Curley, lead front-end developer for The Met, told GameDaily. "I had heard that the Getty made a tool to import their collection into the game, and I thought it sounded awesome. It made me realize how many pieces from our collection I wanted to see hanging in my virtual home."
To make this dream a reality, Curley reached out to Andrew Allred, who is the senior manager of app development at The Met.
"Being able to experience The Met's collection is one of every New Yorker's favorite parts of living in this city," Allred explained. "Adjusting to not being able to walk through the galleries whenever I want has been rough, but it has inspired us to find new ways to bring art to folks who need it most right now. Having access to art can really help make the world feel alive and expansive, especially in times when we might feel constrained in our space."
Curley said that he believes video games can be invaluable when it comes to educating people about the world of art. In fact, the medium helped him develop an interest in art.
"Animal Crossing has an in-game art museum, which features artworks from the real world. This has been a part of the series since the GameCube game, which is where I was personally introduced to some iconic pieces for the first time, some of which are part of The Met collection," Curley said.
Between Whitta and The Met, Animal Crossing is arguably making a case for video games' approach of the Metaverse, a virtual approximation of real life whose concept was made popular by films like The Matrix. The march toward such a future is being led by people like Tim Sweeney, CEO of Epic Games, and the company's titanic cultural touchstone Fortnite.
This trend–that is, the medium's gradual transformation into a social platform that extends beyond just video games–is not lost on Whitta, who notes that a global crisis like the coronavirus pandemic has the potential to accelerate the arrival of the Metaverse.
"I do think the metaverse is a real thing that's only going to become more real as the technology develops, particularly VR," he said. "And I agree that games are evolving beyond the traditional definition into something larger and more meaningful. They are becoming social spaces for people to connect and spend time together, and the game itself is almost secondary. The ability to forge those connections in virtual spaces is obviously something that's tremendously important at a time when we can't do it in the real world."
Of course, Whitta is operating Animal Talking on a bit of a smaller scale than Epic and Fortnite.
"I think what Fortnite is doing with its massive virtual concerts and other in-game events is on another level, but they have billions of dollars and phenomenal reach. I'm just doing this out of my home office with my wife Leah and my friend Adam Nickerson."
While Animal Talking may simply be a passion project for Whitta, it's most certainly part of a greater trend. Today, we're able to enjoy massive concerts, late-night-esque talk shows, and enriching art collections inside video games. Who knows what the next five or ten years will look like?
Before the pandemic, the power of video games as an artform was apparent. Today, though, as quarantine orders have forced us all apart, the connective qualities of the medium are made even more stark.