Bloober Team has built its name on psychological horror. From Layers of Fear, Blair Witch, and the voyeuristic Observer, the Polish developer has carved out a very specific niche in the gaming landscape. Its current project, The Medium, leans heavily into this reputation, but the game is much more than simply a new horror IP; it's a technical marvel, and an earnest leap forward for Bloober.
"The Medium is our most ambitious project to date," Piotr Babieno, CEO of Bloober Team, told GameDaily. "The first outline of the project was created over eight years ago, and through the years it has undergone numerous changes. To create this game, we had to move way beyond our comfort zone."
The game centers on Marianne, the titular medium, who has the ability to travel between our world and a parallel "spirit world." Back-and-forth movement between these worlds is central to puzzle solving, but Marianne doesn't just exist in one world at a time. Instead, the player will be able to explore both at once, with two worlds being rendered on-screen simultaneously.
"The game is not only unique from a perspective of our experience; we are also very confident it's going to be a first for the gaming industry," Babieno said.
Bloober went in-depth with the two worlds mechanic in a recent walkthrough video. The gist of it is this: obstacles in one world can often be overcome by exploring the other. In the walkthrough, this is illustrated by a door with an unpowered electrical lock. By traveling to the spirit world and interacting with a "spirit well," Marianne is able to use the energy as a substitute for electricity and bypass the door's lock in our world.
The origins of this "two-worlds-at-once" concept lie with Babieno's wife, who is also a member of Bloober Team. The studio fell in love with the concept immediately, but technical limitations kept it from being able to execute the vision.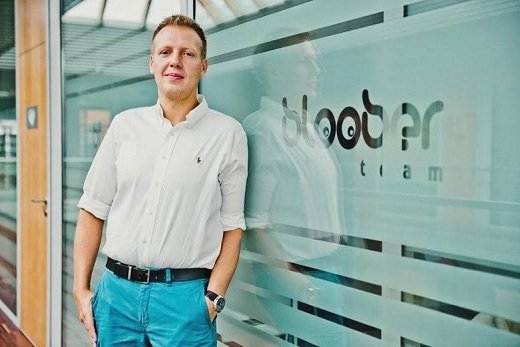 "Prior to the arrival of the next-generation consoles, the team cursed her every day for this idea," Babieno joked. "There were many times when we really felt it may never be possible."
Beyond boasting a novel gameplay mechanic, The Medium also reflects Bloober's philosophical and moral values. Babieno explained that the deconstruction of subjective perception is a central theme of the game, and he hopes that players learn a few lessons about objectivity while playing.
"For many years, one of the most irritating things for me has been the progressive labeling and pictography of assessments of individual and social behavior," Babieno explained. "We rarely hear a purely informational message in the media. Usually this information is connected and constructed in ways that suggest how we should think about a given subject. We are effectively prevented from examining the essence of the problems. For most societies, it has become normalized to form an opinion about something without knowing the root of the problem. Through The Medium we've found someone who can see more. This has become the genesis of not only the scenario assumptions, but above all, the unique approach to the game.
"It is my dream that The Medium will be a game that, at least for some gamers, will become a source of reflection on this topic."
Ethical stance aside, The Medium also pays homage to the greats of interactive horror. Silent Hill is one of the game's primary inspirations, and the influence can be seen nearly everywhere you look. For instance, The Medium utilizes semi-fixed camera angles, which lends the experience a cinematic feeling in addition to honoring the genre's past. Additionally, the game's music is composed in part by Akira Yamaoka, who also worked on the Silent Hill franchise.
The Medium was originally revealed in May as part of the Xbox Series X games showcase, and it's currently confirmed to be a Series X and Windows PC exclusive. This has resulted in rumors that Microsoft could be eying Bloober Team as an acquisition target for its growing roster of first-party Xbox Games Studios partners. Right now though, such rumors are unsubstantiated.
"We don't comment on rumors," Babieno said. "The fact is that we always probe the possibilities of any merger and acquisition process. We are doing this because our shareholders–we, as the management board, are a minority–will at some point want to exit from their investment. So we want to ensure that this process is under our control. We are committed to maintaining our independence and DNA. We have no intention whatsoever to change our strategy. So I can assure you that it's highly unlikely there will be any sudden unexpected announcements, despite many industry rumors."
Babieno said that Bloober's goal is to become the global leader in the horror genre, and a strategic partner would be welcome in this regard, but such decisions are not to be taken lightly. The studio's first priority is to make a good game and move the horror genre forward. It believes that The Medium is a step in that direction.
Of course, the ongoing COVID-19 pandemic has tossed an enormous wrench into the plans of nearly every major development studio, Bloober Team included. Babieno said that adjusting to remote working conditions has been hard, but he acknowledges that making games in the middle of a pandemic is a privilege.
"As a company, we are lucky to be able to focus on our work, regardless of the conditions that affect everyone," Babieno said. "The real protagonists of our lives in recent times are often poorly paid; doctors, medical services, or similar professionals who fight with COVID, who selflessly help every day and risk their lives.
"As people, we tend to forget about what is actually happening outside our sphere of vision pretty quickly," he continued. "I sincerely hope that for some of us, this enormous effort and the tragedy that so many have had to experience will be the beginning of a catharsis that results in the renewal of our faith in each other as partners in this fragile life. Really, in comparison, our problems are trivial compared to this unequal struggle."
It's this kind of objectivity that informs Babieno's view of the world, a philosophy that permeates the themes of The Medium. It's a game about searching for the source of conflict, and navigating the ambiguous nature of two worlds. It's unknown at this point if The Medium can be the next big step forward for the horror genre, but Bloober's ambition is undeniable, and the technical achievement of rendering two worlds at once is certainly impressive. Hopefully the team can deliver on its promises when the game launches later this year.