Update (1/11/2019):
Activision-Blizzard's stock, ATVI, has taken a tumble as a result of Bungie splitting off from the company.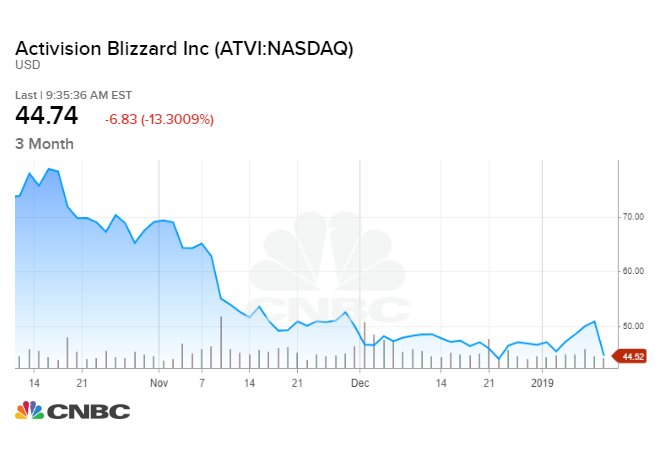 As of market opening this morning at 9:30am ET, ATVI has been shifting between an 11 percent loss to a 13 percent loss. Their most recent fluctuation, between January 3 and January 9, had them up several points up. Unfortunately, their stock has been in sharp decline over the last couple of years, with well over 50 percent of the stock's value taken off the top since their highest point in October of 2018.
There will likely be a market correction in the next couple of weeks, as this may end up being a knee-jerk reaction from investors, but fourth quarter performance will also play a role in how the stock recovers (or not).
Original Story:
Bungie has announced that it is parting ways with Activision Publishing and will assume all publishing rights to Destiny. The transition is in its early stages and Bungie promises that "Bungie and Activision [are] both committed to making sure the handoff is as seamless as possible."
It was a great third quarter earnings report from Activision, with Call of Duty and Destiny 2 leading the way, but as GameDaily reported back in November, "management noted that Destiny underperformed relative to internal expectation." With Activision-Blizzard looking to cut costs everywhere that it can, the split was likely mutual.
"Today, we're announcing plans for Bungie to assume full publishing rights and responsibilities for the Destiny franchise," Activision said in a statement to the press. "Going forward, Bungie will own and develop the franchise, and Activision will increase its focus on owned IP and other projects. Activision and Bungie are committed to a seamless transition for the Destiny franchise and will continue to work closely together during the transition on behalf of the community of Destiny players around the world."
Activision is now down to a single "tentpole" franchise: Call of Duty. Back in its prime, Activision was publishing games like Guitar Hero, Skylanders, and even Transformers. Since 2010, their release schedule, not including smaller re-releases and remasters like Spyro and Crash Bandicoot, has been dedicated to Destiny and Call of Duty. It's worth noting that Activision plans to release Sekiro: Shadows Die Twice on March 22, but the game is a single-player experience with no announced plans for additional content or live-service support.
By contrast, Bungie may not be struggling to keep its Destiny community engaged (the Niobe Labs puzzle kept the community guessing for quite some time, until the developers relented and unlocked the forge behind said puzzle), but it has been a challenge to find its foothold among the core fanbase. Thanks to Forsaken's successful launch, Destiny's monthly active user count, as of November 2018, was up threefold year-over-year.
So, why the split? According to Kotaku, this decision has been years in the making — the Destiny release schedule (which was originally annualised) was a source of tension between Bungie and Activision, even before the original Destiny was available to the public.
Bungie has a tough road ahead, as developing a triple-A game without a triple-A publisher is an uphill battle that may not end up working out in the end. Remaining independent while still managing to create and support a high-quality, high-demand game with constantly fluctuating content (and lore) is going to be a tricky balance to strike. And Bungie may find itself looking for a partner before too long.
As a result of the divorce, Activision-Blizzard's stock is down 6.5 percent after hours as of publishing.