"I'm back," Hideo Kojima said on stage at Sony's famous E3 2016 press conference, a little over six months after his massive breakup with Konami was made official and his announcement that he was starting a newly independent Kojima Productions with the first game to be funded and published by Sony.
Airing at the same show, the first trailer for Death Stranding left more questions than answers, a theme that has run through the game's marketing since its E3 2016 unveil. Kojima's always enjoyed a meta game of players figuring out mysteries before a game's release, something he's been doing since the Metal Gear days.
This coming Friday, the mysteries come to a head as players finally get their hands on the game for PS4 (with PC players getting to play it early next summer). Reviews went live last Friday and, well, they are mixed — but not in the traditional sense.
The game currently stands with an 85 on Metacritic, meaning the game has received mostly favorable reviews and it's meta score most developers would fall over themselves for (there's the famous story of Obsidian not achieving a bonus payout on Fallout: New Vegas for missing its projected meta score of 85 by one point). But for a game made by Hideo Kojima, whose games usually fall within the 90s, Death Stranding's mixed reception is slightly eyebrow raising.
Let's start with the positives. "On one level, Death Stranding is about America. But your actual goal in setting out across the country is to help people, bring them together, and forge connections, not for the vague concept of America but for the sake of helping the people within it," said Kallie Plagge in her nine out of ten review for GameSpot.
"Death Stranding is unrelenting in its earnestness and optimism–certainly not without its critiques of America, nor without its challenges and setbacks, but inherently hopeful nonetheless. It is a dense, complex, slow game with a plot that really goes places, but at its core, it never stops being about the sheer power and purpose we can find in human connection, and that is its most remarkable achievement."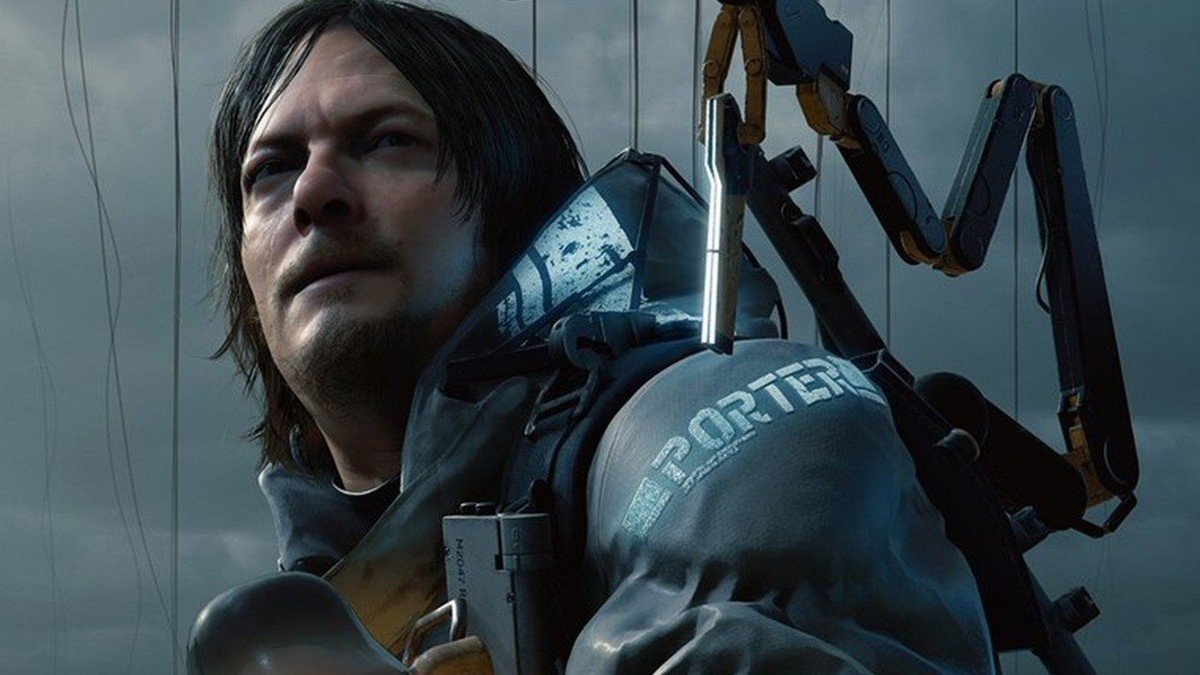 "Small wonder that Sony moved to snap up console-exclusive rights to Hideo Kojima's first game after his acrimonious split with Konami," added Eurogamer's Oli Welsh, giving the game a recommended platitude. "Kojima and PlayStation have a close relationship that dates back to Metal Gear Solid's debut in 1998. Beyond that, Sony's commissioners have a helpless weakness for the most ambitious and bizarre visions of video gaming's great auteurs and obsessives.
"If you are a Fumito Ueda, or a David Cage, or a Kazunori Yamauchi, and you have a weird idea for a game that cannot possibly be made on budget and will confuse the hell out of the marketing department, then Sony has a few million dollars with your name on them."
For Kojima's first game outside of Konami in over 30 years, he's assembled an all-star cast within Death Stranding. Norman Reedus (The Walking Dead), who he worked with before on P.T. and was set to work with for a new instalment in the Silent Hill franchise before it was canceled, takes the reins alongside the likes of Mads Mikkelsen (Hannibal, Doctor Strange), Lea Seydoux (Blue is the Warmest Color, Spectre), Margaret Qualley (Once Upon A Time in Hollywood), Lindsay Wagner (The Million Dollar Man) and Troy Baker (The Last of Us, Metal Gear Solid V), as well as appearances from directors Nicolas Winding Refn and Guillermo Del Toro, the latter working with Kojima on Silent Hills until it was canned.
Welsh gave praise to the game's cast for the performances put in. "Qualley adds a much-needed note of relatable humanity; Seydoux does her best with a faintly icky characterisation. Reedus does the gruff everyman thing well enough and his compact physicality really grounds Sam as an avatar. Del Toro, the acclaimed Mexican film director and connoisseur of pop-culture weirdness, seems to be having the most fun with this nonsense, and is a lively presence throughout."
In Videogamer's 8/10 review, though, Josh Wise calls the casting of both Del Toro and Winding Refn "more like a stunt than good casting," while Polygon's Russ Frushtick in his unscored review said the likes of Seydoux has "a tough time selling the emotion of the stiff writing."
Regarding the gameplay, the best way it can be summed up is it's part courier delivery and part the most expensive walking simulator of all time with a story that sees you trying to unite the cities of America once again.
"During my time reviewing Death Stranding, I had a relationship fall into disrepair. That my most valued personal connection frayed while playing a game that is ultimately about the bonds we make was not lost to me," said Heather Alexandra in her review for Kotaku.
"Time and time again in Death Stranding, I wandered through harsh red deserts and snow-capped peaks with the mission of bringing people together. I crossed bridges left by strangers, trusting that the paths they had laid would bring me where I needed to go. Outside of the game, I was lost. What does it mean for a connection to unravel, like an old rope bridge across a ravine? What does it take to rebuild one?
"I don't have answers to this. Death Stranding didn't provide them. Instead, it insisted on a simple idea: that we are made strong by the grace and, more beautifully, the chance of others."
Added Dan Dawkins, an obsessed Kojima diehard by his own confession, in his 4/5 review for The Guardian: "Death Stranding defies convention, focusing on 'connection' over combat and (almost) removing the notion of restarting a mission when things go wrong.
"Case in point: I failed to plan a delivery route and got swamped by BTs, who wrecked my cargo. Having never so much as dented a parcel in the game's opening hours, the sight of 10 cases being ruined provokes blind panic bordering on remorse. My instinct is to quit and restart the task, but while lost items can be picked up later from a delivery centre, if a cargo is destroyed beyond repair, it's lost forever. It's in this moment that Death Stranding is born, as you resolve to push on with a nagging sense of failure, unable to reset and start fresh."
For as much praise as Death Stranding has already received, there are a number of critics who simply couldn't get behind the game's courier premise.
"…if you think that playing the role of a courier makes it sound as though Death Stranding could be one continent-spanning series of glorified fetch quests, it's because that's exactly what it is," said IGN's Tristan Ogilvie in his 6.8 review. "The vast majority of its 70 main story missions are structured in the same way as the optional side missions we've all run in countless other open-world games.
"With the exception of certain tutorial missions which introduce the basics of the combat system, boss fights, and a handful of other combat-oriented diversions, advancing the plot in Death Stranding amounts to taking item X from location A to location B, over and over again. Sounds pretty repetitive, right? Well, the good news is that there are also side missions in Death Stranding. The bad news is that these side missions are also fetch quests, undertaken mainly to unlock additional items or customisation options."
"It will no doubt go down as one of the most memorable games of 2019, for better or worse. It's bound to be divisive as fans and critics point out its various flaws: the repetition, the pacing, the often awkward gunplay, Die-Hardman's acting," added Kat Bailey in her 3/5 review for USGamer, comparing to quirky PS2 games such as Katamari Damacy.
"It's also bound to be ferociously defended by those who admire its genuinely clever online design and its determination to downplay violence. I mean this in the nicest way possible: it truly is a PS2 game in disguise. It's for that reason, if nothing else, that I come away with broadly positive feelings about Death Stranding, even if in some ways I struggle to wholeheartedly recommend it."
The one universal takeaway from these reviews is that there is no middle ground. You will either love Death Stranding or you will hate it. But how much of an impact will the broad scope of reviews for the game affect its sales this holiday shopping season and beyond?
Speaking with GameDaily, Kantan Games' Dr. Serkan Toto noted he expected sales of the game to be at 2-3 million units by the end of the year. And while that's not a bad figure, it doesn't quite meet expectations for a Kojima-led game. David Cole of DFC Intelligence added Death Stranding is a game that has the potential to sell 5 million units, but noted: "Sony was really quiet on this game. I think they knew it was an odd duck. Hideo Kojima is almost the definition of a cult game designer. He has a lot of fans but not really true broad appeal."
Cole added: "Given a severe lack of products this holiday season, I think with more promotion this game could do better. It appears Sony knows they have an odd duck and don't want to promote it as something it's not."
NPD's Mat Piscatella told GameDaily.biz that with Death Stranding, it's a game that could fall either way with success or failure, noting it has had "a pretty large range of forecast possibilities" ahead of its release.
"I don't have a specific target in mind. I've had it projected both as a top 10 best-selling game of the year, as well as a game that could miss out on being one of the top 20," said Piscatella.
"The 84 Metacritic score suggests the game shouldn't come out on either a high or low end of the sales spectrum, but where it will fall? Very difficult to say. If I had to make a call, I'd say a top 20 selling game of the year, but also wouldn't be surprised if it placed somewhere else.
"As with everything else about this game, the forecast is something that's tough to wrap one's head around."
SuperData's Managing Director Joost van Dreunen said the game "has all the makings of an absolute fan favorite. It has the clear aspiration to become a masterpiece for its generation and believe me when I say that I'd want it to deliver on that." That said, he also noted that the game's overabundance of Hollywood stars as well as cameos featuring the likes of Geoff Keighley, Conan O'Brien, and Edgar Wright could have a negative impact.
"What concerns me from a strategic perspective is that it is currently disproportionately overloaded with celebrities. Kojima himself is an industry superhero, of course, and so are many of the voice actors. And then there's the in-game appearance of Geoff Keighley. I see this working well for it now that live streaming has become such an integral component to the success of game releases.
"But we have to ask the critical questions, including whether audiences give a hoot about these cameos. Kojima's personal ambitions lie beyond just gaming and he's expressed a desire to make movies. So while Death Stranding's hype machine is purring we have yet to get any insight into what to expect in terms of game play. That's where I see the possibility of this production overreaching."
"The industry's old guard is seemingly enamored with itself and excitedly milling about the enormity of the creative vision. But it is also possible that in its effort of checking all these creativity boxes it forgets to be fun. Death Stranding will either be a massive hit that sells 30 million copies in its first 18 months or it will be DOA."
As van Dreuenn alluded to, Kojima has expressed a desire to make movies. That's not a massive shock considering how much of a self-confessed cinephile he is, trying to watch at least one movie a day and how much they've influenced his studio's games. But in an interview with the BBC detailing the final days of development on Death Stranding, he's now indicated they are now set to be a future part of Kojima Productions' future.
"In the future, Kojima Productions will start making films," said Kojima. "If you can do one thing well, then you can do everything well."
But don't expect Kojima to step away from games as a whole either. He's said numerous times in interviews and at events that he will continue to make games until he dies. So expect more of the likes of Death Stranding going forward, not less of them, despite his aspirations towards movies.