It's been just over a year since Discord added games to its Nitro subscription service. Today, the company has announced that the party is over.
As of October 15, 2019 (exactly a year since full release), Discord Nitro will no longer offer a game subscription component as part of its offerings. The company cites low usership as the reason for not renewing contracts with developer and publisher partners.
"We learned a lot from all of you over the last year," the company wrote in a blog post today. "Through your valuable feedback, it became clear that while we and some of you love these games, the truth is the vast majority of Nitro subscribers didn't play them."
Instead, the chat service is refocusing its efforts on core competencies. This includes new features (like the recently added Go Live streaming option) and improvements (increased upload limit) for those subscribing to the three-year-old Discord Nitro service.
Games in the Nitro library will be playable through October 15. Any games purchased from the Discord Store will not be affected. The company has also made changes to its storefront along the way. In March, just five months after rolling out the Discord Store, the dedicated sales tab was removed from the user interface. Instead, Discord relegated sales to verified channels.
When it was announced in October 2018 (alongside the Discord Nitro game library), the "First on Discord" program was a key talking point. Raw Fury's Bad North was the initial title in the endeavor. Now, the only way to find that game for sale on Discord is to join the Raw Fury verified Discord server, where it is offered via a small box in the upper left corner (see below).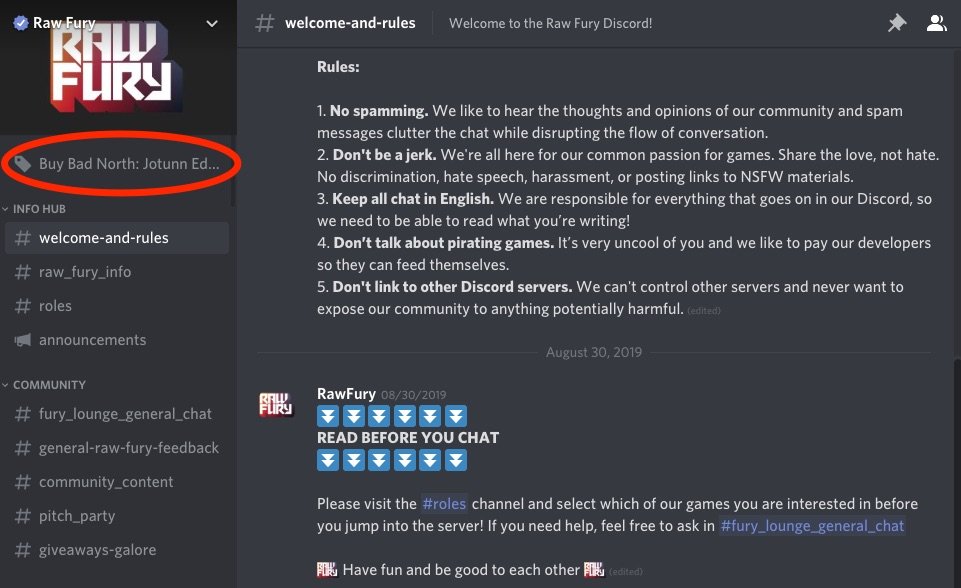 GameDaily reached out to Discord to find out how the changes to Discord Nitro might impact future sales via verified servers, its early access initiative, whether the First on Discord program is still a focus, and if users and developers should anticipate other changes.
"This change is really only to Nitro and making sure we are focused on delivering the best content for Nitro subscribers – and the content they are most engaged with," A Discord representative told GameDaily via email. "This does not have any impact on the in-server commerce experience and the ability for developers or publishers to make their games accessible directly to their community."
We also reached out to Raw Fury for comment on its experience with Discord as the inaugural First on Discord publisher, but also did not receive a reply by publish.
While Discord's decision to reinforce its verified pages fits the community-first ethos, removing the Store tab has left users and developers without a commerce hub. Discoverability relies on finding and learning about new things (what's known as a push strategy). Discord's commerce approach now relies on users pre-qualifying their interest in purchasing a game (a pull strategy).
In order to purchase a game from a developer on Discord, a user must first join the publisher's server. That alone requires a significant amount of investment on the part of a potential customer. In this format, no games are being surfaced to users, there's nothing to browse, and discoverability is approaching zero.
As Valve works to repair its severe discoverability issues with Steam Labs and Epic continues to tightly curate its library (in part with exclusives), Discord has opted to go in a different direction. Over its first year, the company has eliminated its key discoverability tool for new game sales and is winding down its subscription service. This experiment may nearly be over.
This story was updated on September 13, 2019.