Late last week, Google held the first-ever Stadia Connect, a presentation focused on the tech giant's upcoming cloud gaming platform. Lots of interesting details were revealed, including a November 2019 release date and a monthly price of $9.99. In the days since the Connect stream, more bits of information have continued to trickle out, including the potential for the platform to offer publisher-specific subscriptions on top of the Stadia Pro subscription itself, which will offer its own set of curated titles. This option was briefly teased by Stadia boss Phil Harrison during YouTube's E3 Live program, and then only hours later confirmed during Ubisoft's E3 press conference.
During the presentation, Ubisoft vice president of platform and product management Brenda Panagrossi announced Uplay+, a subscription service that gives players access to the entirety of Ubisoft's backlog (over 100 titles), as well as the earliest access to the new releases such as Watch Dogs: Legion and Ghost Recon: Breakpoint, and also the entirety of DLC that comes out for Ubi's big franchises. The service will cost $14.99 and will debut on PC on September 3, 2019, offering players who sign up now the entire month of September free of charge. It will then become available on Google Statdia sometime in 2020.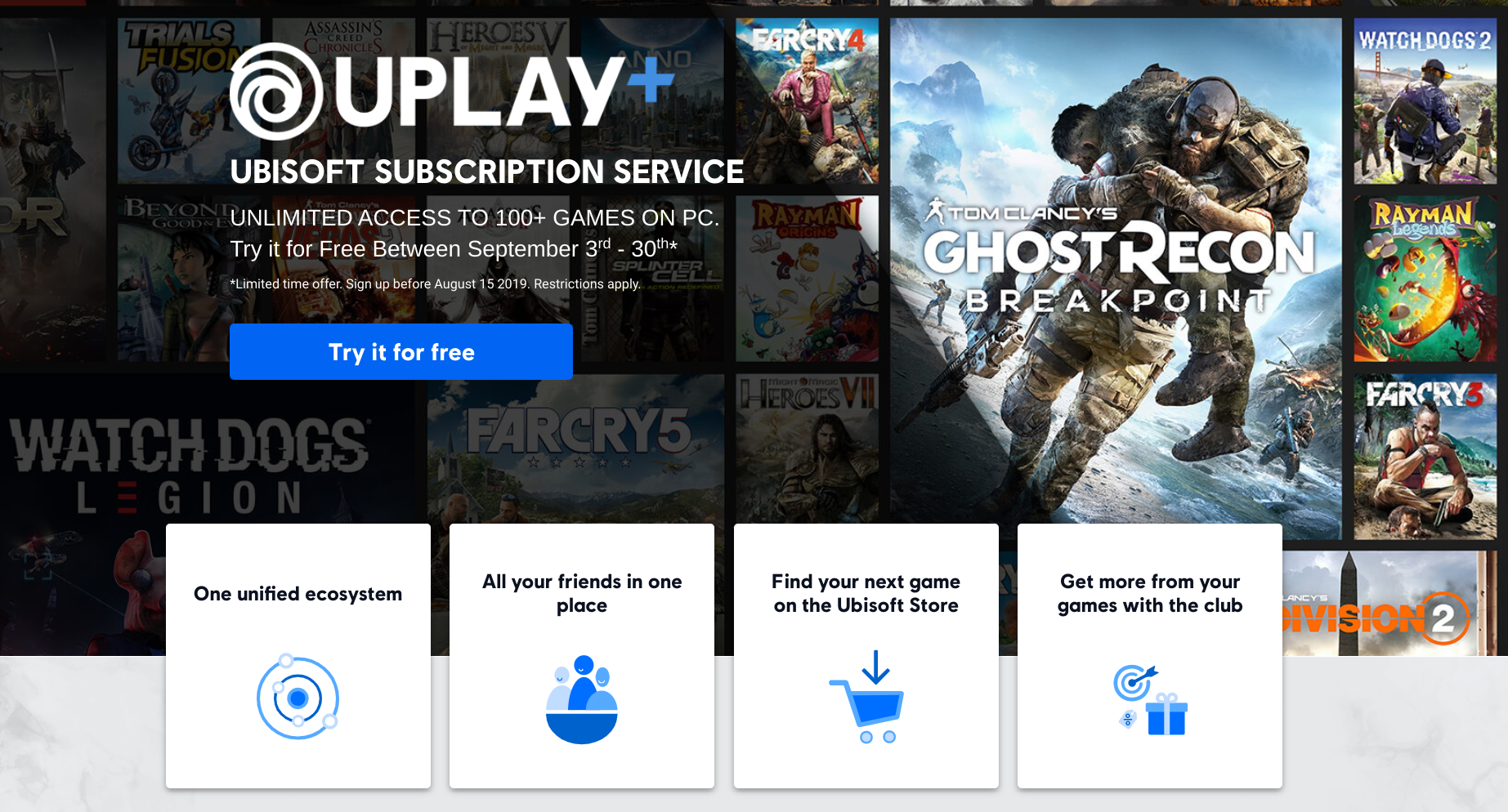 "The video game industry is constantly shifting, and our players' needs are evolving," Panagrossi said in a statement. "At Ubisoft, we are committed to offering our players the best experience and the opportunity to discover the different worlds we've created for them. With Uplay+, we are able to provide more freedom for players by making it even easier to access our extensive catalogue."
Ubisoft's announcement of a subscription service on the Stadia platform sets a precedent that other publishers are likely to follow in the future. Speaking with Geoff Keighley as part of YouTube's E3 Live program, Harrison commented, "You'll also see in due course, in relatively short order from now, you'll see publishers starting to think about their own subscriptions. We support that on our platform, and we'll see some announcements in due course around that."
Given Harrison's comments and Ubisoft's announcement, it's not hard to speculate that we will likely see the announcement of similar subscription services, whether from Bethesda (already a big Stadia supporter), EA (which, of course, has a subscription already in Origin) or others.
An important note is that publisher-specific subscriptions are likely to be an additional cost to the monthly Stadia cost. In the interview with Harrison, Keighley likened it to paying for HBO on top of a cable service. It's unknown how well consumers will take to such a strategy, but we do know that we are currently inundated with subscription services from the likes of Netflix, Hulu, the upcoming Disney+, Nintendo Online, PlayStation Plus, Xbox Live, Xbox Game Pass, and a lot more.
If Google Stadia's primary strategy is to emulate the cable TV industry, offering its own package with Stadia Pro and then selling supplemental publisher subscriptions, it's unclear how receptive consumers will be, especially when services like Xbox Game Pass are continually boosting their value and exclusive portfolio. We'll have to keep a close eye on the numbers once Stadia launches this fall.