Today, the Entertainment Software Association officially cancelled this year's E3 show amid growing safety concerns surrounding the COVID-19 virus. First reported by Ars Technica, the news comes on the day the coronavirus has been declared a global pandemic by the World Health Organization, and after weeks of speculation born from E3's perceived waning relevance and last year's doxxing of more than 2,000 journalists.
"After careful consultation with our member companies regarding the health and safety of everyone in our industry–our fans, our employees, our exhibitors and our longtime E3 partners–we have made the difficult decision to cancel E3 2020, scheduled for June 9-11 in Los Angeles," the ESA's announcement reads. "Following increased and overwhelming concerns about the COVID-19 virus, we felt this was the best way to proceed during such an unprecedented global situation. We are very disappointed that we are unable to hold this event for our fans and supporters. But we know it's the right decision based on the information we have today."
For Piers Harding-Rolls, research director of games at analyst group Ampere Analysis, this development isn't surprising.
"I'm not surprised at all that it's been cancelled," Harding-Rolls told GameDaily. "The format of a semi-consumer show with lots of show floor interaction means it was hard to go ahead under current conditions. What is great is that they will be cancelling the physical event with three months' notice. That gives the industry time to organise itself and shift announcements purely online as required."
While nobody can blame the ESA for taking such safety precautions, E3 is still a beloved show with a long history as the marquee gaming event of the year. On social media and elsewhere, much of the industry has reacted bittersweetly to its cancellation, and speculated about the questionable future of such a show.
"The health and safety of employees, fans and our partners around the world is a top priority," a Microsoft spokesperson said in a statement. "We support the ESA in its decision to cancel E3 following increased public concerns with the COVID-19 virus."
For Harding-Rolls, Microsoft stood to benefit a great deal from this year's E3. With Sony once again not attending, the Xbox Series X was set to be the only upcoming next-gen console with a presence at the show. Still, according to Xbox head Phil Spencer, Microsoft will be hosting a digital event in lieu of E3.
"E3 has always been an important moment for Team Xbox," Spencer said on Twitter. "Given this decision, this year we'll celebrate the next generation of gaming with the Xbox community and all who love to play via an Xbox digital event. Details on timing and more in the coming weeks."
Also on Twitter, ID@Xbox director Chris Charla lamented the loss of E3:
"I've been to every E3. I love the show. There's nothing like it in the world–LA, the best games, the best people. Everything about it rules, even the bad parts. It's incredibly disappointing to see this year cancelled, but I think it's a very responsible choice by the ESA."
In an email to GameDaily, Nintendo issued a statement similar to Microsoft's:
"Nintendo supports the ESA's decision to cancel this year's E3 to help protect the health and safety of everyone in our industry–our fans, our employees, our exhibitors and our longtime E3 partners. We would like to express our concern and support for all those affected by the COVID-19 outbreak during this challenging time."
Ubisoft also issued a statement to GameDaily via email:
"The health and well-being of our teams, players and partners is our top priority, so while we're disappointed, we fully support the ESA's decision to cancel E3 2020. E3 is and will continue to be a moment where we come together as a community and share our love of games. We're exploring other options for a digital experience that will allow us to share all the exciting news we have planned."
For some of the bigger publishers and developers, E3 wasn't much of a necessity. In fact, a number of larger brands–like Activision and Sony–have been ditching the show in favor of self-contained events to announce games on their own terms. However, indie developers seeking to pitch their games to publishers could be negatively affected by the lack of an E3. On Twitter, Kotaku reporter Jason Schreier said as much.
"Most people only think of E3 as press conferences, but those will be easily replicated. The repercussions will come from the deals that don't happen: the indie pitches and biz lunches and chance meetings that can save companies. E3's cancellation could really hurt some people," he stressed.
Last month, GDC was also postponed due to COVID-19 fears. Shane Bettenhausen, who works in the developer relations department at Sony, echoed Schreier's sentiment about the unfortunate side effects, but also pointed out the potential impact on non-industry workers when it comes to such cancellations.
"These cancellations have knock-on economic effects," Bettenhausen said on Twitter. "I heard a local radio piece this morning about how 11 conferences have all cancelled at the SF Moscone Center now; they interviewed a local catering company that's had to lay off 40 employees so far this week."
For some, though–such as Stephanie Tinsley of Tinsley PR and Marketing–E3 has historically been an unwelcoming environment for indies.
"All this and that about indies at E3. Does everyone understand indies were never welcome there to begin with? In recent years smaller games had only just begun to show up. Relax. The indies never needed E3," Tinsley said on Twitter.
Tinsley PR represents Devolver Digital, an indie publisher known for its annual anti-E3 mixer that's held every year in a parking lot around the corner from the LA Convention Center during the conference. In 2017, the ESA reportedly attempted to block Devolver's event by allowing another event to occupy the parking lot.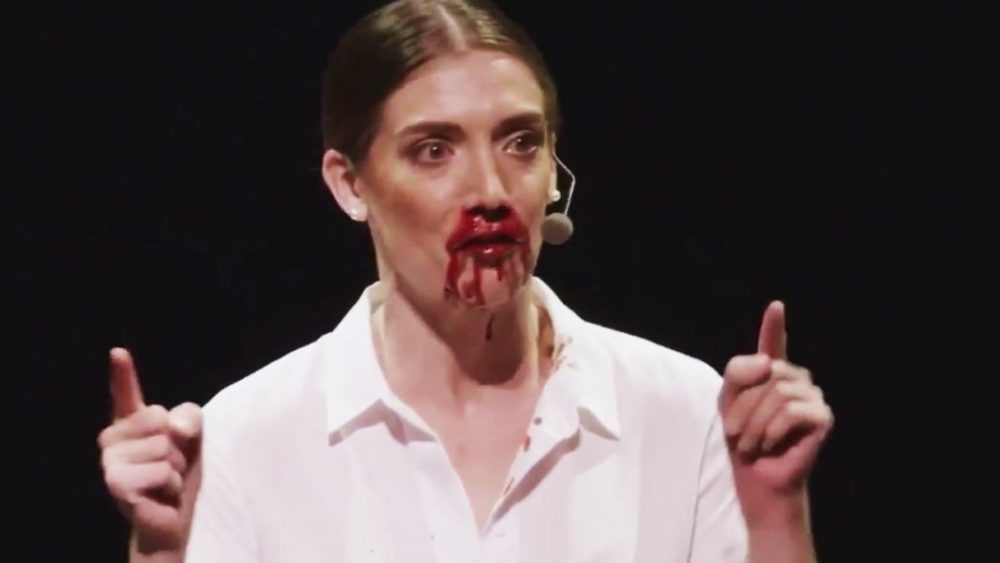 Another organization that exhibited frustration with E3 is AbleGamers, a charity aimed at improving the lives of gamers with disabilities. For Steven Spohn, COO of the organization, E3 has historically been unwelcoming to this under-served demographic.
"I had to call ESA every year to pressure E3 to let AbleGamers in as we were told we are too small representing a niche group," Spohn said on Twitter. "This includes the years we won awards."
Considering E3's struggle to remain relevant over the last several years, some are predicting that the coronavirus could be the straw that breaks the camel's back, so to speak. We could be seeing the end of E3 in its current form, if not the outright end of the show altogether.
"E3 used to be largely a retail show, with retail buyers connecting with publishers to see upcoming games for release later in the year and place orders," Harding-Rolls told GameDaily. "Times have changed though, and although it will be a blow not to be able to have face-to-face meetings, the importance of E3 as a B2B show has definitely shrunk over the last few years. I do think the coronavirus outbreak might lead to some permanent change to events like E3, which were already struggling to define themselves in the rapidly changing landscape of games. Next year, E3 may well be quite different."
For long-time games journalist Brian Crecente, E3 has never been able to adapt to an entertainment environment that once saw video games as a maligned and unimportant medium. Now, it's the largest form of entertainment in the world, and E3 has been struggling to find its footing in the spotlight.
"E3 was born out of annoyance and necessity and quickly became the place where most buying decisions were made by big retailers," Crecente wrote in a blog post. "But over the years those purchase decisions shifted to being made well before E3, and perhaps more importantly, the rise of digital sales and near-death of box shops like GameStop have minimized the importance of physical sales.
"But things have changed so drastically since the mid-90s that once what was an important, driving force of the game industry has become not just unnecessary, but in many ways an embarrassment."
Crecente, among other industry professionals, posit that if E3 is to survive beyond 2020, the ESA is going to have to make some significant changes. One potential solution is to take a note from Nintendo's Direct playbook and make the entirety of E3 digital. Many big publishers already stream their press conferences, so why not just lean into that aspect and make the show free to watch online?
The coronavirus pandemic has wreaked havoc not just on E3 and GDC, but the overall games conference circuit. Yesterday, organizers cancelled Japan's BitSummit, and some analysts are predicting more shows will follow.
"If the outbreak continues in Europe, I think it is inevitable that Gamescom will be impacted," Harding-Rolls said.
Every year, Germany's Gamescom hosts more than 300,000 visitors.
Regardless of what 2021 holds for E3, this is a time of transition for the ESA and the perennial showcase. The shifting landscape of the games industry necessitates that event organizers adapt to consumer expectations, something that it has not been able to do thus far. Hopefully, the cancelation does not signal the end of E3, and it is able to return next year with a fresh take.