EA's stock price is trending upwards today (up almost 6% as of publishing) thanks to the publisher's strong start to the 2020 fiscal year. The publisher beat guidance in the first quarter with total revenue of more than $1.2 billion and net bookings roughly flat with a year ago at $743 million.
Net bookings has become a key operating metric for EA and most big game companies in this modern, live service era, because it factors in products and services sold digitally as well as "the change in deferred net revenue for online-enabled games and mobile platform fees." EA's digital net bookings over the last 12 months now stand at $3.73 billion, up 5% year-over-year and represent the vast majority of EA's global business with 76% of total net bookings.
EA, like Ubisoft, has managed to adapt its business strategy to a live service ecosystem with aplomb. EA saw over three million players logging in daily during one of its in-game events for FIFA Ultimate Team, while The Sims 4 enjoyed a 55% jump in downloads for expansion packs and game packs (and added 7 million new players in the last couple months), and Star Wars: Galaxy of Heroes grew its player base life-to-date to 80 million.
Apex Legends just kicked off its second season on July 2 as well, and while that had zero impact on the quarter (ended June 30), EA boss Andrew Wilson reminded everyone on the earnings call why he's so optimistic about Respawn's battle royale title moving forward.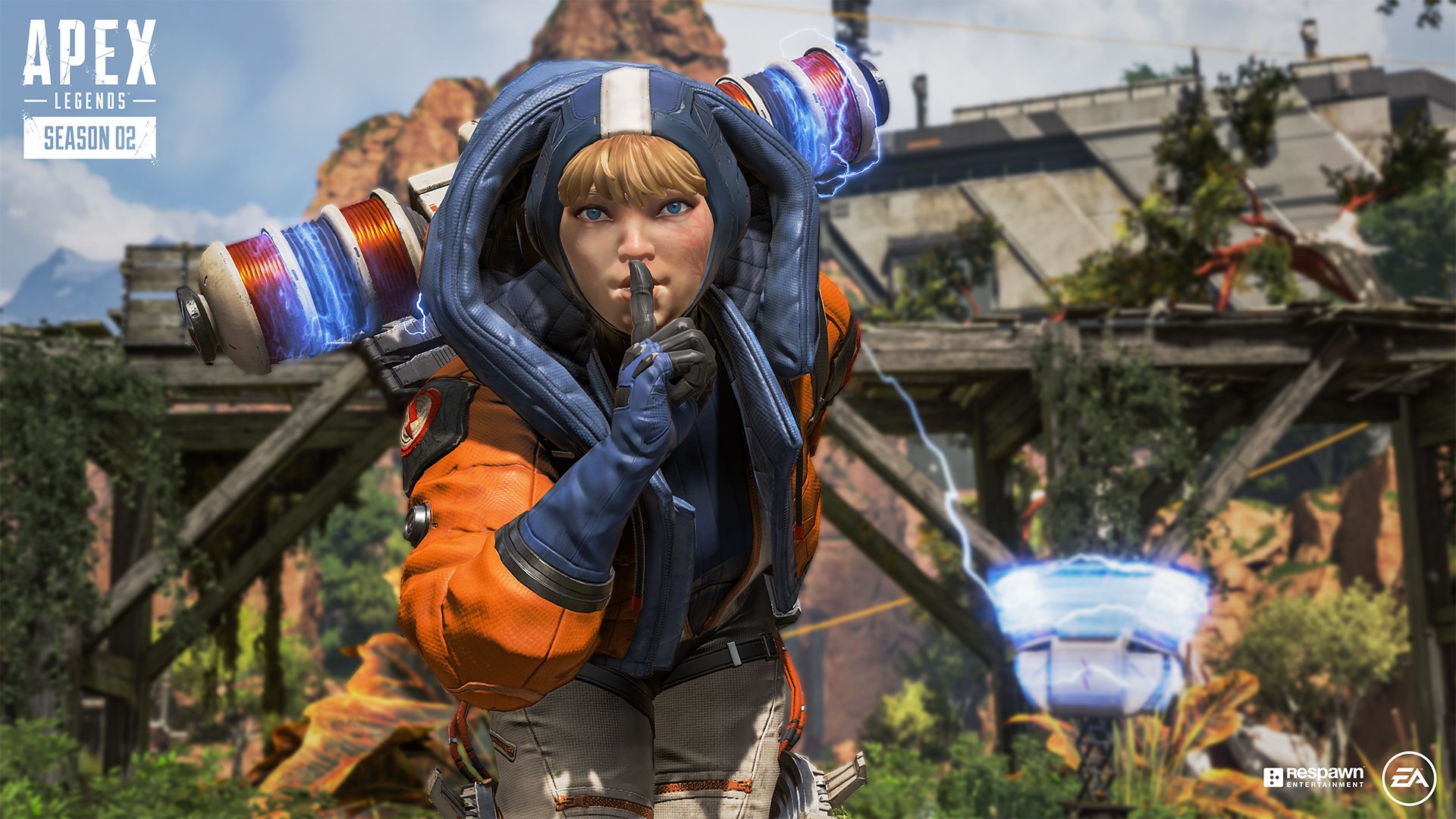 "We have a massive global audience continuing to engage in this high-quality free-to-play experience. Apex has tremendous gameplay at its core and we've built it to have longevity as a live service that will continue to drive engagement over time," Wilson said. "In our live service, we're delivering seasons of new content, a collection of new content and updates that begin to roll out at the start of each season and continue throughout the course of several weeks and months. We launched Season 2 in early July, including a robust Battle Pass offering, a new character and additions to the environment. And to date, it had outperformed our expectations with significant growth in daily and weekly active players.
"In each season, there are in-game events that are additional drivers of engagement such as the event coming in the next few weeks that will bring new content and deliver one of the most fan-requested features since the launch of Apex. There will be more updates and in-game experiences in the weeks to come for Season 2 and Season 3 is shaping up to be even bigger. All of these elements, the fantastic core gameplay, seasons of new content and additional in-game events are designed to continually excite and engage the Apex community over the long-term."
In a report emailed to GameDaily, Wedbush Securities' Michael Pachter estimated that Apex Legends contributed about $50 million to EA's business. This number will certainly grow if EA manages to keep players engaged, and the publisher is off to a hot start in terms of engagement. On the call, CFO Blake Jorgensen remarked, "We have 8 million to 10 million people on a weekly basis playing the game. That's huge for us on almost any game that we see. And we'll continue to take advantage of that, keep them engaged and playing everyday."
Importantly, there's an opportunity around Apex that extends far beyond its core audience, as Wilson also made it clear that EA has big esports aspirations for the game.
"Esports will bring new drivers of social interaction and competition to the Apex ecosystem," he said. "Interest from teams, broadcast partners and sponsors is strong and we've had great success with our first exhibition event, including a competition at the ESPYS that was broadcast on ESPN and ABC. We'll have around 8 teams from around the world participating in our first official competition in September. Our plan is to bring Apex Legends to China and a worldwide mobile launch are also on course, and we will share more on our plans in the future."
Live services revenue as a whole grew by $54 million (12%) year-over-year, and as you can see from EA's presentation slide below, this segment (displayed in green) is truly EA's bread-and-butter now. A lot of the business also continues to head in the direction of digital purchases, as Jorgensen noted on the call that "47% of our unit sales are now digital rather than physical, measured on Xbox One and PlayStation 4 over the last 12 months."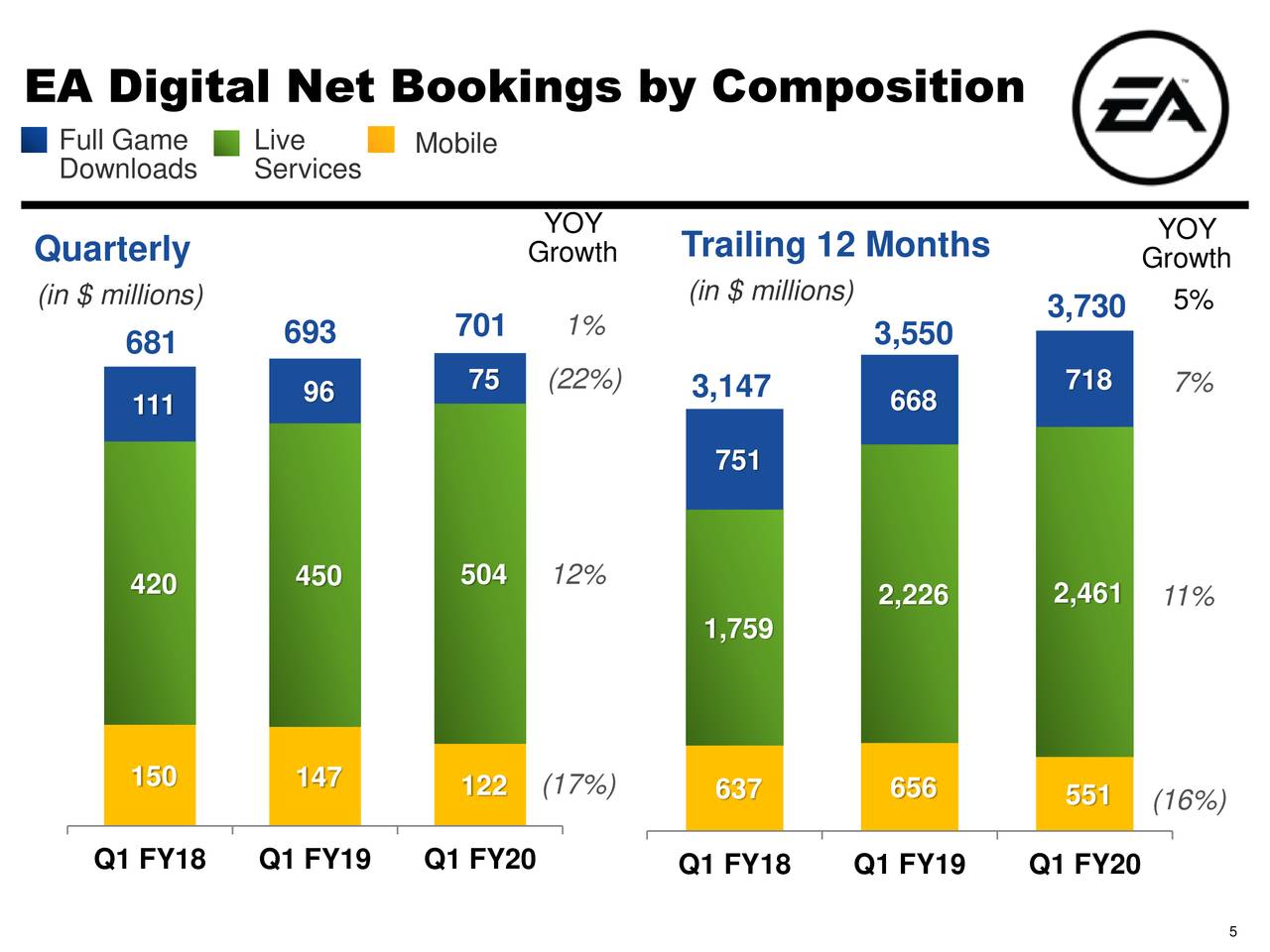 The rise of digital takes no one by surprise in 2019, but it shouldn't be taken as a sign that physical is dead and has been entirely supplanted by digital purchases. As NPD analyst Mat Piscatella commented on Twitter, "…loads of companies have reached or are about to reach 50 share for digital… but that's resulting in overall growth. It's not a zero sum market, and an additional digital sale does not mean one less physical sale." He added that he thinks digital should top out at 80-85% share in 10 years.
The continued transition towards digital does bode well for publishers like EA, commented Wedgewood Partners in its recent fund letter: "While the shift of video games away from physical retail-store based sales, toward digital and online distribution sales has been the norm for a few years, we expect there remains a good opportunity for EA to improve the profitability of existing titles and launch new titles into untapped segments, at higher returns than we have seen historically."
While consoles do make up the bulk of EA's business, mobile is still significant, even if net bookings were down 17% year-over-year. On the surface, it may seem like EA's losing steam in the mobile arena, but Wilson countered that notion during the Q&A session on the call.
"It's a very meaningful part of the revenue profile, of the contribution, but it's also extraordinarily competitive and it's very tough and we've seen a lot of large-scale mobile games and mobile companies in pretty serious decline over the last 6 to 12 months," WIlson said. "We have a mobile business that still has an operating contribution of 40%. So it's very, very profitable as a mobile business. And we've held on to that and we feel very good about that.
"But if we think about our strategy, I would talk about it in three core categories. One is that we have some tremendous games in live service mode, and what we're seeing is the average age of the top titles on mobile is actually getting older as those games scale and it's harder and harder to break in. So when you look at games that we have like Star Wars: Galaxy of Heroes or Madden Mobile or FIFA globally, we feel very good about our ability to grow those live services over time and really work hard to ensure that we're filling — fulfilling the community.
"The second element of that is, is that we are in a world where acquisition of new players is really, really tough and it's really hard to break into the mobile charts. We're really focusing on our IP that we believe has real resonance inside the community, and again, like Plants vs. Zombies, which has been downloaded over 1 billion times, is absolutely a candidate there. And you should expect that we will focus on our IP that we think can break out in what is otherwise a very costly acquisition market."
The third area related to mobile is M&A. While Wilson had no specific announcement, he acknowledged that there are smaller mobile companies who can build great games "but maybe don't have the marketing firepower to actually break into the market or the network of players that we have that they could access."
While EA spent a lot of time discussing Apex, there's another highly anticipated Respawn game that players and investors alike are eagerly awaiting. Star Wars Jedi: Fallen Order could be a hot seller this holiday and offer a meaningful contribution to EA's bottom line. Wilson commented that the game "received 45 award nominations [at E3] and great vibes from the player community." Michael Pachter said "full year guidance suggests contribution of around 6 – 8 million units" for the game and he believes it has the potential to reach 12 million units "depending upon how it is received by critics."
The one game that barely even got a mention during EA's call was BioWare's Anthem. That doesn't mean that EA has given up on it. Far from it, as Wilson explained in GameDaily's exclusive interview from E3 that he fully supports both Anthem and the entire BioWare team. He sees the IP as living on a 7-10 year cycle and feels that the team "is going to get there with something really special."
The AAA games industry is risk averse and volatile, and unfortunately that can lead to layoffs at times, but the future does look bright for EA. For the full 2020 fiscal year, EA expects total revenues of $5.375 billion with net income of $2.795 billion and net bookings of $5.1 billion. Wedbush Securities is maintaining its "outperform" rating on EA stock, and Pachter believes EA's portfolio "is sufficiently strong to allow further growth in FY:21."
"We think that the company can grow earnings next year with an additional title from Respawn (a 'twist' on the Titanfall series), either a Star Wars or a Battlefield game from DICE, and likely a new game from BioWare," he said.