Epic Games threw down the gauntlet last December when the Unreal Engine maker and Fortnite developer unveiled its own PC storefront with a very attractive 88/12 revenue split for developers. Part of the Epic Games Store strategy has been to land exclusive deals, which has been seen as a controversial move by some players in the PC gaming community. Epic CEO Tim Sweeney took to Twitter this week to once again defend the "unpopular move" while explaining that exclusives actually do work and the strategy will "ultimately benefit gamers."
In a Twitter discussion that appeared below a tweet about GOG Galaxy 2.0, Sweeney remarked that pushing for exclusives on Epic Games Store (EGS) would be the most effective way to push other storefronts like Steam in the direction of better revenue splits for developers.
"We believe exclusives are the only strategy that will change the 70/30 status quo at a large enough scale to permanently affect the whole game industry," he said.
Sweeney, just a couple months ago, made a very similar comment in his defense of EGS exclusives: "If Steam committed to a permanent 88% revenue share for all developers and publishers without major strings attached, Epic would hastily organize a retreat from exclusives (while honoring our partner commitments) and consider putting our own games on Steam. Such a move would be a glorious moment in the history of PC gaming, and would have a sweeping impact on other platforms for generations to come. Then stores could go back to just being nice places to buy stuff, rather than the Game Developer IRS."
In this week's thread, Sweeney added that previous attempts by independent storefronts to break up the Valve monopoly haven't even been able to reach 5% of Steam's scale. "Nearly all have more features than Epic; and the ability to discount games is limited by various external pressure," he noted.
There is some evidence that Sweeney's push for exclusives is gaining traction with developers. Saber Interactive's World War Zhas sold over 2 million copies and more than 700,000 of those were purchased on EGS, which is a notable feat for a PC storefront that's only six months old. That puts World War Z on EGS ahead of both Xbox and PS4 for digital sales. Additionally, Deep Silver and 4A Games have indicated that as an Epic exclusive, Metro Exodus had managed to sell more than double the number of units than the previous Metro title saw on Steam.
Between the generous revenue share and the support that Epic shows its EGS exclusives, Saber Interactive CEO Matthew Karch believes it's "worth more than trying to fight with an algorithm on Steam to be at the top of their charts."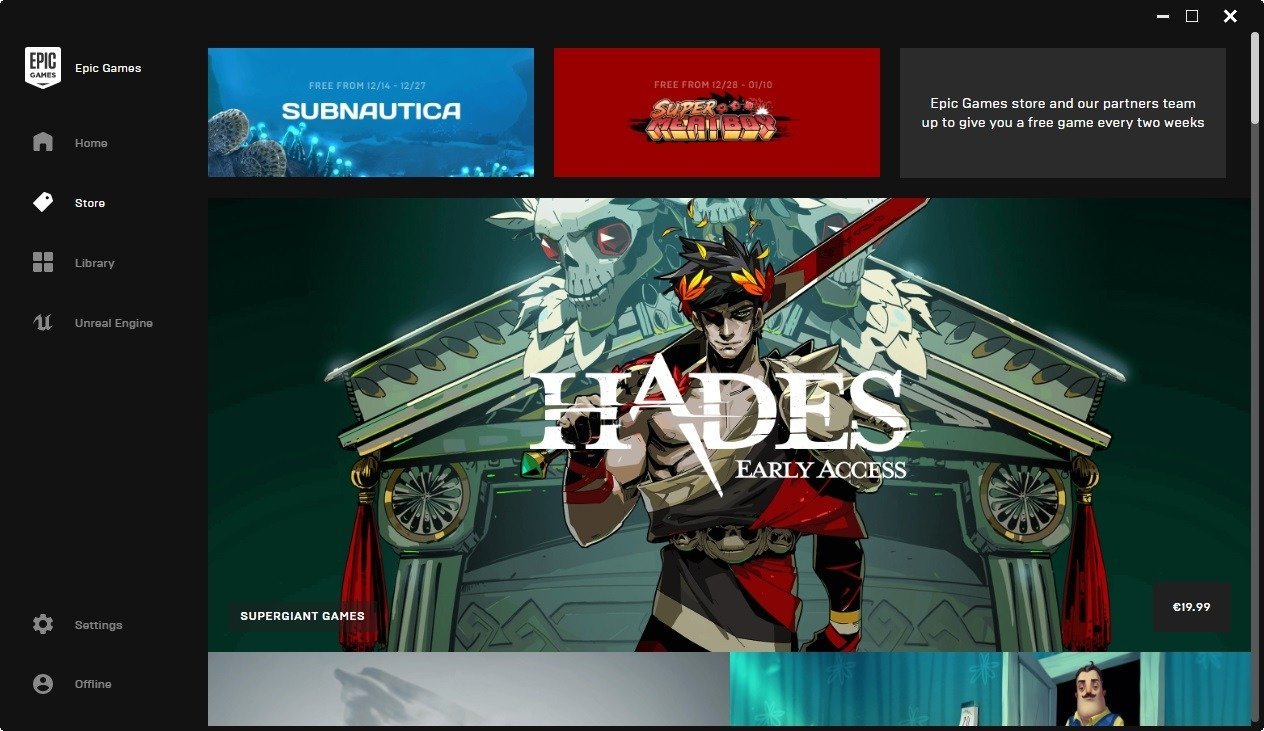 Sweeney also made the compelling argument that the traditional 70/30 split doesn't work out financially for the average developer.
"In judging whether a disruptive move like this is reasonable in gaming, I suggest considering two questions: Is the solution proportionate to the problem it addresses, and are gamers likely benefit from the end goal if it's ultimately achieved?" he continued on Twitter.
"The 30% store tax usually exceeds the entire profits of the developer who built the game that's sold. This is a disastrous situation for developers and publishers alike, so I believe the strategy of exclusives is proportionate to the problem."
Versus Evil founder Steve Escalante backed up this notion when asked by GameDaily in a recent interview about the digital storefront battle. Escalante sees the EGS disruption as a much needed move because "30% is a hard thing to swallow if you're not necessarily seeing that value." Escalante doesn't believe the hubbub around exclusives is warranted either, as it's not true fragmentation. It's no different than Origin or Battle.net, he said.
"I mean it's literally just click on a different icon on your computer that you have at home. So to me fragmentation is asking you to switch over to this completely different device as opposed to an icon on your desktop," he remarked.
Players opposed to Sweeney's tactics may not buy into Epic's altruistic motives, but Sweeney continues to assert that he just wants EGS to move the industry forward so that both developers and gamers can benefit in the long run.
"If the Epic strategy either succeeds in building a second major storefront for PC games with an 88/12 revenue split, or even just leads other stores to significantly improve their terms, the result will be a major wave of reinvestment in game development and a lowering of costs," he said. "Of course, there are LOTS of challenges along the way, and Epic is fully committed to solving all problems that arise for gamers are for our partners as the Epic Games store grows."
The challenge of overcoming an entrenched force like Steam is nothing to sneeze at. According to DFC Intelligence analyst David Cole, Valve's storefront remains the de facto choice for most in the $35 billion PC games marketplace.
"Competing with Steam is brutal," he told GameDaily over email. "The problem with distribution is the goal is to be in as many channels as possible. Exclusives seem to work for the big games that have built-in demand. Epic faces a tough road because in DFC consumer research Steam is extremely popular among game consumers."
While DFC did not offer a market share breakdown of PC storefronts, looking at things on a global scale paints a slightly different picture. "Because Asia is huge and they have their own distribution, Steam is not that dominant in the grand scheme of things," Cole explained.
Perhaps we'll see Epic Games look more closely at Asia as well given that Chinese giant Tencent owns over 40% of the company. The evolution of the PC games distribution landscape is going to be very interesting to watch in the years ahead.