Update: We've updated this story to include a quote from sports lawyer, Bob Latham.
Market intelligence firm Newzoo released a new slew of predictions for the gaming and sports industry Wednesday (following its last series of predictions), boldly stating that esports will grow the global gaming industry to more than $180 billion by 2021 – more than the professional sports industry. It also predicts that the term esports will gradually fade away, and that esports will be a part of the Olympics – just maybe not in the way most people initially considered.
As for that massive $180.1 billion figure, Newzoo notes that the rapid growth of esports is already apparent, and becoming a popular investment for companies looking to appeal to younger demographics.
"As more companies get involved and consumers spend more time watching esports content outside of the competitions themselves, esports will generate much growth within the global games industry," the report stated.
This growth could push the games industry as a whole to more than the sports industry– and Newzoo further predicts that "esports will generate more revenue than rugby."
All this growth is, in part, from the aforementioned generous investments from interested parties.
One type of investment is for media companies getting the sole rights for streaming some sports competitions— as esports grows, this is an obvious way for companies to capitalize on increased interest and viewership. Newzoo predicts all the "major" media outlets will own digital esports rights by 2021.
"U.S. media conglomerates such as Disney, Comcast, and AT&T are already looking into content rights for esports," the report stated. "As these companies look to entice younger consumers, they will become even more active in the scene. We expect these companies to not only feature esports on their linear media platforms (as seen with the Overwatch League on Disney XD) but also on non-linear live-streaming platforms, such as Disney's upcoming streaming service."
Further, Newzoo predicts that the first-ever media esports deal breaking $100 million will be made in the next three years.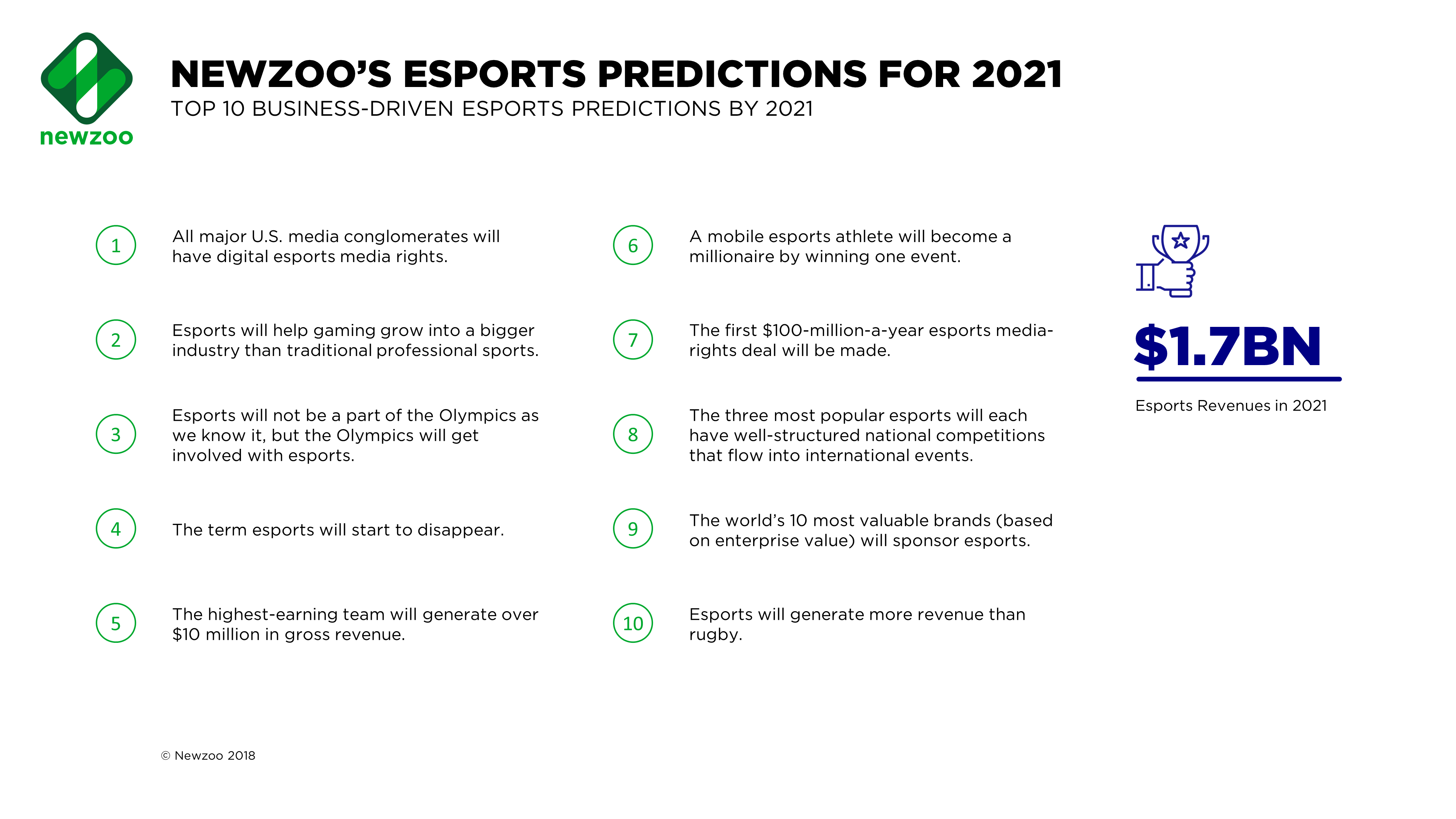 With all this financial growth comes cultural change, too. Newzoo analysts predict that "esports" could become less of a catch-all term as average consumers will start to become more familiar with the individual games, and thus the term will be "Overwatch tournament" for example, rather than "esports tournament." Newzoo notes that while the term "esports" is not going anywhere, it will likely be used "a lot less by 2021."
This makes sense–after all, when's the last time someone told you they are going to watch a "sports competition" when they meant a "baseball game"? Already, games like Fortnite are household names, and with the growth of esports it makes sense that individual competitions will become more known.
Prize pools for esports competitions seem destined to grow larger as well. Newzoo predicts that by 2021, the first mobile esports competitor will break into millionaire status from a single event.
The biggest competition of all though, the Olympics, is where Newzoo makes a rather interesting prediction. The company muses that there will be a dedicated esports Olympics, rather than becoming a sport in the traditional summer or winter Olympics. This new Olympics offering could fulfill "a major opportunity … for the Olympics to resonate with younger audiences."
Bob Latham, sports lawyer and World Rugby Executive Committee member who was part of the effort to get rugby into the Olympics, provided GameDaily a bit more context as to how the IOC and the Olympics is looking to evolve. "You need only look to the program for the Tokyo Olympics, where sports like skateboarding and sport climbing have been added. After all, the rallying cry at the end of each Olympics, as issued by the IOC President, is: 'I call upon the youth of the world to assemble four years from now…' So you have to stay relevant to that youth.
"For those reasons, I agree that the IOC will become more and more interested in esports, which is exploding. There are a number of challenges, though, when it comes to getting a sport into the Olympic Games, and since esports is not competed on snow or ice we are talking about the summer Olympics. We faced a number of challenges in rugby on our path to getting rugby into the 2016 Rio Olympics (the first new sport added in 16 years).
"Getting a new sport into the Olympics is a long haul. And esports faces greater challenges than we had in rugby. First of all, it's difficult to define what esports is/are? Is it a "mind sport" – a term that the IOC applies to chess and bridge, which are recognized by the IOC but not as an Olympic sport. Or is it a physical contest, requiring eye-hand coordination and quick reflexes? There is no requirement, however, that you have to sweat during a physical contest for a sport to be in the Olympics."
Another issue is which game(s) you would play in Olympic esports competition, especially when the tastes of the players and audience change over relatively short periods of time. So the broad category of "esports" doesn't really fit into a slot as the Olympic program is now configured. But I expect that there will be more and more engagement between the Olympic stewards and esports – esports are becoming too big for an organization committed to assembling "the youth of the world" to ignore. There are a number of directions that engagement could go.
So what's the likelihood of these predictions coming true? Turns out that Newzoo has receipts.
Its predictions from three years ago mostly came true. For example, the company correctly predicted that esports would surpass $465 million in revenue by last year. It also correctly predicted that the revenue of the industry would surpass that of the WWE by this year.
Check out all of Newzoo's predictions for 2021 here, as well as its 2017/18 estimates.