Ben-Obasa Joseph's earliest experiences of playing games were born in a barbershop with some gaming consoles tucked to the side. He and a few friends would sneak out of summer lessons to play the PS1 and PS2 consoles there, depending on which one they could afford. It was five nairas for 10 minutes of gameplay, and the PS2 was 10 nairas.
For the majority of Nigerians, the most accessible gaming experience is within these hybrid centers – like the barbershop with two consoles as a side hustle or a football viewing center (similar to a movie theater in the U.S.) with four consoles. Sometimes, though rare, there's a dedicated game shop with more variety than PlayStation consoles alone. Owning consoles themselves is generally financially inaccessible to the average player, limited to those in affluent neighborhoods.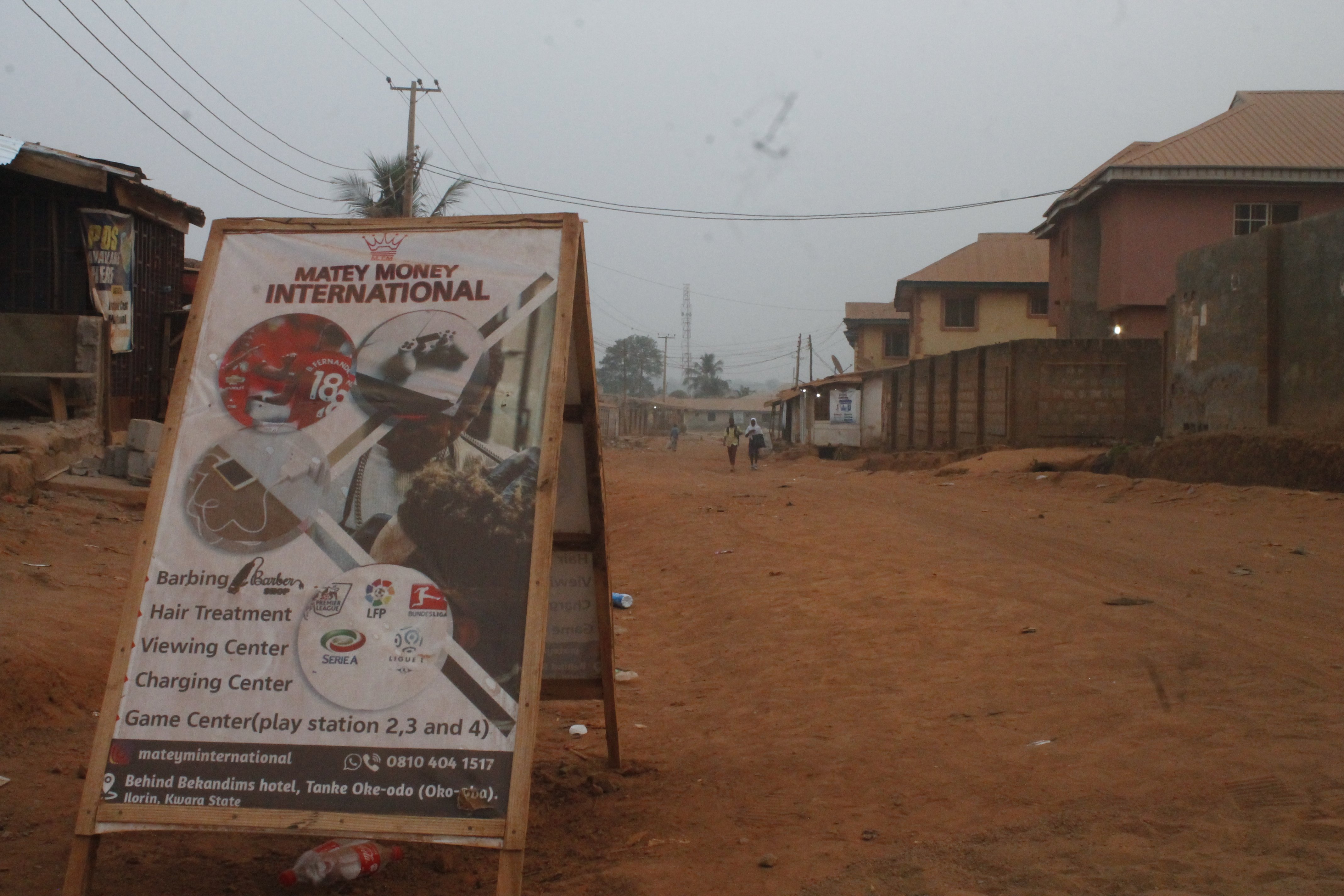 The sign for gaming center Matey M International sits outside. Under one roof, it's a barbershop and a viewing/gaming center. (GameDaily.Biz/Olatunji Olaigbe)
The average game shop has two to five PlayStation consoles, mostly the PS3 and PS4. The most popular games are football simulations, especially Konami Pro Evolution Soccer and FIFA. Each center has its top players; it's a small community, and according to players, has its own "vibe."
The PS3 costs between N50,000 to N100,000 ($131 to $262) depending on specs.
The PS4 costs N180,000 to N250,000 ($472 to $656), and the PS5, at the lowest, can cost N650,000 ($1,706) and as high as a million naira ($2624), depending on the specs, location, and retailer.
The official minimum wage is N30,000 ($78), a third of the price of a good PlayStation3. According to Statista, the average cost of living per month is N43,000 ($112).
PlayStation dominates console gaming in Nigeria. Over the years, however, Xbox and less mainstream gaming options are gaining niche popularity. PCs and mobile phones are also gaining popularity.
Due to cost, console and PC gaming is a luxury quite unattainable to lower and middle-class Nigerians. Like Joseph, the experience of console gaming for the average Nigerian is in cramped game centers, usually within a barbershop or a football viewing center.
Joseph, who now works as a market research personnel for gaming companies, including Carry1st, the days at the game centers were the beginning of everything.
"I would sneak out of summer lessons with my friends," Joseph said, "and we would play until we finished every dime on us. These days, I have both the PlayStation and Xbox consoles, but I barely play."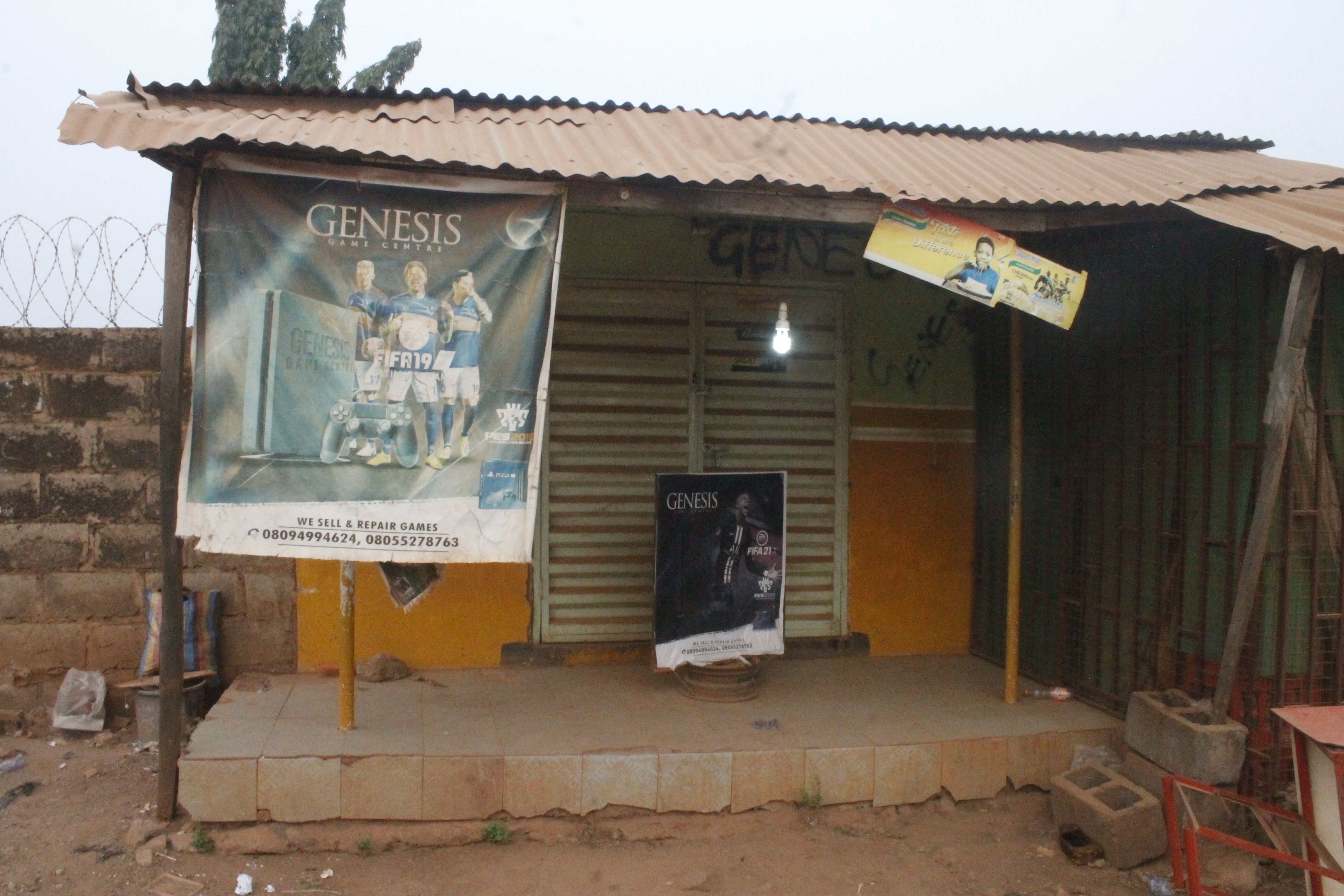 This is the Genesis Game Centre. The outdoor sign displays it has a PS4, PES 2019 and FIFA 19. (GameDaily.Biz/Olatunji Olaigbe)
These centers have served noble purposes, like nurturing the gaming passion in countless individuals. They've introduced a creative dimension that would otherwise be unknown to the average Nigerian. The centers have also provided a sense of community and belonging, and perhaps, purpose, to thousands of Nigerian kids.
Warriz Badmus is a gaming enthusiast who describes himself as a "die-hard player." When he played the 2010 PS2 off-road bike simulation "Downhill" for the first time, he lost to his competitor but would come back until he topped the players' chart.
However, these centers have also tempted their players and owners into vices. Players gamble, fight, and kids still skip school to play in these centers. Adenike is one of them.
Adenike is a public secondary school student and a "VIP regular" at a center located some blocks away. "She's a top player; that's why she's a VIP," John, the owner of the center, said. "You don't bet your money against her," he continues, in Yoruba, "even the boys can't touch her."
Adenike plays her pocket money on racing and football simulations. The betting often makes her enough to bet and play more. "I sometimes lose," she said.
Another student said they've never seen her lose.
"Games are more than an escape from school; it's an escape from life," she said.
Adenike is saving to buy herself an Xbox console, though she's never played one. And after learning that the gaming industry is more extensive than all other forms of entertainment combined, she hopes to someday work with a gaming company with an international team.
Gaming is more than just a luxury she can afford. It's an escape from the luxuries she can't afford.
In more proletarian centers, more dangerous things happen. Jamiu Gbenga runs a small shop at a street corner. He sports a scar on his chest from being stabbed during a fight at his center. After the incident, relatives urged him to close down the shop. He refused.
In telling his own story, he narrates the story of Okechukwu Nathaniel, who was hit with a stray bullet moments after tweeting, "Nigeria will not end me," then concludes, "I make a lot from this place. Plus, this is Nigeria; nothing's safe."
At Gbenga's center, gamers pay N50 ($0.13) for five minutes of gameplay on the PS3 and N80 ($0.20) for the PS4. The PS5 is not yet available. How much the owner of a center makes daily is dependent on how many minutes of gameplay they can sell. Jamiu sells as much as 25-35 hours daily, spread over five consoles.
Owners report daily profit is as low as N3,000($7.8) and as high as N18,000 ($47), depending on the type and number of consoles and the number of customers.
"It's a really profitable venture," Gbhena said. "All I had to do was get a space and buy the consoles, the TVs, and a power generator. I'm guessing I made double my investment in the [span] of six months."
Like all beginnings, these centers are losing their position in a quickly-developing world. Large and improved gaming centers offering anything from the PS2 to high-end VR stimulations are exploding over the country, providing technologically advanced services at competitive prices. Mobile games are also developing at a rate that allows them to compete with consoles.
The Nigeria gaming industry is currently worth $67 million and speculated to triple that by 2023. The chart is lead by mobile gaming but will likely affect gambling and other forms of gaming as well. At present, it is driving a more diverse entertainment industry as the country is witnessing its first generation of indigenous gaming developers and games set to replicate the environment in its detail and nuances.
"Draw a ladder," explains Badmus, "At the top, you'll have statistics saying gaming in Nigeria [will] be worth $176 million by 2023, and at the bottom, you'll have the stories of these centers. That is where the history of gaming, and not just console gaming, begun in Nigeria."