It used to be that if you wanted to game on the road, you either needed to choose a handheld, hope that your hotel room would have accessible ports to connect your console, or settle for Grandma's tiny CRT in the spare bedroom. Nearly a decade ago, GAEMS entered the market with its self-contained "personal gaming environment" products that changed the way we thought about console gaming on the go.
The original GAEMS product debuted at E3 2010 with a built in monitor and speakers in a hard-shell to protect a console while traveling. The early device met with mixed response from the general public, prompting the company to take the product back to the drawing board. It later released its G155 (with better form factor and components) and found success in the gaming community and beyond.
"GAEMS was pleasantly surprised to see our G155 products in their first year get purchased to be outfitted with Polycom video-conference devices instead of a game console to turn every room into a video-conference room on major college campuses," GAEMS co-founder John Smith told GameDaily. "We also witnessed gaming and broadcasting companies put custom built PCs into our G155, Sentry and Vanguard products. Fast forward nine years from the first hack and discover GAEMS has or is working directly with drone companies, mixed reality businesses, medical devices companies, and even a plumbing focused business to as well as media focused professionals to provide portable screen solutions that meet their varied needs."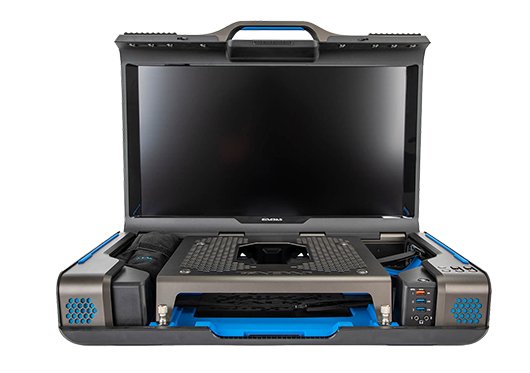 Since the G155, the company has learned from its successes and its mistakes. For instance, the older units were built to conform to last generation's hardware dimensions. Try and put a PlayStation 4 Pro in a Vanguard system and you'll damage the screen when you try and close it. That problem has since been fixed. GAEMS is now future-proofing its units, leaving room for whatever the next Xbox and PlayStation 5 might look like.
All of that is normal product evolution. GAEMS' latest, the Guardian, is closer to a revolution. The concept is still the same: TSA-safe carrying case, high-end display, robust sound stage. The audience and the features exceed anything GAEMS has attempted before.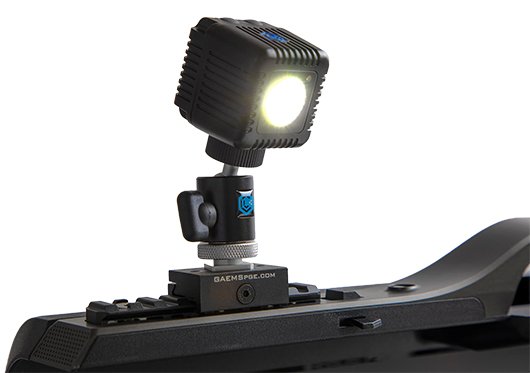 The Guardian is designed with streamers in mind with rails for mounting cameras, ring lights, and microphones. This device has its own media center processor and is designed for Twitch and Mixer streaming with HDMI output, three front-facing USB ports (including one 1.8a USB 3.0 port), two 3.5mm headset ports, and enough room for a micro-ATX PC.
There's also a USB passthrough port on the same panel as the HDMI In. While that won't do you much good for a PlayStation 4, which doesn't play well with pass-throughs, if you connect an Xbox One or a PC, it can make life easier. You can use it to connect external storage, a keyboard, or a mouse to one of the front-facing USB ports.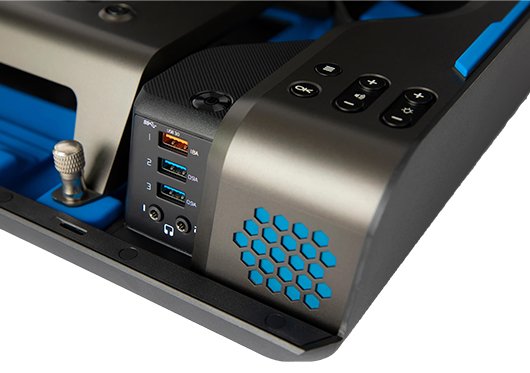 At E3, Smith told GameDaily that the Guardian is designed to meet the needs of streamers who are torn between traveling for business opportunities at conventions or preview events and staying home to keep streaming. Twitch and Mixer personalities risk losing followers and subscribers if they drop their schedule for a few days, leading many to forgo otherwise interesting coverage opportunities.
The Guardian is quick to set-up for console use. Streaming equipment with the proper rail adapters (sold separately) can be affixed with little effort. There's only one big consideration. GAEMS' latest is heavy.
Without a console, the Guardian weighs more than 30 lbs, significantly more than any of the company's previous products and stretching the definition of "portable." The 24-inch 1440p IPS display and 9w surround sound speakers (powered by a 12w amp) do make the heft worthwhile, though. The image is crisp and the audio is top tier. The simulated surround is impressive, creating a soundstage around the player that feels immersive and enveloping sitting a few feet away. I was immediately taken by the lower range, which felt meaty but free of distortion.
Both audio and video have a great deal of flexibility, offering a number of presets for each as well as full customizability. Of particular note, video options include 4:3 retro mode, 16:9 console mode, and a PC mode. In the short time we had with the Guardian, it rivaled (and in some cases exceeded) playing on my couch with a larger television and high-end soundbar. The 3.5mm audio ports are a much better alternative to plugging a headset into your controller, with little drop in quality from the full soundstage.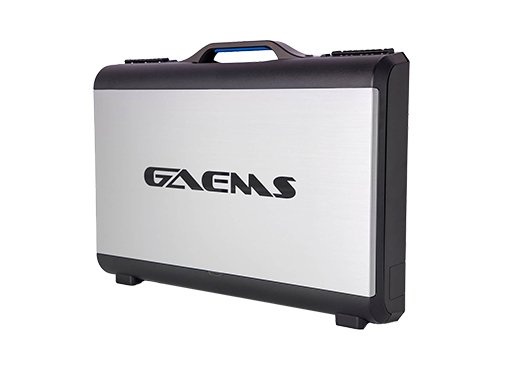 From a convenience perspective, GAEMS has upped its interior storage solution. The Guardian comes with an accessory bag (as have previous products), which holds a short HDMI cable with one right-angled side, a three-pronged power cable adapter also with a right-angle to fit best in the case), a USB-A to USB-A cable, a longer HDMI cable for the external output, and the power supply for the box itself.
The enclosure also has a designated spot to strap down a controller. The console (or micro-ATX PC) fits underneath a protective cage, where it can be strapped in and secured. When sealed up, the Guardian is completely TSA-friendly.
While plugged in and running, the Guardian is whisper quiet. The only sound produced outside of the speaker system was the fan on my console. The interior stayed cool, even after hours thanks to rear venting. The cage remained cool to the touch throughout use.
GAEMS seems to have this one figured out, even if the audience for this product is quite specific. The company does have looming external factors that may cause it some challenges, especially as it ramps up toward its own micro-ATX PC, called Project IDK. The Trump administration's tariffs are set to cause headaches for the tech industry.
"Unless something changes, tariffs are a firestorm we see coming a mile away," Smith said. "GAEMS cannot disclose all the details on how we are combating this because nothing is final, but if no solution happens or can be found, products may increase in price in 2020."
Smith also told GameDaily that GAEMS success has caused the company to carefully manage its growth.
"Our growth has outpaced our funding since probably 2013," he explained. "Major funding could solve this, but usually that comes at the cost of becoming one of those big companies that must ignore their potential markets in favor of the safe bets on existing markets. So organic growth seems to be the best option at this time meaning we will likely run into issues reaching our potential as funding partners are typically risk averse."
GAEMS' Guardian is an impressive piece of kit. The display and soundstage are stunning, especially in such a compact package. The $700 price tag and heft make it a niche item for a highly specialized audience. For that group, this seems like it will deliver the first real solution for taking a studio on the road. For the rest of us, it's an exciting look at the tech that GAEMS might pack into its more consumer-oriented devices down the road.