GameStop's financial disintegration continues. The video game specialty retailer reported a net loss of $415 million and a 14.3% drop in sales to $1.29 billion in its second quarter.
With the exception of collectibles, which were up 21.2% year-over-year, every other aspect of GameStop's business is in decline. This includes new hardware (down 41.1%), new software (down 5.3%), accessories (down 9.5%), pre-owned sales (down 17.5%), and digital receipts (down 11.2%). In fact, GameStop made nearly as much in collectible revenue ($171.8 million) as it did in the new hardware category ($175.6).
Looking back at the NPD reports for May, June, and July (the months aligning with GameStop's Q2 report), new hardware was down only 27% (versus GameStop's drop of 41.1%) and software was up 5% (versus GameStop falling off by 5.3%, even with Switch games providing a bump). Granted, GameStop reported globally against NPD's U.S. data, but it's clear that the company isn't just losing. It's losing to other retailers.
On the September 10 earnings call, CEO George Sherman said that his team plans to expand the collectible business and leverage its relationships to secure exclusives. Additionally, the company plans to reinvigorate its "private label" business (goods manufactured under contract but marketed and sold under the retailer's name).
No mention was made of the GameTrust publishing business, which has signed five games (four of which have been released). The sparse website for the in-house publishing division directs information for the fifth title, Star Child, to a 404 Error on the GameStop retail website.
GameStop reported that its operations were down in nearly every category. The company's digital sales continue to be negligible, accounting for only 2.8% of total revenue ($36.3 million). The "other" category, which includes strategy guides, consumer electronics (via GameStop's Simply Mac stores), and Game Informer subscriptions is more than double the digital sales at $74.3 million. GameStop is planning to divest itself of the Simply Mac business, at is has done with the Cricket Wireless operations.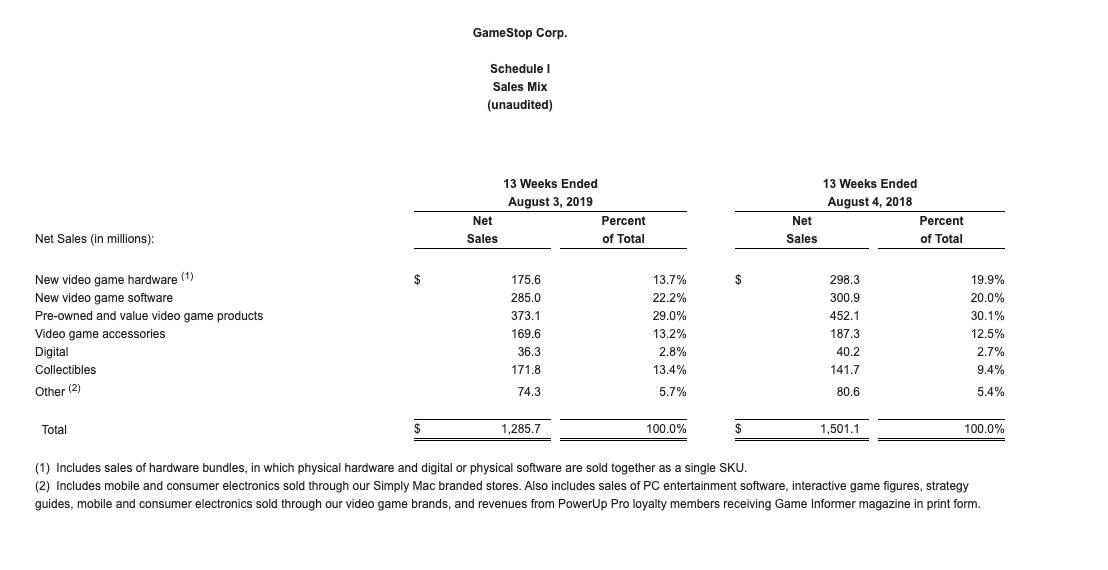 GameStop leadership had a range of explanations for investors who reacted strongly in after-hours trading, including attributing lower hardware sales to end-of-cycle decline and weaker software launches. As of publication, GameStop's share price sits at $4.62, down nearly 10% from yesterday's close after missing expected revenue by $50 million and earnings per share by $3.96. The company's stock recently saw a boost back above $5 on the back of layoffs that affected more than 120 people at the company's Grapevine, Texas headquarters and its subsidiary Game Informer, located in Minneapolis, Minnesota. These were the second such layoffs in the month of August.
In June, GameStop sunset the ThinkGeek brand, merging the haven for geek-themed merchandise into the video game retailer's website. At that time, the company laid off its remaining ThinkGeek employees, a process that began in February 2018 when it shut down the Denver, Colorado location responsible for managing branded stores for Bethesda, BioWare, Eidos Montreal and more. On the earnings call, CEO George Sherman referred to the actions he and his new executive team have taken as "quick and deliberate."
GameStop also reported asset impairment charges of more than $400 million. This type of expense is recorded when an asset's market value is lower than it is accounted for on the books. $364 million of that impairment charge was due to the rapid decline of the company's stock value.
We can expect that more layoffs are coming, many of which will come in the form of retail staff reductions. 95% of GameStop's 5700 retail locations are profitable, but the company anticipates the closure of stores it deems "underperforming." This will be in addition to 195 stores closed in the past 12 months.
"We are on track to close between 180 and 200 underperforming stores globally by the end of this fiscal year," CFO Jim Bell said on the earnings call. "And while these closers were more opportunistic, we are applying a more definitive analytic approach, including profit levels and sales transferability that we expect will yield a much larger tranche of closures over the coming 12 months to 24 months. We believe these actions will significantly add to our profit improvement run rate with little to no cash expense as our average lease life is approximately two years."
Store closures will include locations that are not profitable and also in areas where the retail footprint is too dense. GameStop is, by necessity, abandoning it's Starbucks-like approach to retail placement. The market cannot support a GameStop location on every corner (let alone two in the same shopping mall).
In the question-and-answer segment of the call, Sherman fielded an inquiry about GameStop's intent to increase its focus on digital sales. Improving its sale of full-game and add-on content is one of the company's four pillars for its restructuring plan. Sony has already shut retailers out of point-of-sale full-game codes. Should Microsoft and Nintendo follow, it will further impair GameStop's recovery attempt. However, GameStop's plan seems to be about offering choice rather than finding ways to specifically incentivize customers to purchase their digital codes from GameStop in-store or online versus first-party storefronts or online retailers like Amazon.
"We want to make it easier," Sherman said. "We want to make it more so. I think it's fair to say that, historically, we probably had a preference for physical games versus digital games and we've been clear to say both internally and externally that we're going to be agnostic and it has to be the customer's choice, as to which may we sell. So we will focus on making the digital sales process easier, more streamlined, more embedded, and we'll push to make sure that we have that approach."
As for GameStop's esports investment, it boils down to naming rights (a form of advertising), related to Complexity's training center in Dallas and a relationship with Team Envy. Bell explained that GameStop hopes to use those relationships as ways to fill content gaps in stores and via direct delivery to qualified customers.
"We think that it will be a valuable; first of all, content," he said. "So, the ability to get content from these facilities, from these teams that we can share with our best customers, that we can share with our in-store gamers."
This is in service of GameStop's desire to become a "little league" hub for esports. However, with many large games offering online qualifiers (as Fortnite did for its World Cup this summer), it's unclear how valuable these retail locations will be as a place for people to play together.
While GameStop has a plan on paper to reform its business and restructure its branding and operations, the details around how it plans to execute are fuzzy. So far, the only tangible actions have been layoffs, store closings, the ThinkGeek sunset, and advertising on an esports training center. GameStop failed to find a buyer once. Right now, it looks like the company is slimming down and working to appease shareholders to take another swing and finding someone to swoop in and purchase the business.
Updated 9/11/2019