Google Stadia is here, but who's it for? Eight months after Google announced the cloud gaming platform during GDC 2019, the tech behemoth has taken its first step in launching the service with its Founder's Edition and Premiere Edition, which come with three months of a Stadia Pro subscription ($9.99 thereafter). The free basic tier, like a number of promised Stadia features, will be coming later. The service was originally set to launch with just 12 titles (and one exclusive, Tequila Works' Gylt), but Google scrambled to expand that list with its partners at the last minute to make 22 titles available.
The staggered rollout of Stadia features and the fact that Google was just hours from launching with only a dozen games suggests that the cloud gaming platform simply isn't ready for primetime. Indeed, the critical consensus from mainstream news outlets and tech publications alike would seem to point to Stadia not quite being able to put its best foot forward just yet.
"Despite the charm and an improved slate of games, Google's cloud gaming service isn't anywhere near what the company initially promised in March. It's effectively a beta that Google is charging real money for, and you should wait until 2020 for that to change," The Verge's Sean Hollister wrote in his review.
Gene Park, writing for The Washington Post, summarized the Stadia experience as follows: "Reviewing Stadia as a service feels a bit like reviewing YouTube. The content isn't quite there yet, and the service isn't great either. But this model is presented as an intentional choice…
"So here's a four-word review on the Premiere Edition in 2019: It's not worth it. We can't guarantee it'll work well with your connection, given the wild variable instability we experienced at The Post even with high-speed broadband capabilities."
A cloud gaming platform that can't provide a stable connection or suffers from too much latency at times is one that's going to be tough for hardcore players to justify spending 10 bucks a month on (before the additional costs of individual game purchases on Stadia). In my own testing — which admittedly has been nowhere nearly as comprehensive as the critics out there — the games played on my LG OLED over Chromecast Ultra looked quite good and, most of the time, played smoothly. That being said, there was more than occasional stutter for me in all three games I tried so far, including Destiny 2, Mortal Kombat 11, and Gylt. It wasn't enough to ruin the experience, but each time I witnessed a glitch, I said to myself, "I could just be playing this on Xbox." My TV is less than 15 feet away from a decent 400Mbps connection coming through the 5GHz frequency on my router. It should be more than enough to handle cloud gaming, but that's where Google is still likely ironing out the wrinkles.
Hollister continued, "There's no reason anyone should buy into Stadia right now. Google has made sure of that, partly by underdelivering at launch and partly with a pricing scheme that sees you paying three times (for hardware, for the service, for games) just to be an early adopter. But the nice thing is that no one's forcing you to, either. Early adopters know who they are, and they'll hopefully be subsidizing a better experience for the rest of us while helping Google work out the kinks."
When Stadia works as advertised, it's a wonderful taste of the future. The advantage of the cloud is the pure freedom to game anywhere on pretty much any device (especially once the phone lineup that Stadia supports expands beyond Google's own Pixel line).
"Stadia is a service where, if your Destiny 2 buddies might need you for a raid, you might legitimately be able to contribute no matter where you are or what you're doing — as long as there's good Wi-Fi on tap," Hollister explained. "I fired up a session on the TV with the Stadia Controller while we were just blasting tiny minions, swapped to a desktop with a mouse and keyboard when I needed better aim for a boss fight, and seamlessly resumed the game on a smartphone before walking down the hall to grab a snack — all while playing with a colleague 5,000-plus miles away in London — without any major hitches."
For any early adopters purchasing Stadia now, what they're buying into essentially is the service's potential. It's eerily reminiscent of the PlayStation 3 launch back in 2006, which Wired said "packed promise but lacked punch." The console was incredibly overpriced at $600 and didn't deliver what players had hoped for at launch. That's a scenario that current Stadia boss and former Sony PlayStation executive Phil Harrison should be all too familiar with. The PS3 managed to overcome its launch struggles and ship upwards of 90 million units, which is certainly a respectable lifetime figure.
Google has the resources and smart, talented people like Jade Raymond to build momentum in the coming years, but that's only if Google doesn't kill it first. The company has a long track record of simply abandoning products or services that haven't taken off.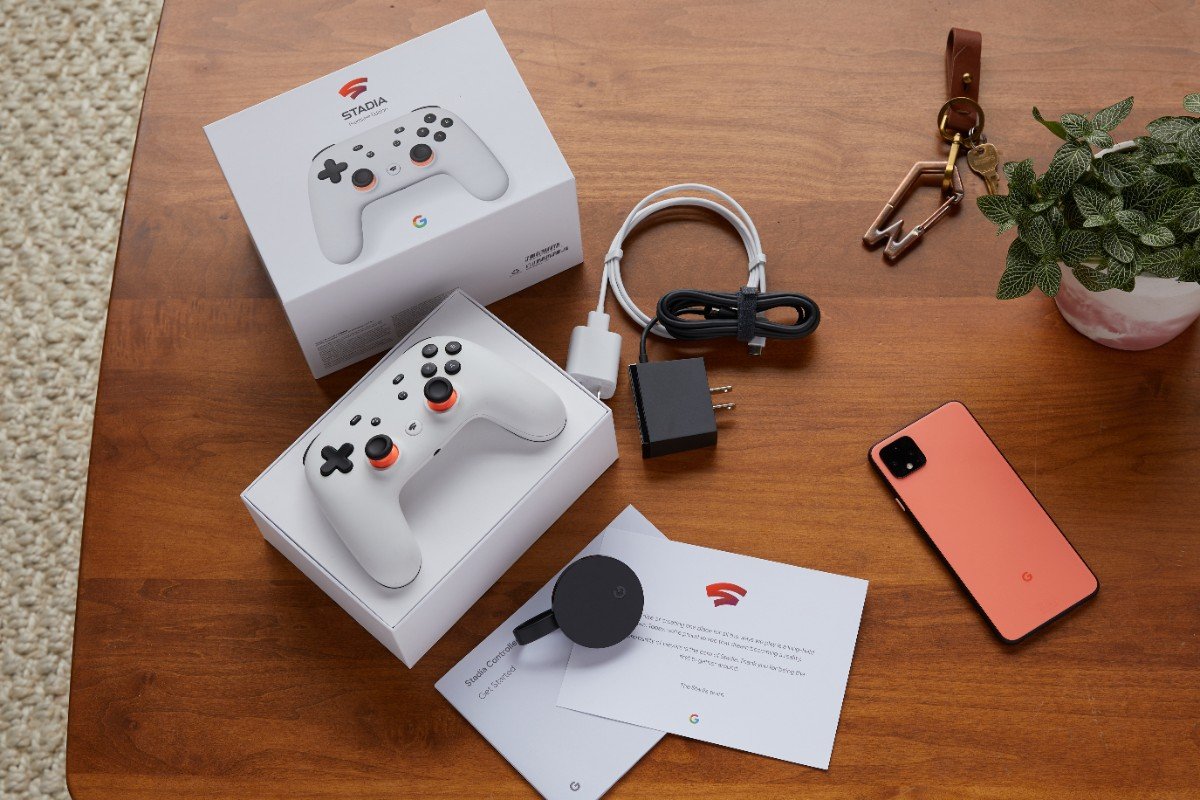 There's also the question of what early adopters are getting for their money. The Pro tier subscription is what enables 4K HDR visuals, but that's apparently not what every game supports. Bungie itself has acknowledged that Destiny 2 on Stadia is being rendered in 1080p resolution but then upscaled to 4K for the stream that players see.
Digital Foundry's Rich Leadbetter explained, "HDR is supported, the high frame-rate is very welcome and the experience is exceptionally good fun, but it's not quite what we expected from a system with this much graphics power – especially when you consider that the PC version of the game is one of the most well-tuned, well-executed ports of the generation… The idea that Bungie chose to lock at 1080p resolution on a high-profile title like this raises questions. It's early days for Stadia development, of course, and we've no real notion yet of the challenges facing game-makers – but it's not really something we expected from a cutting-edge hardware configuration."
Similarly, Digital Foundry discovered Rockstar's Red Dead Redemption 2 to be running at 1440p on Stadia. The service can't quite match the visuals of a native 4K title on a PC or Xbox One, but Leadbetter came away impressed, even if he does have some marketing concerns for Google when it comes to misrepresenting resolution.
"Stadia's compressed stream seems to add some blur, and that blur can be compounded by temporal anti-aliasing and resolution upscaling, but bearing in mind how tricky streaming games is, it's still a notable achievement," he acknowledged. "What Stadia delivers is also a significant improvement over what we've seen from Google's streaming technology before, during the Assassin's Creed demo period. How this level of image quality holds up in more bandwidth-constrained situations is a test for another time.
"The question is really whether marketing Stadia as a top-end 4K gaming system for big screen play (with a subscription required to access it) is the best way forward when the absolute clarity you associate with ultra HD isn't on par with established experiences. However, what is more concerning is that for a system designed to take on the next generation consoles, the three key ports we tested don't tally with the kind of increase to performance we would hope for from Project Scarlett or PlayStation 5."
Google has another year before Microsoft and Sony launch their next-generation consoles, and maybe that'll give the Stadia team enough time to improve the technology, make the library of content more robust and position the service as a bargain compared to the new consoles. But then again, Google has a major uphill battle on its hands, as gamers typically want to play where their friends play.
As GamesBeat's Jeff Grubb commented in his review, "If most of your friends are playing a game on PlayStation 4 or PC, you're probably going to want to buy the game there. And then, if you don't want to buy the hardware, maybe you'll have to look at competing cloud services like Microsoft's Project xCloud or Nvidia GeForce Now, which enable you to play games in the Xbox and PC environments, respectively. That means those can connect to players on Xbox or Steam. Google will have to rely on cross-play to bring most players together with their friends."
Weighing the value proposition of Stadia Pro against something like Xbox Game Pass, which will be added (with 50 games in preview already) to Microsoft's Project xCloud next year, and the scales would seem to tip heavily in favor of Xbox. And for all the technological feats Google has accomplished with Stadia at this early stage, consumers often prioritize value above all else.
Grubb pulled no punches in his assessment: "Right now, Google Stadia is a platform for nobody. The company just doesn't seem to understand any of the audiences it is trying to reach."
Ouch. There was no latency on that right hook. Stadia better come out swinging soon with its own flurry of features and content, or it'll find itself clinging to the ropes without a fighting chance.