GameDaily has written extensively about the game industry in China since our inception, and with GameDaily Connect Asia 2019 taking place in Shenzen, China (November 10-12), it's the perfect time to drill down into what makes this growing market tick. With the help of Niko Partners, the foremost expert on games markets across Asia, we've taken a close look at the games business in China and where it's headed.
At a top level, China is the world's largest PC games market with domestic revenue from online PC games of $15.21 billion last year. Niko anticipates that China's gaming revenue will top $16 billion by 2023. China currently represents 50% of all PC game revenues worldwide, which is made up of more than 312 million PC online gamers in 2018, with 26% of the population spending money in games. Niko forecasts that the number of PC online gamers in China will reach 354 million in 2023. As Lisa Hanson, managing partner of Niko Partners, pointed out, that's more than the entire U.S. population, representing a very sizable market for developers.
It should be noted that while Tencent and NetEase remained the top two PC and mobile publishers in China, foreign developed games comprised around 60% of total PC games revenue in the market. That means Western publishers have a good opportunity to tap into that huge addressable market if they are cautious and take the appropriate steps.
Notably, from a cultural standpoint, gacha-style monetization and pay-to-win mechanics seem to be accepted in China and other parts of Asia by players. Hanson added that, "Chinese gamers are most interested in Completion—the appeal of collecting points/stars/trophies, completing quests/achievements/tasks and Competition—the appeal of duels, arena matches, and leaderboard rankings. Differences between gender and age among Chinese gamers are also much lower than in the West."
While China's PC sector is already quite mature and seeing slow but steady growth, the mobile games space is growing by leaps and bounds. In fact, 95% of all gamers in China said they play mobile games.
In 2018, domestic mobile game revenue was $15.63 billion (up 28.9% from the previous year), and Niko estimates that this will reach $25.5 billion by 2023.There were 598 million mobile gamers in 2018, and 40% of them spend money in games. By 2023, the number of mobile gamers in China is forecasted to reach nearly three-quarters of a billion people (728 million), which is simply an astounding user base for any game company to target.
Esports was cited as one of the biggest opportunities for the entire games ecosystem in China.
"Esports is currently the most important long-term driver of growth for the PC online games market," Hanson said. "PC esports game revenue was $6.3 billion in 2018, up 11.1% YoY and accounting for 41.4% of total PC online games revenue. This figure is projected reach $9.5 billion in 2023, accounting for 59.4% of PC online games revenue.
"Mobile esports game revenue was $5.6B in 2018, and accounted for 36% of total mobile games revenue. This figure is projected to reach $11.5B in 2023, 45% of the mobile games market revenue."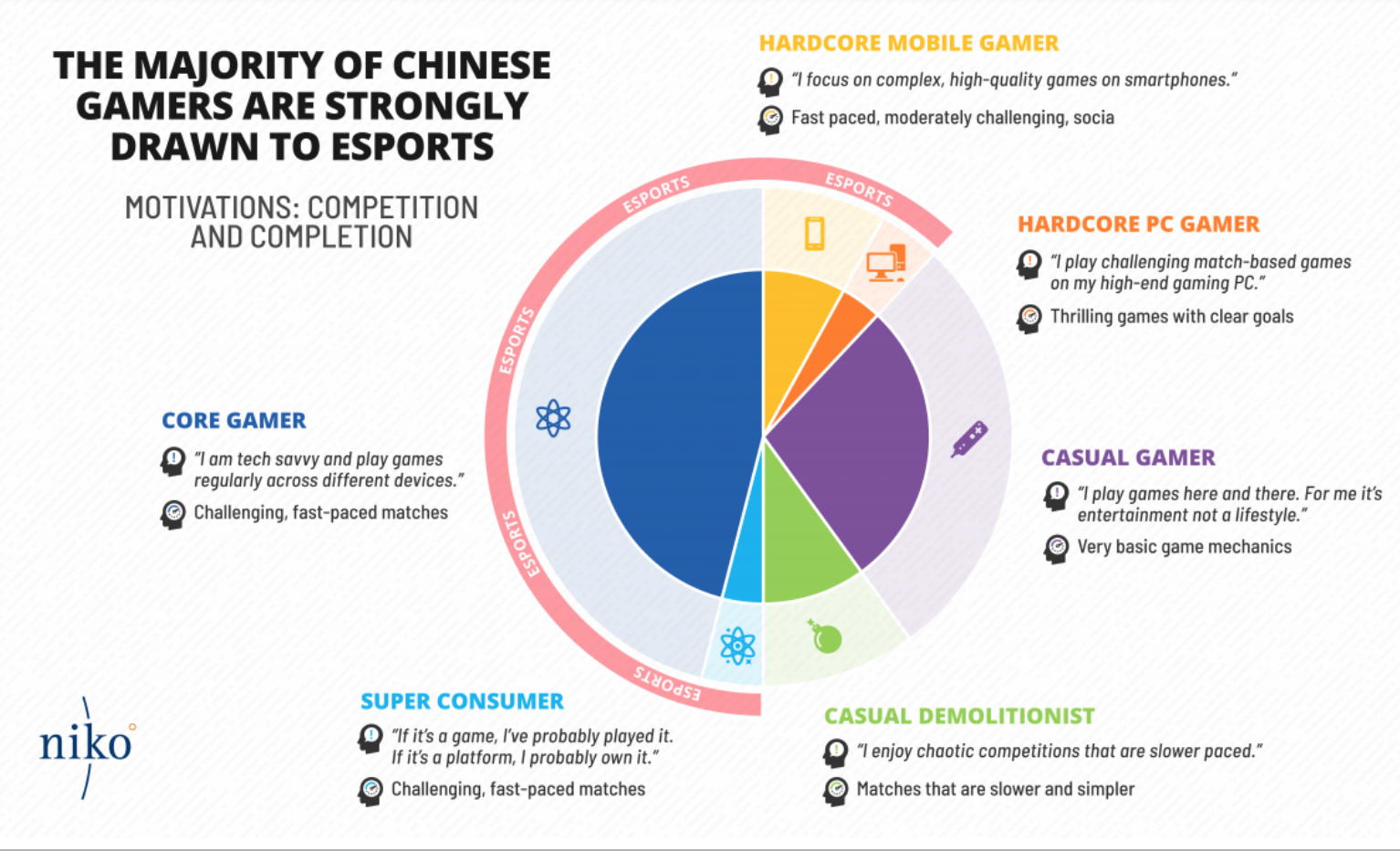 Asia is considered the "global center" for esports today and China is the leader in both audience size and infrastructure. The rise in the mobile market should directly influence the booming esports space. As Hanson outlined:
Mobile esports will precipitate a shift from a limited number of high-profile, spectator-focused esports productions toward a much larger number of open tournaments carried out regionally and locally.
In 2018, mobile esports games generated $15.3 billion (25% of total mobile game revenue) with $5.6 billion from China alone, and another $450 million from Greater Southeast Asia. PC esports titles earned $16.1 billion in revenue globally, with about 40% of the earnings coming from China.
There are already more gamers on the mobile platform than on PC & console combined. There are around 2.53 billion mobile gamers in the world in 2019, compared to the estimated 1 billion PC gamers and 500 million console gamers.
Mobile games have lower barriers to entry and higher install rates in comparison to PC and console games. This allows for better economics and higher dollar-to-player value in producing tournaments.
PC and mobile gaming represents the lion's share of play time and revenue in China, but consoles are starting to make their presence felt. It was only a few years ago (2014) that the Chinese government lifted the ban on consoles in the country. The console market climbed to $736 million last year in China, and now Nintendo has an opportunity to truly widen the appeal of the Switch.
"China's game console market has experienced strong growth since 2014, but still remains relatively niche when compared to PC and mobile games," Hanson said. "There are still a number of barriers to entry for consoles, such as upfront pricing and a lack of familiar games. PlayStation is the current market leader but we note that the Switch has been extremely popular on the grey market due to its social and portable nature. With Tencent planning to bring the console to China soon, and the launch of next generation consoles around the corner, we expect to see continued growth across China's console market."
While the Chinese market is rife with talent and an audience hungry for lots of games, its potential has been held back by a very restrictive licensing process. This doesn't seem like it's about to change anytime soon.
"The biggest hurdle is certainly the strict regulatory environment that governs the games market in China," Hanson said. "The country recently experienced a temporary game license approval freeze in 2018, during which no games received a license for distribution. While this ended at the end of 2018, China's new games regulatory body has introduced a number of new rules and reform that game developers need to be aware of when creating games."
The good news for Chinese game developers is that they have been able to find some success outside their country. Developing games that are global in nature is easier said than done, but it's been a decent way for developers in China to expand their business.
"Chinese developers have been able to find success on console when developing games for the global console market. Sony is one of the companies helping fund this through their China Hero Project, which brings Chinese developed games overseas," Hanson explained.
"Chinese game developers have been ahead of the game, capitalising on many trends that appeal to domestic gamers that keep them engaged and spending more. Publishers have always had a China-first approach, but as the West catches up to these trends, we note that more publishers are beginning to take a global approach. Games are being developed with the West in mind and in some cases titles are released there before China."
And despite a prohibitive release environment in the games space, you might be surprised to hear that indie developers are starting to gain a foothold in the market. China may not be the bastion of indie development that the West has become, but it's rising up.
"The indie games scene in China is growing thanks to platforms such as Steam and WeGame," Hanson said. "We see more titles launching on the platform each month and they are small lightweight games that aim to offer something new and unique from AAA games. Self-publishing can be supported on these platforms, and reach a global audience. However, larger publishers such as Tencent also see the opportunity and opened their Aurora publishing program for small indie titles."
Looking to the future, China's game market is poised for tremendous growth. Aside from the prevalence of internet cafes, which remain incredibly important to online gaming and esports in the country, wireless 5G technology is expected to usher in an era of cloud gaming. Niko is preparing to release a report on 5G soon. Hanson commented, "An important point for cloud gaming is that 5G is being pushed from top government, rolling out in October, aims to be in multiple cities before the end of the year. 5G is required for cloud games to succeed as [the] majority of players are mobile."
Another major opportunity for the Chinese market is a growing segment of women gamers, according to Niko. This may be somewhat surprising given the historical treatment of women in games, but the push for diversity is building.
"Niko Partners did a big study for a client regarding the depiction of women in games, and in China all of the developers still portray women as chesty and scantily clad," Hanson said. "In fact, when we presented three alternate body types and clothing types, the respondents were totally surprised that a female avatar could actually be conservatively dressed and sporty rather than sexy. Our premise for the study was that if developers would depict a wider range of more natural female body images and conservative clothing, then more young girls would start to play and female gamers would be more comfortable."
Niko reported that the total number of women mobile gamers is roughly 40% in China and has grown "at a rapid pace in recent years." Women play on PC too, but on that platform they make up a smaller portion of the audience (around 25-30% of players). Women players generally like games that have short session times and lend themselves to social/sharing. While casual games are usually appealing for women, Niko noted that there's a trend towards mid-core among women now as well.
"Many [women] are gaining confidence in their gaming skills and they enjoy mid-core games such as Honor of Kings on mobile devices. They love to post their rankings and performance statistics on WeChat Friends," Hanson added.
And the growth of esports in the country has definitely impacted the women player base. Professional competition among women in China is making a comeback after some tough times, Niko explained.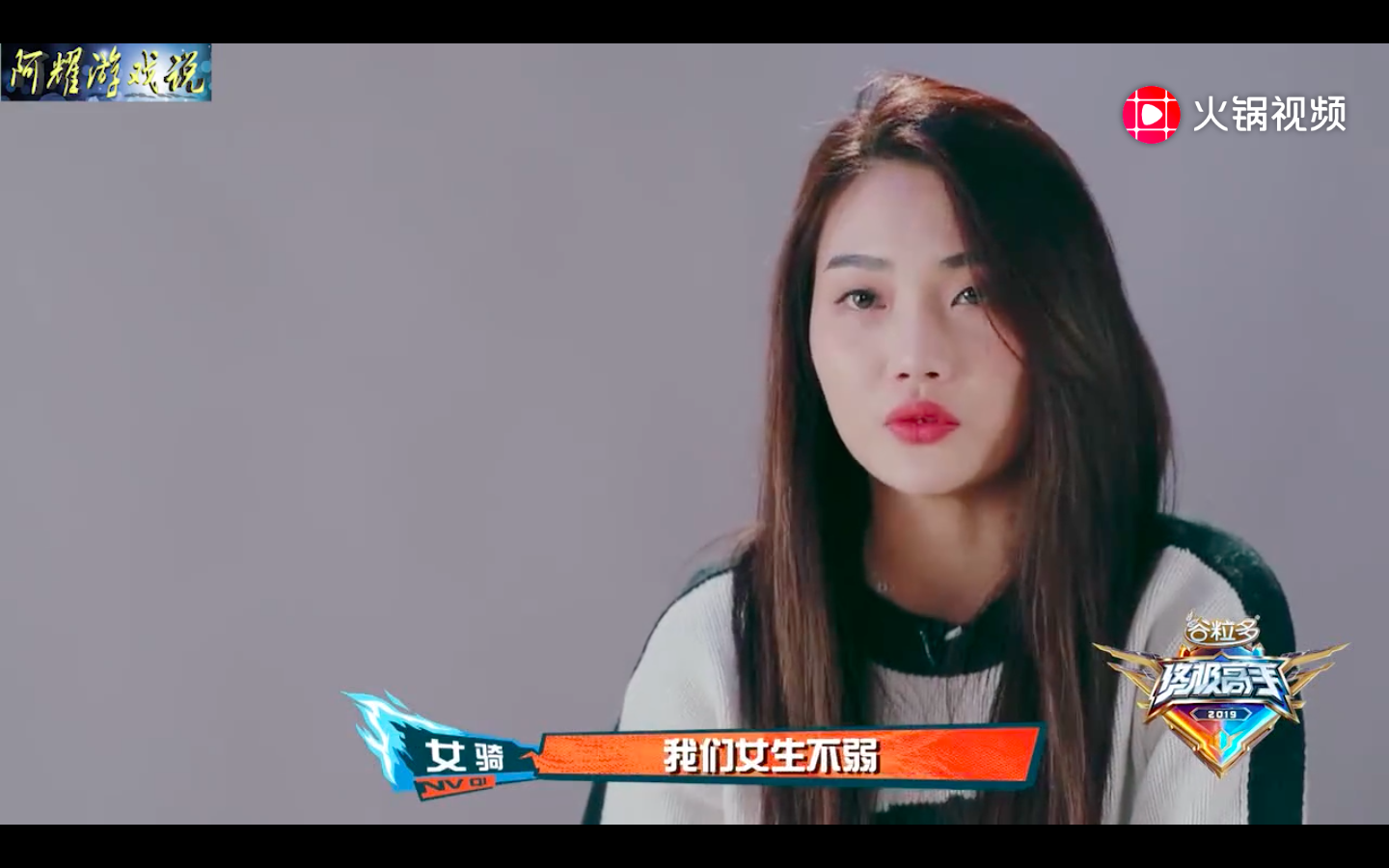 "Professional [women's] competitions have been disappearing since last year, further stifling the development of [women in] esports. A lack of professional competitions leads to low exposure, and waning sponsor interest. To find a way out of this cycle, and to attract audiences as well as capital, most of the all-[women] esports teams are being reformed into girl idol groups. On top of game live streaming and learning to commentate during professional games, many [professional players who are women] have recently gotten onto esports-themed talent shows," Hanson said.
Game development is a tough business, no matter what country you're in. But many in the field are coming to recognize a universal truth: diversity is good for business.
"[Women are] open to mobile gaming and traditional genres yet the majority of the big developers in China continue to cater to core male gamer tastes. Developers who diversify their games will have a better chance of attracting and retaining [women] gamers," Hanson said.
If you're looking for more insights from Niko Partners, GameDaily Connect Asia 2019 will be the place to be this November. Xiaofeng Zeng, General Manager China, Niko Partners, will be presenting a talk on the "impending boom" of mobile esports. Get your tickets now before they go up in price on October 11.