It's a great time to be a game developer, as there are more opportunities and platforms to target than ever before, but as Guy Richards, Business Development, Microsoft Global Gaming Partnerships, explained in a recent talk at Casual Connect London, having a go-to market strategy is still essential.
Richards outlined much of what the ID@Xbox team has learned in the last five years, as they've published over 1,000 games which have generated more than $1.2 billion in revenues. By interacting with 3,000+ studios across 67 countries making games for ID@Xbox, Microsoft has witnessed what a lot of developers do right and what they have done wrong. The rise of digital publishing and an era of openness has definitely brought more indies into the fold, Richards noted.
"There's a great virtuous cycle of platforms becoming more and more open, which enables developers to put their games on more platforms than ever before," he said. "The development tools that are available continue to be improved. If you're comparing publishing on Xbox One versus Xbox 360 or PS3 five years ago, the processes are a lot smoother than they were back then. This coincided with the rise of digital distribution enabling developers to come to these platforms."
The playing field has been somewhat leveled, but that also means that it's a bit harder to stand out from the increasingly crowded storefronts.
"One of the main things to consider, from our perspective, is that all of your competitors have access to the new platforms and digital distribution and all the new tools, so it's becoming harder and harder to find an edge," Richards continued. "Gone are the days of where maybe you had an 'in' with a first-party contact …or a publisher that could help you get an advantage or a leg up. So really you do need to think about how your game can stand out, whether that's something you're doing from a game design or technical perspective or whether it's ways you differentiate yourself through your marketing and PR plan."
While the industry is "changing at an unprecedented pace," Richards said, pointing to things like Early Access, cross-platform play, 4K and HDR visuals, live streaming, subscriptions like Xbox Game Pass, and the evolution of the cloud, there are certain fundamentals that will always be vital for developers.
"Players still want to have new experiences… they still want great gameplay and they still want great story, but please don't think you need all three of these at once," Richards advised. "There's no precise formula for what makes a successful game. However, we do see through our data that these are some of the key fundamentals that hold true when looking at some of the most successful titles on the platform."
Generally speaking, these fundamentals are usually well handled by developers, Richards said. They are good at design, development and production, but QA, localization, and community management are where they might need a little help or to outsource. Where they often stumble, however, is in marketing, PR, biz dev, forecasting and finance, and sales and lifecycle management. That's where a good partnership can be vital.
ID@Xbox can be a useful promotional partner but it's still up to the indies to come up with their own marketing strategy.
"One of the key things that always comes up when we're working with independent developers is making sure they have a plan and not doing stuff reactively at the last minute," Richards remarked. "You don't want to announce your game too early if you're a small studio and you're not going to have enough content to keep up that awareness as you get closer to launch."
He stressed that indies must come to platform holders like Xbox early on in their promotional efforts: "I've lost count the amount of times we'll have a developer announce their game or put a video up on their own YouTube channel and then come to us, asking if we can amplify or support that on our channels as well. One of the challenges we have there is we have to go to our PR or marketing teams and stakeholders that own the Xbox YouTube channel and say, 'Oh by the way can you post and announce this game that was already announced a week ago?'
"It's very hard for us to do that. If you come to us early, like 2-3 weeks in advance, even a week in advance, we can have a conversation around it, and we can line up our announcement with your announcement and then that amplifies the opportunity in a much bigger way."
A game that's in the ID@Xbox program can get extra amplification through a combination of Twitter, Mixer, Xbox Wire blog posts, and YouTube videos. It's a "targeted niche" compared to the larger Xbox platform, Richards acknowledged, but it can be leveraged in big ways, which is why it's especially important to ensure each announcement in a campaign has a call to action.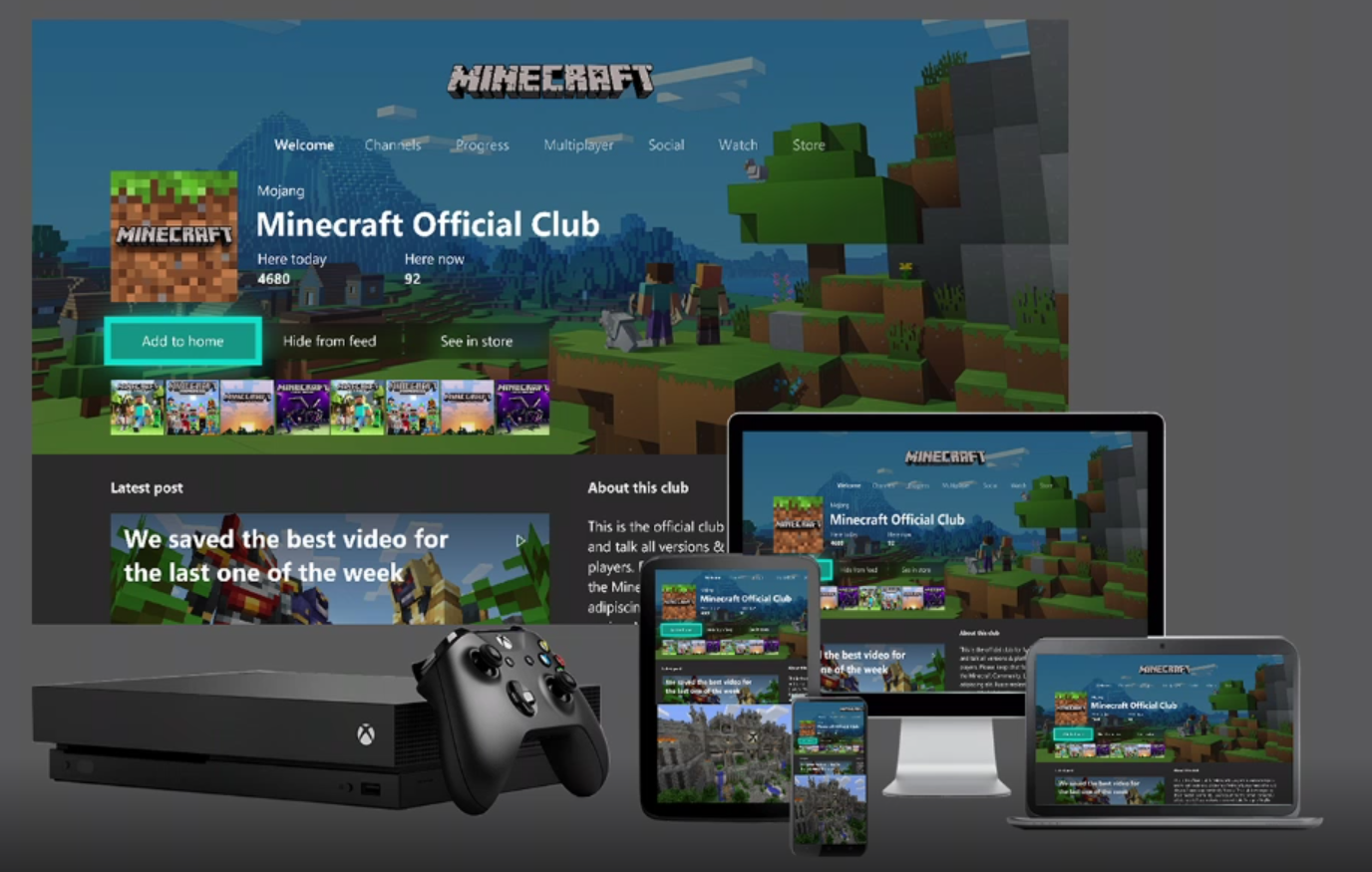 "We see much higher engagement if you're announcing your release date and there's a pre-order as well, or there's a beta or something for players to try," Richards explained. "If you're just kind of announcing that the game is going to come out on this date but there's nothing for the people reading the blog post to get called to do… then we're going to see less engagement."
For indies in the Xbox ecosystem, there are a couple of opportunities that Richards strongly recommends capitalizing on. One is to create an official Mixer channel, and the other is to launch an official club on Xbox Live. The latter is especially important since everyone who purchases or downloads a game can opt-in to follow the club.
"This is super powerful because it gives you a way to communicate directly with your audience on the platform," he said. "That's something that on previous platforms had never been possible. We recommend that developers treat this like a Twitter or social media account. We have some developers or publishers who have more followers on Xbox Live than they do on their social media accounts… You can tie this in to any of your beats on your marketing plan."
So, for example, if a developer launches a free trial or announces on the club that a game has gone into Xbox Game Pass, then "you see a massive spike in the players that follow you on your official club because as players download that title for free they then join your club as well."
While the club is specific to Xbox, Richards commented that doing platform research and understanding how to utilize the unique features of any console or PC storefront is critical for developers. Having platform-specific strategies is incredibly helpful, but gauging the market and knowing when to actually launch a game is even more important.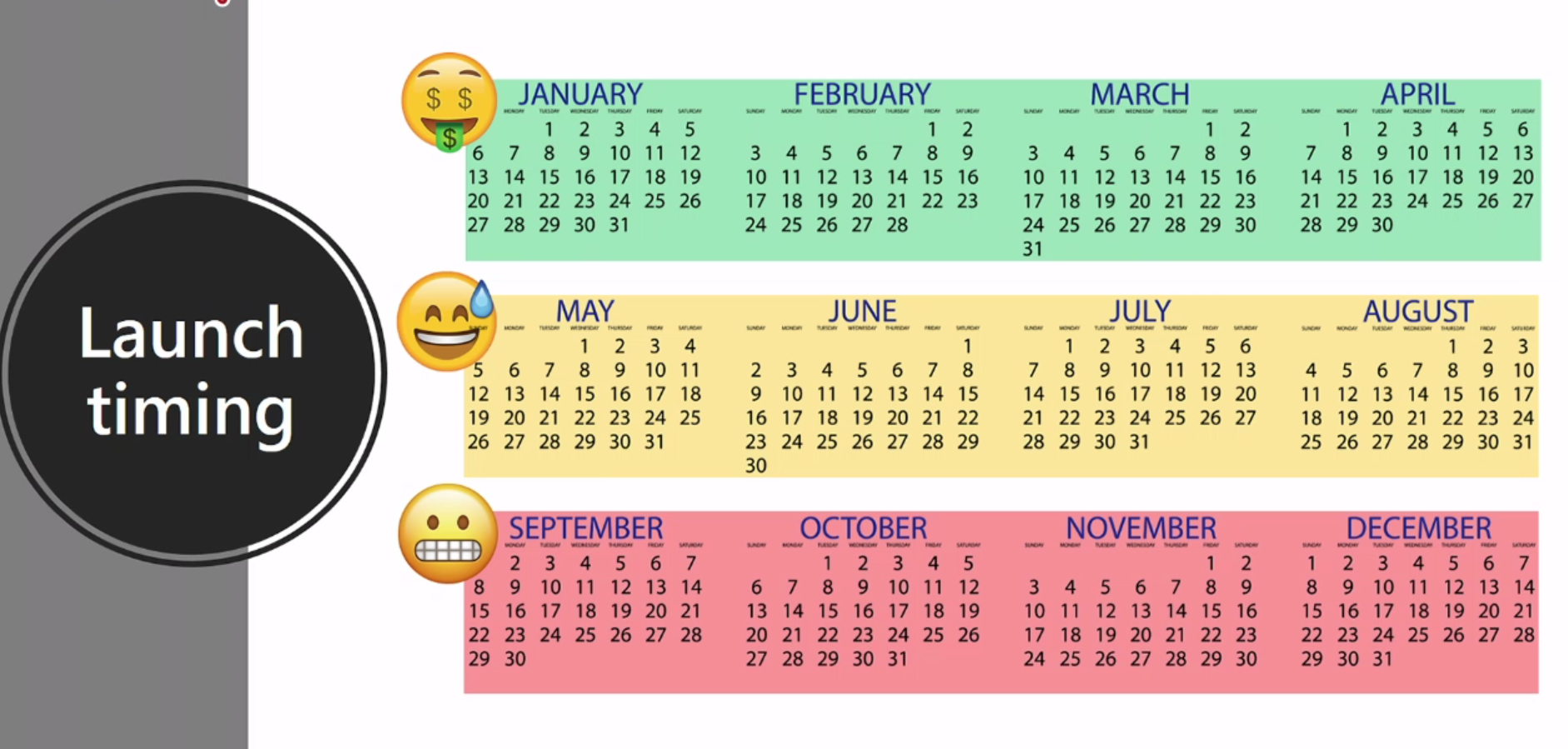 "If there's one thing we always want developers to take away from our presentations is to think about launch timing, particularly in terms of the platforms that you're targeting," he stressed. "It's the number one thing that we can attribute to success or failure on the platform."
What Microsoft's research found is that the best time of the year for most developers to launch is from January to April. "It's the least crowded and year-on-year we see the strongest average sales for digital games," Richards said.
The middle of the year can have both good and bad spots, but the biggest no-no of all for an indie would be to launch a game near or in the midst of E3, "just because there's so much noise around the big triple-A games that get announced at that event." Beyond that, July and August can be good but "as you get towards August it can get very, very cramped. And it gets cramped because September to December is kind of the worst time of the year to launch statistically if you're a digital-only game," he added.
If you're happy with your launch timing, there are still other factors to consider. Ironically, in this digital age box art is still pretty important. Of course, it's not going to be placed onto a physical box, but that graphic can be the difference between a player spotting your game or not.
"An exercise we ask a lot of developers to do is to take a print screen of a whole bunch of box arts from the store and photoshop your box art onto this and put it on your TV, sit 6 or 7 feet back from this on your sofa and do some research in terms of how well does your box art pop out," Richards advised. "Don't just look at it on your PC monitor … try to replicate the similar situation users will have at home."
He said that developers should remember that box art can be updated over time. He pointed to Fortnite as a good model for how to refresh the art, and he also noted that Ark: Survival Evolved is a great example of appealing box art because it shows what's possible in the game (riding dinosaurs, shooting, etc.).
Lastly, from a sales standpoint, Richards said that all developers are free to set up their pre-orders on Xbox and they absolutely should take advantage of that along with proper marketing beats. Beyond that, indies also should consider their discounting strategy. Deals with Gold, which runs every Tuesday to Tuesday, is a good one to take advantage of but there's "quite a lead time on that so we recommend trying to get booked up 6-9 months in advance." Developers can also set their own discounts in the store and there's a deal section where it gets highlighted but Deals with Gold sees higher traffic overall. Richards added that Xbox sometimes does certain themed discounts for a particular genre or something similar, and the team typically engages in one big tentpole promotion per quarter.
The ultimate goal for a marketing savvy developer is to be able to stack a bunch of opportunities together. It takes careful planning and execution, but a developer could hypothetically release new and exciting DLC, then create a new DLC bundle offer, then get featured in Games with Gold, and then discount existing DLC.
Casual Connect is now GameDaily Connect — stay tuned for more information on GameDaily Connect in Disneyland, August 27-29.