Over the past few years, monetization within video games has experienced a tectonic shift that has opened up a number of new avenues of revenue generation for publishers and developers. In particular, the free-to-play business model, popularized by Fortnite and a number of prominent mobile titles, has shown that there exists the potential for incredible revenue without charging players a dime to buy into an experience. Instead, they can choose to spend their money on in-game purchases if they find that they enjoy spending time with it. In this way, it's up to the developers to provide such an incentive.
Enter Life Beyond, a new free-to-play MMO being developed by fledgling studio Darewise Entertainment. Based in Paris, France, the Darewise team is made up of a number of industry veterans from big-name studios like 2K, Rockstar, Crytek, and more. That includes Darewise CEO and founder Benjamin Charbit, who previously worked as the director of monetization at Ubisoft on the Assassin's Creed franchise.
For Charbit, Life Beyond is a new kind of experience, one that blends elements from a number of genres outside of only MMOs. Yes, the team has drawn inspiration from big-name MMOs like World of Warcraft, EVE Online, and Final Fantasy XIV, but also Star Wars Galaxy, Rust, and Stardew Valley.
"We're not setting out to copy the player experiences, but to distill what we enjoy from all of these games and bring them into our world and turn them into our dream project," Charbit told GameDaily.
Life Beyond revolves around a community-driven, persistent open world. According to the announcement video, presented by lead designer Brad Lansford, it's a "multi-genre gameplay experience" that includes farming, building, the formation of factions, and more. It also represents a new frontier for in-game monetization; Life Beyond features an in-game economy driven almost entirely by the players. Trading, selling, and auctioning items for real-world money is one of the core features that Darewise hopes will appeal to users.
"Where our approach is radically different from what we've seen in the past is how we approach the concept of ownership," Charbit explained. "Most of the time when you play an online game, nobody considers that what you have in the game world belongs to you. Even the terms of service, the legal paperwork, says you're using a license. The currency, the items, they don't belong to you. Here, we take a different approach to say, 'No, the time you spent in this work, the skills you've built, the items, the resources, all of this belongs to you and you should be entitled to do whatever you want with it.'"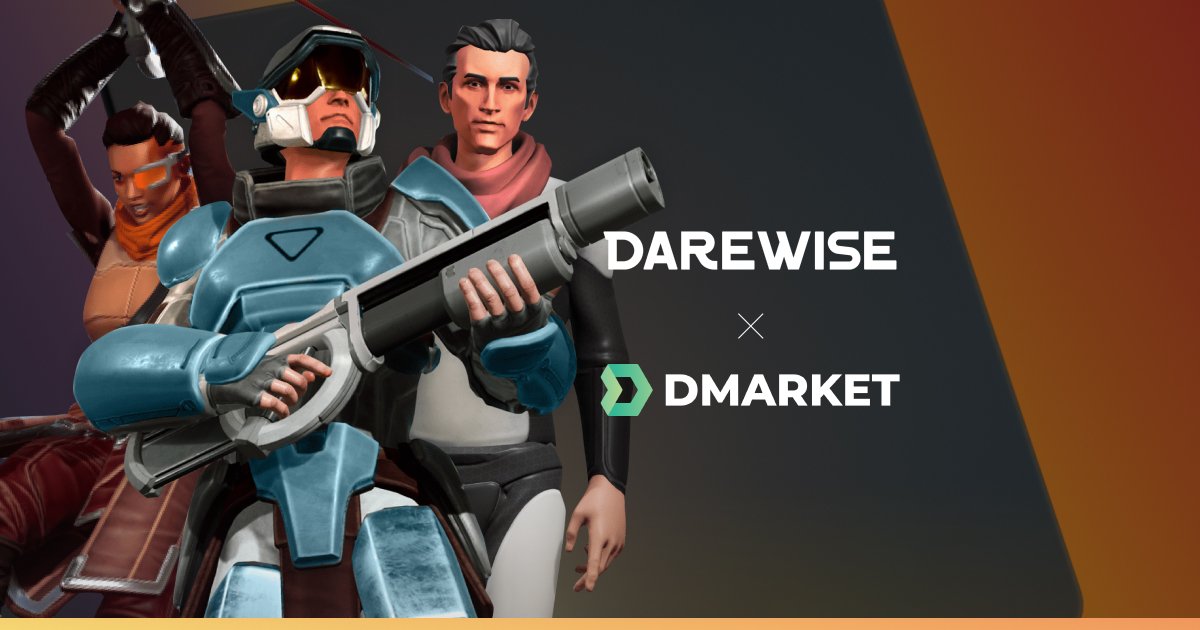 To that end, Darewise has partnered with DMarket, a digital marketplace that trades in cosmetic items for Counter-Strike: Global Offensive and Dota 2.
"What we've really latched onto with DMarket is that they're another startup, and we have a lot in common," Charbit said. "We have been in conversation with other companies, but with DMarket we share many cultural values, ambitions, velocity and disruption."
For DMarket CEO and Founder Vlad Panchenko, the partnership with Darewise represents an opportunity to illustrate the appeal of player-driven economies.
"We've been dealing with digital game sales, in-game items trading and the monetization of in-game content for over 10 years," Panchenko told GameDaily. "This has given us an enormous amount of experience in the field. We've put it all into our toolset for launching and scaling game economies, and the Life Beyond in-game economy in particular."
The transactions that take place on the platform, Panchenko said, are also helping with the funding of Life Beyond, which is currently in the alpha testing stage. Moreover, these transactions enable the team at Darewise to improve the gameplay experience.
"For now, items from Life Beyond founder's packs are available on DMarket, which is boosting the game's alpha funding. Players are already trading these items among themselves which speeds up the building of the game's core community," Panchenko explained. "A well-balanced in-game economy is not just a monetization feature. It enhances the gameplay, makes the game more engaging, entertaining, and immersive. It brings more fun to players and strengthens the community."
The topic of in-game monetization can be touchy within certain segments of the gaming community, but there's no denying that the business model has been incredibly lucrative for devs and publishers. Obviously this is an attractive prospect from a business perspective, but it can be tricky to navigate its rollout. Charbit said that public perception on microtransactions have shifted over the last several years, though, thanks to their gradual rise to prominence.
"When we introduced monetization to Assassin's Creed, we didn't do it day one; we started by introducing the concept of in-game currency in Assassin's Creed Revelation," Charbit explained. "Then we brought in premium currency with Assassin's Creed 3, to finally run Assassin's Creed Black Flag really more like a service, with true post-launch operations. We did it step-by-step, first introducing a concept of economy: actions grant resources, which can be used to buy skill points or abilities or equipment, and then we offered a monetization system on top of that. It wasn't aggressive or anything."
Charbit said that because of this gradual, iterative approach, Ubisoft was able to avoid a good deal of negative backlash regarding the introduction of microtransactions into such a beloved series. And now, he feels very prepared to tackle a game whose economy is based on real-world money and inter-player transactions. Strengthening that confidence is the sense that there's no shame in a developer wanting to profit off of its game.
"Life Beyond is free-to-play, so we have to stop being embarrassed by the fact that we're looking to generate revenue from our game, and be clear about the fact that yes, we're trying to make revenue with this game! I have a feeling that actually, the more we think this way, the more we're concerned about delivering a high-quality experience."
It's that drive for quality gameplay that Charbit said will make or break Life Beyond's longevity. If it's not a fun game, players will not stick around and spend their money on it, plan and simple. This results in a sort of deference toward the player on the part of Darewise, he explained. In a game as player-driven as this, it's important to ensure that their needs are being met.
"We have to show them respect and give them a good experience. We can't just [engage in] blast marketing and get upfront buy-to-play. We burn money making the game, and we hope that in the long run our community seeing value in it will make it worth our while. To me, it's the best way to force publishers to provide a good experience," he noted.
Panchenko said that there is significant player interest in games with user-generated economies.
"It's a market of $25 billion," he said. "Players spend more and more hours in the game as their peers and communities are there. Just like in real life, players want to look cool and stand out in virtual worlds. That's why they are interested in skins and other in-game items. Some players satisfy their desire to stand out, others are just enjoying the gameplay. Game devs monetize their art and effort, and everyone's happy."
As the market tools provider for the entire Life Beyond economy, DMarket is under a lot of pressure to help Darewise deliver on its grand ambition, an undertaking that the team is very prepared for, Panchenko said. The goal is to provide as seamless an experience as possible while still providing substantial options to players. Players of Life Beyond can link their account to DMarket with a single click, and can easily withdraw items from the marketplace without ever leaving the game client.
"I'm proud that the integration of the game with DMarket took only three weeks and involved only two engineers from the developer's side," Panchenko explained. "It was particularly important to Darewise that the DMarket integration had minimal impact on their development schedule and resources. I'm also really inspired that we both have the same idea of a free, borderless in-game economy driven by players. That's why working with Darewise has been a great and smooth experience. As our collaboration with Darewise continues, I'm convinced we will create more exciting opportunities for players together."
One area of concern is security. There's a lot of potential for griefers to muck up the economy of Life Beyond by artificially inflating the market price of highly sought after items. Panchenko said that the team at DMarket is very prepared against such efforts.
"After all our years in in-game item trading, we know all of these issues perfectly well. Our platform is built on distributed ledger technology. It ensures the security and transparency of transactions. We add to that other security and legal measures such as two-factor authentication, and KYC and AML [verification] so that players can store and trade digital assets safely."
As development on Life Beyond moves along, Charbit is excited for players to dive in and experience what the team at Darewise has been building.
"We are exceedingly proud of the technology that allows us to build the world, because it's allowed us to make a world that is amazing, varied and beautiful, but also fun to navigate and explore," Charbit said. "I'm most looking forward to the feature we call the 'New Player Experience,' which is when we'll take players by the hand and really show them what the game is about, all our systems and features, and onboard them properly. There's a lot of other stuff that we've got coming up: vehicles, a new construction system, social features–it'll be a busy summer for us!"
The current live-service era of gaming is providing a number of new avenues of monetization for developers and publishers, and it will be interesting to see how Life Beyond pans out in that regard. Darewise is certain to be closely monitoring the public's reception to its player-driven economy. Games like CS:GO have proven the plausibility of real-world transactions as a legitimate supplement to the core gameplay. Striking that balance and ensuring benefits for both players and developers is an unenviable tightrope walk, but a few brave acrobats can change the game for everyone.