Rami Ismail, half of indie studio Vlambeer, prolific game design speaker, and GDC Ambassador Award winner, has more articles written about him than there are days in a year. This might help explain why he recruited just as many developers for a year-long project known as Meditations.
"My friend [Spelunky creator] Derek Yu said this wonderfully," Ismail said. "'Rami, the best thing you can do with a spotlight like that, you can't point it at something, but you can try and get as many people in the light.'"
Meditations, which launched on January 1 and will run all the way until the end of 2019, is a "year-long performance" by more than 350 developers, along with a team of three curators and four coders, including TrainJam's Adriel Wallick and IndieGameJams.com co-creator Jupiter Hadley. Players simply download the Meditations launcher, which pre-loads a month's worth of bite-sized games at a time, and then play a new one each day. Once a game's 24 hours are up, it's gone and only made available again a year later on the same date.
Each game, ranging from simple puzzles to emotional mini-narratives, is made by a different developer, and its date is specifically chosen for that date by the developer. It might just happen to be during the developer's favorite season, or the exact day may carry some baggage, for better or worse. Either way, each game is meant to serve as a little morning wake-up (or evening if you live further away from Greenwich Time), something to get your mind working, or your heart feeling. One day you'll be treated to a geometry-based puzzle where you move an arrow into a box, and the next you'll be greeted by an idyllic adventure through a simply drawn forest from the viewpoint of a developer's dog.
For Ismail, it began by stumbling upon a little tempo-based puzzle game called Tempres by Tak. The game is available on Itch.io, but was also featured as the first game in the Meditations lineup.
"It's a game about slowing down, which I think on January 1 is not a bad thing to do," Ismail said. "The joy of the game isn't finding the solution, it's in trying to find the solution. Then I left the game, and I felt a thing. It was just this five minute little thing. I told Tak, hey, your game inspired me to find a way to give that feeling to everybody every day of the year."
And that seems to be the impetus for all of the Meditations. Hey, take five minutes to slow down, play this little thing, and take whatever feelings you get from it into that day's conversations around Meditations.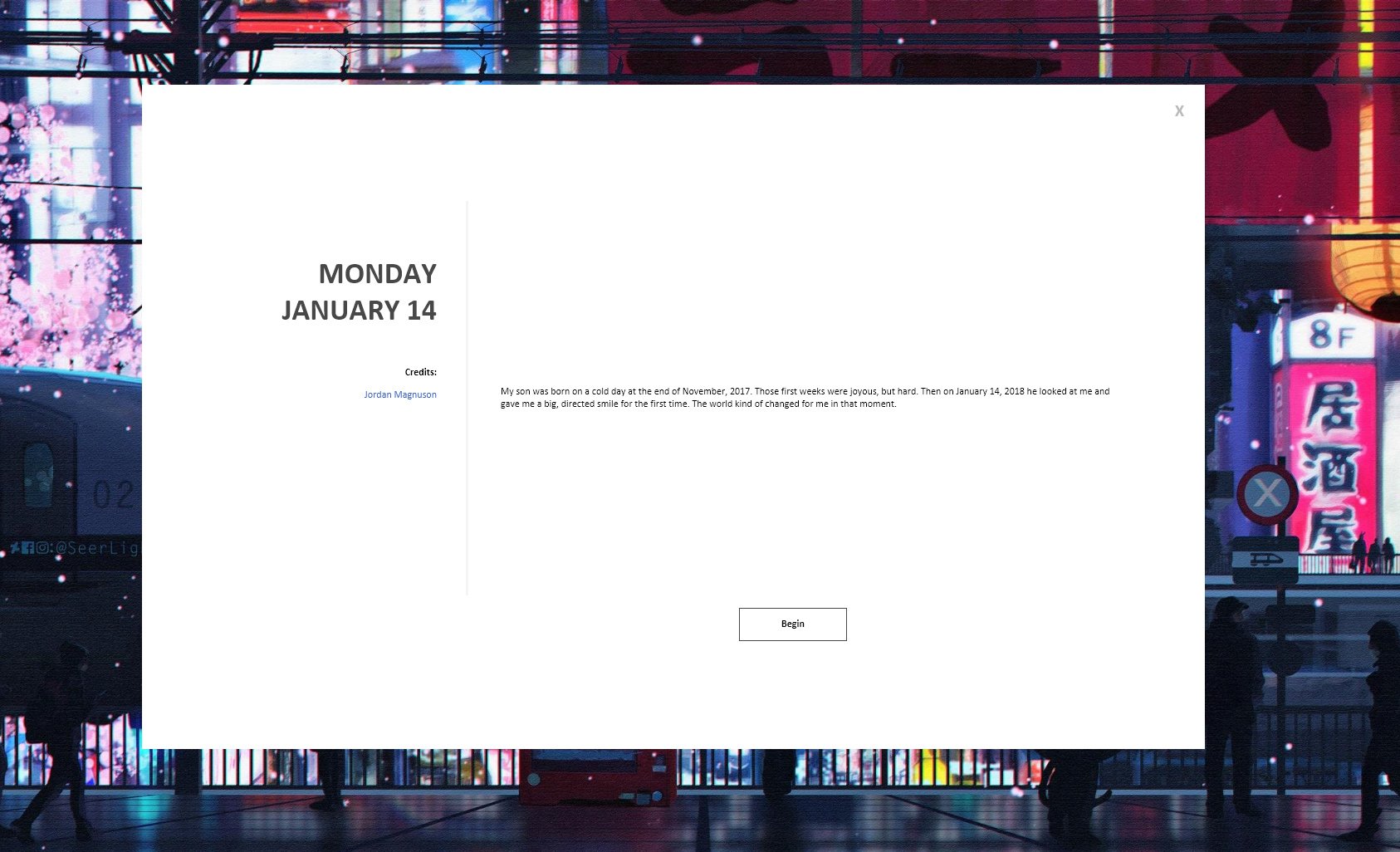 After the relatively simple start to the year, Meditations' first week has been full of more emotional beats, including a somber tale from Madrid-based developer Luis Diaz Peralta. In his short game, which was featured on January 5, Peralta tells the story of how his grandfather's death impacted the holiday season with his family. A simple illustration shows a family and their grandfather gathered around a tree and fireplace, a piano rendition of "Jingle Bells" playing in the background lending some liveliness to the still image. Players click a lightswitch at the top of the screen, and suddenly, the music has stopped cold, and the image has altered to reflect grandpa's distinct absence. The family seems to just sit there in uncomfortable silence while the fireplace laps up another log.
"Making a game about my grandfather has been in my mind for a really long time," Peralta said. "I'm usually more of a mechanics-focused developer. When working on this game, I actually had this huge struggle. I know I'm going to make this game about my grandfather, but there's a billion ways I could do that."
After workshopping a number of ideas that didn't seem to do his grandfather's memory justice, Peralta eventually settled on his lightswitch idea.
"I was really scared about this project for one reason," Peralta said. "If I make a game jam game and it ends up being a crappy game, I'm fine with that. I make lots of games that aren't good and that's OK. But if you are making this game about this story that's really personalized, it's not just your story. It belongs to more people in your family, and you'll feel that you screwed up a lot if you mess it up."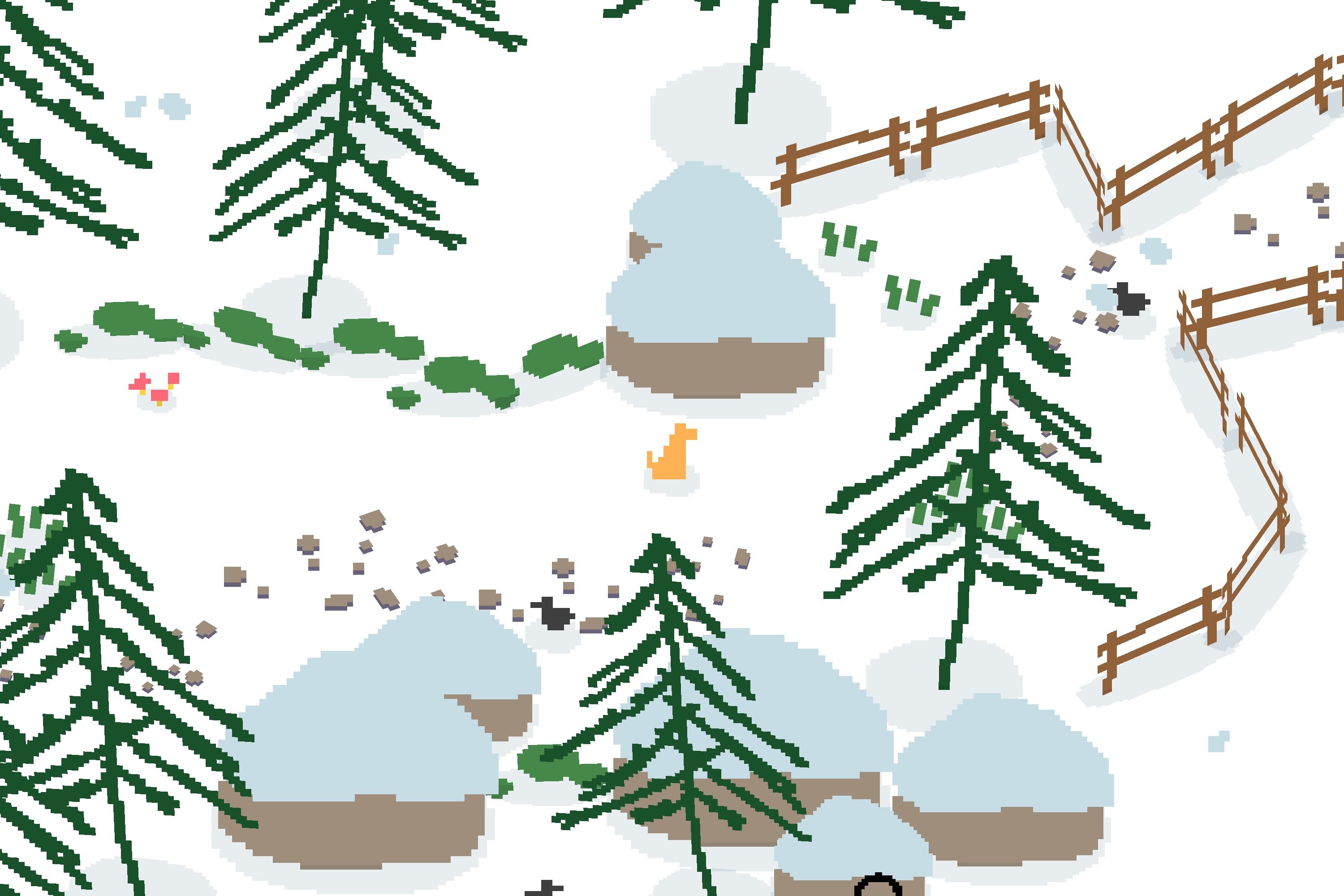 Ideally, that's what each Meditations entry evokes, what any game strives to be, consciously or otherwise: Creators giving a piece of themselves over to the players, who are in turn their own people, colored by their life's experiences. These games are first their creator's story, but they also intrinsically become a part of the player's, even if it's only for a few hours after while they reflect on it during the workday.
"Technically, each developer is having an asynchronous conversation with whoever is playing Meditations," Ismail said. "They're saying here's a part of my life experience or here's a thing that I find curious or interesting, or that I was toying with in my brain, here, now it's yours."
Make no mistake, though. Curating 365 games was, to put it mildly, slightly hellish. Jupiter Hadley, who says she's played more than 35,000 indie games in her time, came onto the project in early November of 2018 after having casually discussed the project with Ismail months earlier.
To her shock, Meditations was still missing about 300 entries.
Thus began a mad frenzy to get at least the first couple months lined up, going so far as to trigger social media apps for messaging fellow developers too quickly.
"Twitter actually banned me," Hadley said. "On day two of looking for developers, Twitter was like 'you can no longer DM! You're clearly spamming!'"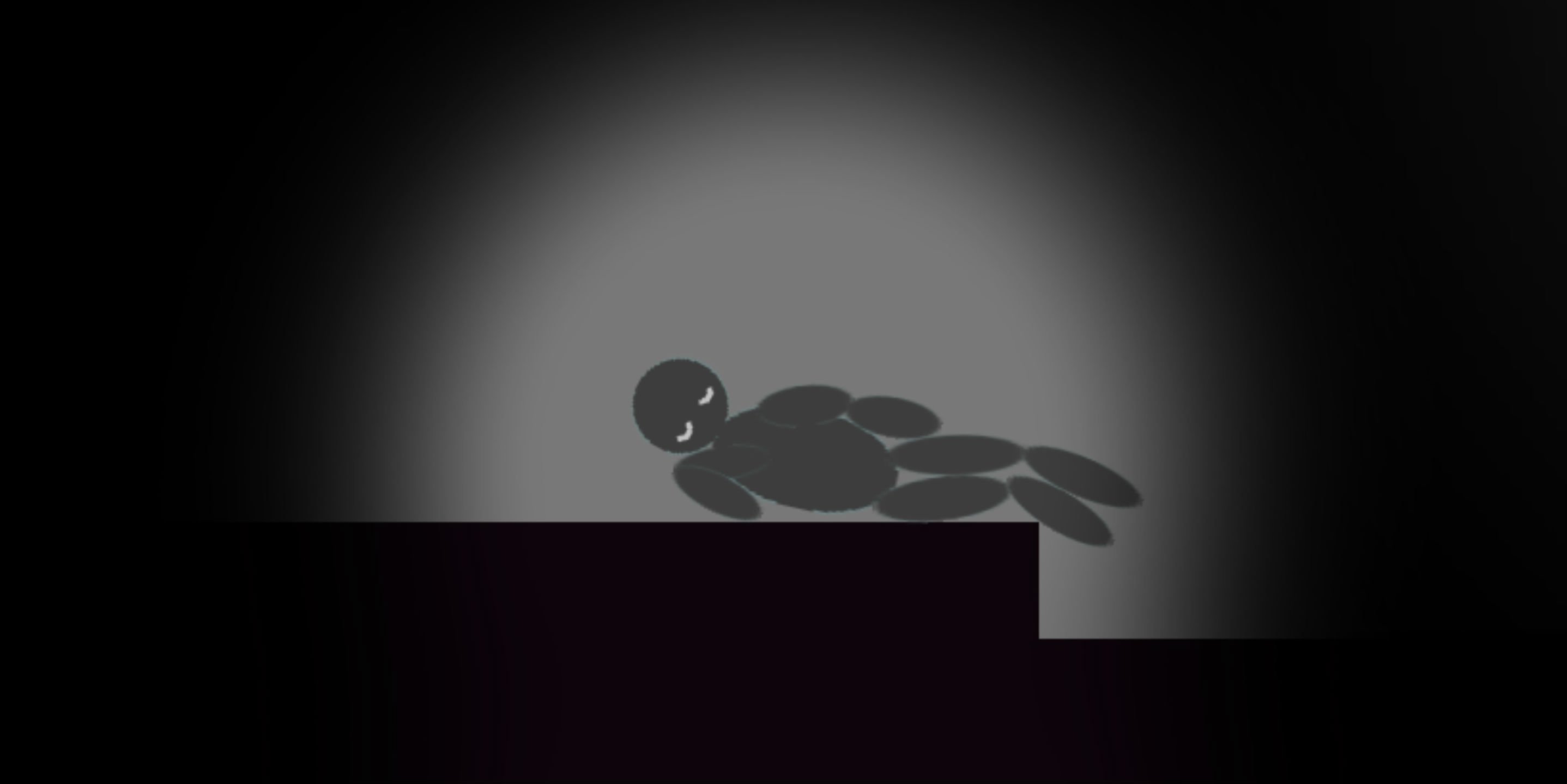 Ismail's name certainly helped, but organizing 300+ developers to effectively perform their own secret six-hour game jam is no small task. Add in the fact that you're hoping to gather a diverse group of developers (some from studios as big as Bungie, some from overlooked countries), and you've got a tough uphill battle. Hadley used her experience playing through all the games from various game jams over the years to inform her curation, looking distinctly for developers who could make games or little digital toys that illustrated a part of their life or worldview and impart it to players.
"I know a lot of these developers, and I obviously reach out to and communicate with them, but with some of these games, I pick up on things I didn't know were going on in their lives," Hadley said. A lot of times when you see developers on Twitter, they're just posting their projects and going on about their lives, but there's other stuff going on. I guess it's true with anyone. But personally through playing these games and knowing these developers it's giving me a wider look into what's going on with them, seeing they have the same issues I have."
When Crediting Goes Awry, Despite Best Intentions
Shortly after the launch of Meditations, some contributors and the game development community criticized the manner in which Meditations contributors are credited. Ismail's original plan was to feature each individual developer on their designated day, then have that information filter out, and then post a full list of the developers on December 31 of 2019, when the launcher just restarts from the beginning.
This, as Ismail would freely admit during our interview and on Twitter, is where he messed up.
Shortly after the initial reaction, Ismail removed his name from the Meditations site's "Why?" page, stating that "until I resolve everybody else's credit, my credit shouldn't be on this page. This is my mess up, so I'm going to fix it."
Ismail says he has a gratefulness for the criticism, and has gone so far as to defend his own critics on Twitter, who must contend with publicly calling out a well-liked public figure. As of publishing time, Ismail and Hadley have organized and completed a poll of all 350+ contributors with the intent of a finding a solution that pleases as many contributors as possible.
"I have informed the contributors of the results a little while ago, and hope this compromise resolves any concerns both from the contributors & the community about the crediting of the contributors' according to what they believe is fair & appropriate for their work," Ismail tweeted. "I'll be spending the next few days implementing the conclusions from the contributor's votes. I want to thank everybody for their patience while I tried to right these wrongs, & hope that this removes any negative feelings towards what I truly believe is a beautiful project."
In some ways, and certainly on a smaller scale, it evokes issues brought up regarding Rockstar Games, which has a longstanding policy of not including developers in a game's credits if they leave before the project is finished.
"You hope you never have to find out your fallible," Ismail said. "You hope you never have to find that out in a way that hurts others, but when you do something of this scale, you will. If I had known there would have been this hurt or anger, I still would have done the project. One of my first responses was should I just pull the projects? If it's unfair, it's unfair and we shouldn't keep rolling. The mistake you make in your mind is you don't ask."
It all circles back to one truth that's been clear every time I've ever spoken to Ismail. The man appreciates the spotlight, but he clearly dislikes that he overshadows many of his equally talented peers. Sometimes this shines through when he links to a GDC panel discussion, but requests that the points made in it not be directly attributed to him, and sometimes in comes in the form of letting the spotlight cook you a little harder when it's evident you've made a mistake.
"I am the least interesting person involved in this thing," Ismail says. "[The contributors] to this project, they should own Meditations. A good interview about Meditations won't be able to happen until the end of the year when we've seen the full context."
If the point of Meditations is to give players a window into the personal stories, feelings, or creativity of each individual contributor, and then to have players take it out into the world with them, then the project has already succeeded in some significant ways. Though Ismail started the #MeditationGames hashtag to centralize discussion, he obviously didn't see the crediting discussion coming, but the conversations swirling on Twitter at midnight Greenwich time about the games are certainly the product of individual players' thoughts and feelings.
An unknown fan of the project even went so far as to create the @meditationgames bot on Twitter, which posts when the new day's game is available and includes a credit if possible. There the community goes, taking something in and putting something new and unexpected out.
"In a way, it goes back to the heart of what games is," Ismail says. "Ultimately it's about interpretation. As a player, you bring yourself to a conversation that is controlled by somebody else and then you speak."