The Xbox brand has been dogged by a major conundrum since 2013. Console purchases are motivated in no small part by exclusives. Microsoft had a first-party games problem. Past tense. E3 2018 started to change that.
Nestled amongst Halo Infinite, Gears of War 5, Devil May Cry 5, and Battletoads announcements, Microsoft shared big news for the future of its first-party games. Four established studios—Undead Labs (State of Decay), Playground Games (Forza Horizon), Compulsion Games (We Happy Few), and Ninja Theory (Hellblade: Senua's Sacrifice)—had been acquired by Xbox. Additionally, former Crystal Dynamics head Darrell Gallagher has been tapped to lead a brand new team, The Initiative, based in Santa Monica.
Xbox boss Phil Spencer isn't ready to let off the gas yet. In a recent CNET interview, he says that his team isn't done shoring up Microsoft's first-party game offerings.
"I've been explicit that we needed to up our investment in our first-party studios, and at E3 we announced the addition of five new studios," Spencer told CNET. "I don't think we're done." The field is ripe with "Triple-I" studios pumping out artistically and technically proficient games.
Building the Game Pass library
"They have been going after quantity at relatively low prices, so are likely going to keep chasing $100 million sized deals," says Wedbush analyst Michael Pachter. Head of Microsoft Studios Matt Booty tells GamesIndustry.biz that Microsoft is looking at studios with 50 to 100 employees that release games every two to three years. A big theme in the interview is concerned with Game Pass, Microsoft's Netflix-style subscription service. Game Pass marks another step for Microsoft looking at success as ecosystem-based rather than motivated strictly by console sales (as the newly announced Xbox All Access program reinforces).
The model has changed. It used to be that consoles were sold as loss leaders, with software licensing making up the difference (and then some). It was the old marketing paradigm of razors and razor blades, with the latter being a source of recurring revenue made possible by practically giving away the former.
Subscriptions have disrupted that model's simple lines. Now, it's not just about getting consoles into homes and selling software. Recurring spending comes from Xbox Live and PlayStation Network, and now PlayStation Now and Xbox Game Pass. Subscriber acquisition is costly, but renewals—ensuring long-term, recurrent spending—is decidedly easier. If Microsoft can make Game Pass an inseparable part of the Xbox experience, much like Xbox Live has become, it's an additional, reliable cash generator that only becomes more powerful the longer subscribers stay with the program.
If Microsoft is looking for meaty independent studios to build up its Game Pass offerings without crossing too far into nine figures, it will have its pick. It might not make clear sense for Microsoft to focus on studios that are known for linear, single playthrough experiences. We're living in a games-as-a-service world now, after all. However, the success Sony found with God of War shows that narrative still has a home with gamers. Ninja Theory's award-winning Hellblade helps shore up that aspect of the portfolio (with a healthy dose of exciting facial and motion capture technology).
"I think they prefer studios who they have worked with previously, but that is a huge list," Pachter says. "Don't think they are geographically sensitive at all."
If Microsoft were looking at more studios with strong narrative pedigree in linear games, there are ripe options. Remedy has been a recurring partner, with landmark releases Alan Wake and Quantum Break premiering on Xbox. 4A Games brought the first Metro game to Xbox 360 as a console exclusive, before going multi-platform for the sequels.
Again, Booty emphasizes fit with GamePass and casting a wide net for content rather than zeroing in on a specific type of experience. "Multiplayer games, online play, esports, we all know how important these things are," he says. "But that's never been the intention to exclude a certain type of content… And as we work with Undead Labs going forward, and we're looking at the next iteration of State of Decay, we should expect it to steer towards more persistent worlds, bigger communities and more online play. But that doesn't mean the next games coming out of Compulsion or Ninja Theory wouldn't be more narrative-based or more single player."
The idea of building Game Pass up with linear, narrative games supports Phil Spencer's DICE 2018 comments. During his keynote, he emphasized gaming as a hobby for everyone. Bringing more, diverse games to the service will attract and retain a wider pool of subscribers.
Trends favor replayable games, like Forza Horizon, State of Decay, and We Happy Few. While it would likely be pricey thanks to Rocket League's success, Psyonix would be a smart pickup for Microsoft. It was Psyonix, after all, that kicked off the current conversation about play across console platforms when Rocket League was announced for Xbox One in March 2016. That conversation led to Microsoft-owned Minecraft and Epic's Fortnite carrying the torch for multi-platform play (a sore topic that continues to be an unsightly blemish on Sony's otherwise positive reputation this generation).
Even though there are a number of studios that might fit Microsoft's profile, many companies delight in their independence. As one developer told me in the course of writing this story, ample cash flow and creative freedom are strong reasons to stay private and forego a windfall.
Microsoft's complicated history with acquisitions
Microsoft also has a troubled history with studios they've acquired. A number of the companies Microsoft purchased along the way have been shuttered. Battletech and Shadowrun developer FASA was purchased by Microsoft in 1999. Things were going well during the original Xbox years, with two well-received MechAssault games and Crimson Skies: High Road to Revenge. However, after Shadowrun was reimagined as a team-based shooter, it was a mere four months before the studio's lights were turned off for good.
Battletech lives on, of course. Series creator Jordan Weisman's Harebrained Schemes revived both Battletech and Shadowrun via successful Kickstarter campaigns. Recently, Weisman went through another acquisition, with Harebrained Schemes joining strategy publisher Paradox Interactive.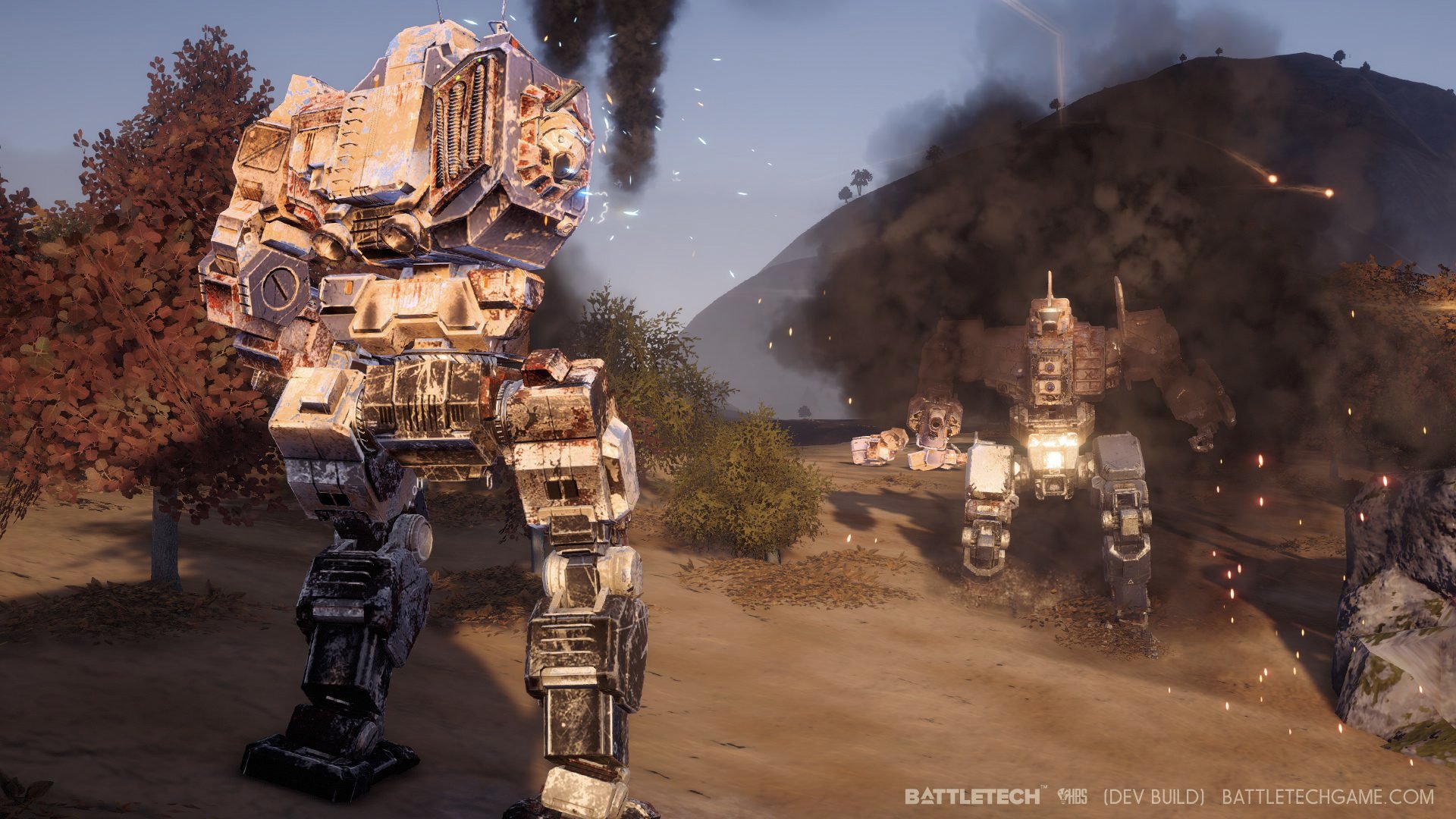 Weisman suggests developers look at a variety of factors when considering whether to accept an acquisition offer.
"Is the goal of the acquisition to cash out and sell things off or to set the team and studio up for greater success in the future? One is a hotel for a short-term stay with a nice parting gift, the other is a home that you want to raise your kids in," Weisman says. "In real life you can't choose your parents, but in corporate acquisitions that is exactly what you're doing. It's the Brady Bunch writ large, you are merging your studio family into the larger acquiring family, so it's critical that you understand how your co-workers at the parent company view the world and interact with each other. Company cultures can vary widely. Understanding things like how decisions get made, how they view their audience, how comfortable they are at taking risks, how they evaluate success, [and] other similar questions are critical to predicting what life is going to be like after the champagne toasts are over.
"The reality is that nothing but a lightning in a bottle hit can create true stability for an independent studio, and thus there is attraction in the stability that becoming part of a larger studio can provide. But that stability can sometimes be a mirage based upon how the larger company views and manages their studios."
Other Microsoft-owned studios met the same fate as FASA. Lionhead became a single-franchise studio after being acquired by Microsoft in 2006. Despite a strong following for the core entries, Microsoft opted for spin-offs later in Lionhead's life. The troubled, Kinect-only Fable: The Journey fell flat, and the long in-development four-versus-one Fable Legends was cancelled as the studio was shuttered.
Ensemble Studios (Age of Empires, Halo Wars), Digital Anvil (Brute Force), Press Play (Max: The Curse of Brotherhood) also met with closure. Other studios managed to survive a divorce with Microsoft. Original Halo developer Bungie is alive and thriving and Twisted Pixel is making its mark on the VR landscape.
Microsoft seems to have changed its approach with purchased studios. Minecraft fans worried in 2014 when Mojang was purchased for $2.5 billion. Those fears have been allayed, with Microsoft taking a light touch, allowing Minecraft to thrive across platforms, with regular updates, cross-platform play, and a healthy creator community populating a new add-on content shop.
According to the GamesIndustry.biz interview, we're likely to see Microsoft take this new, lighter approach with recent and upcoming acquisitions. "I was thinking about how the cliche would be to show up and say something like: 'Welcome to the family'. But I don't know if that sends the right message," Booty says. "It's not our intention to pull these studios in and start putting Xbox posters up everywhere. It's more about giving them the support so that they can focus entirely on making games, and to relieve some of the tension that I think exists for a studio of that size."
Microsoft seems to be focused on letting its new studios do their work without too much imposition on creative freedom. The money, the culture fit, and improved stability don't mean much if a studio can't continue to follow its passion. Successful studios are cocktail of brilliant creative execution and savvy business decisions.
"The importance of [creative freedom] varies from team to team, but if it is important for your studio then it is the thing that will require the most exploration, discussion, and possibly contract writing with the acquiring company," Weisman says.
"Understanding the parent company's capacity for risk is a strong correlation to how much creative freedom they give their people. Listen to what they say, but depend upon what they've done as a better predictor of what they will do. If you can see a history of the company taking creative risks, then it is likely they will continue to do so."
When a first-party console manufacturer goes on a studio buying spree, it's to gain a competitive advantage. Microsoft has been playing catch-up with Sony all generation, largely due to a flagging software lineup. Instead of just looking to corner exclusives though, Microsoft is playing a smarter game. Launch window sales are the short-term play of the past. Phil Spencer and his team are playing the long game with subscriptions and a robust library that will carry forward into the next hardware cycle, giving Xbox chance to regain the ground it lost this generation.