Nexon has kicked off its fiscal year with an impressive first quarter, generating revenues of ¥93.1 billion (about $850 million), a three percent increase year-over-year, and net income of ¥53.4 billion (about $488 million), representing a 15 percent jump over last year's profit.
Both revenues and net income exceeded outlook for the quarter. In a separate fiscal announcement, Nexon cited "PC online game revenue exceeding expectations in the high-margin China and Korea regions" and it also said that income was boosted by the foreign exchange gain of the Japanese Yen related to the depreciation of the Korean won against the U.S. dollar.
From a portfolio perspective, Nexon's strong performance was driven by the strength of Dungeon & Fighter in China, MapleStory (which saw double-digit revenue growth in Korea), FIFA Online 4 (which it publishes for EA), and its brand-new mobile game Lyn: The Lightbringer in Korea. With its live service approach, Nexon has been able to consistently generate recurring revenues, and even its oldest franchises continue to contribute to the bottom line.
"Nexon continues to break industry records for longevity in game franchises," noted Owen Mahoney, president and CEO of Nexon. "One franchise, KartRider has exceeded 380 million registered players, and after 15 years of availability in Korea, has generated an over 3x year-over-year revenue increase. Crazy Arcade BnB, released in Korea 18 years ago, was recently released globally on mobile and has surpassed 10 million downloads in less than a month."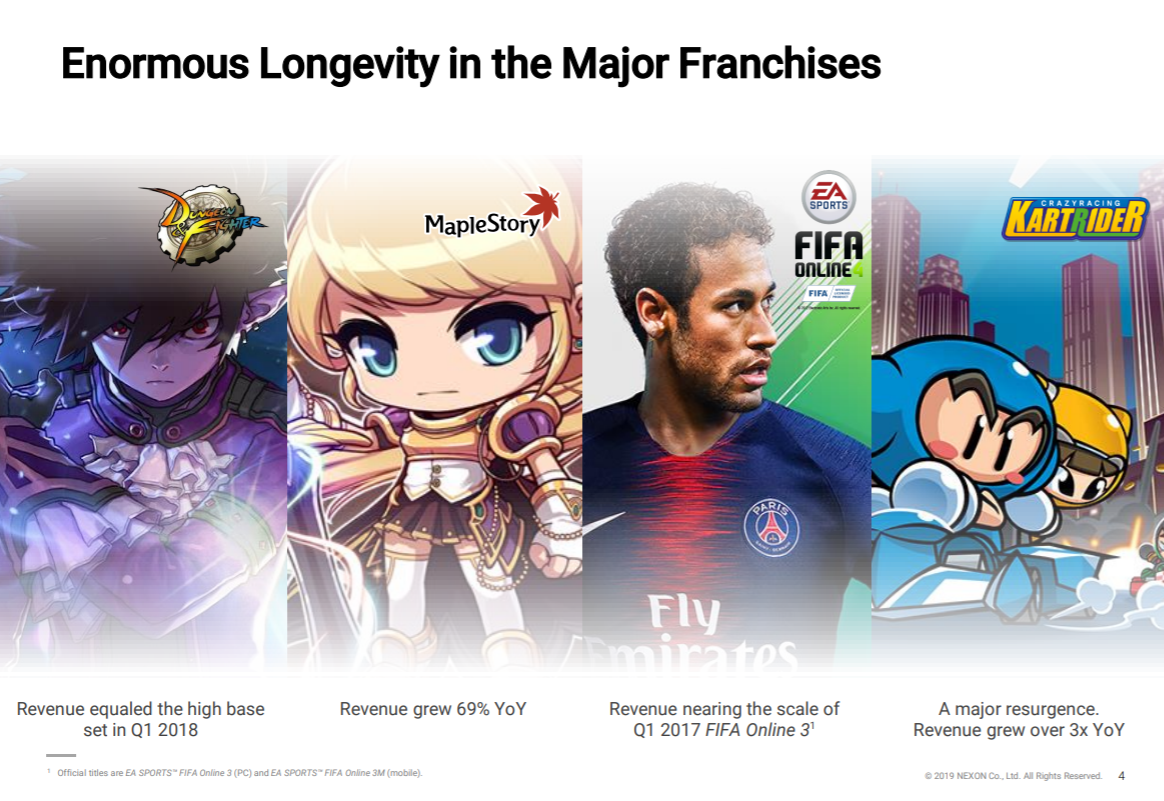 He continued, "Nexon's strong start to 2019 is a result of our tireless innovation in live services and game development, as well as long-term focus on our wholly-owned intellectual properties. We have continued growing our business around the globe through outstanding live operations and development."
While Nexon does well across the globe, it's important to recognize that its bread-and-butter is still Asian markets. A whopping 62 percent of Q1 revenue came from China, followed by 24 percent in Korea. Revenues from North America and Europe only accounted for 10 percent of the total. That said, Nexon did see year-over-year growth in both North America and Europe, driven primarily by its mobile games business. On the whole, however, it's worth noting that Nexon's PC business actually generates the lion's share of revenues with 83 percent of revenues coming for PC gamers.
Nexon has had tremendous momentum in the last few years. In December 2016, the company's stock was trading around $6.50. These days, it's in the $14-$15 range and Nexon is the talk of much buyout speculation. In fact, according to the Korea Economic Daily (via Seeking Alpha) final bids on the parent company to Nexon (NXC) could be coming next week. As we've reported previously, Tencent and a host of others could all be in the running to gobble up Nexon, but it's unclear which corporate behemoth has the edge at this point. A deal could be worth as much as $9 billion.
If Tencent manages to come out on top — and Kantan Games' Dr. Serkan Toto previously told us that a large Chinese firm likely is the best bet — it would only solidify the Chinese giant's stranglehold on the interactive space, given that it already controls stakes in companies like Epic Games, Riot, Activision Blizzard, Supercell, Ubisoft, Paradox Interactive, Miniclip, and others.
In an email today, Niko Partners' Daniel Ahmad, Senior Analyst, explained that Disney is no longer in the running to buy Nexon, and he too gave the odds to Tencent.
"We note that Disney was offered a controlling stake of Nexon but chose not to accept this deal," he said. "Tencent is a logical company to acquire Nexon, as 62 percent of the company's revenue is generated in China, yet there are many Chinese and international companies who also would benefit by adding Nexon to their portfolio. It would also give Tencent or another Chinese company access to a broad range of IP and a stronger position in the global market whilst allowing them to have full control over the Dungeon & Fighter IP in the domestic market."