Nintendo's stock (NTDOY) has gone from darling to dog in record time. The shares hit a 2018 weekly closing low of $39.27/share today and there is no reason to believe that this sell-off is over. Nintendo has lost over $20 billion of its market capitalization since hitting a multi-year high of $58.45/share at the beginning of the year. The stock is down on the year, the month, the week, the day, and probably is down in after-hours trading as I write this. What exactly is going on with Nintendo's stock?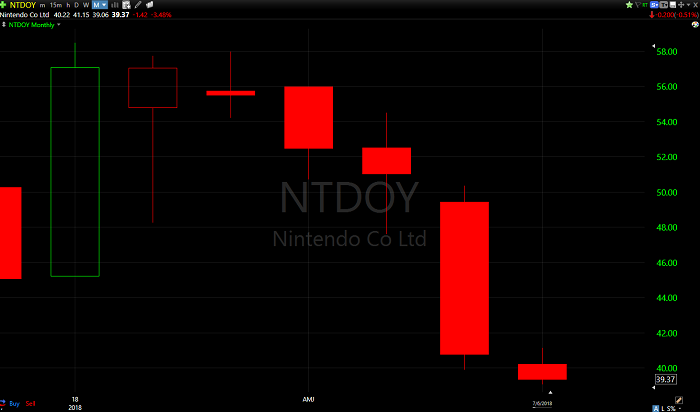 Nintendo's stock had a terrible June. Investors and analysts have been scrambling to explain why the stock is dropping and a common refrain has been that E3 2018 wasn't that great for Nintendo. It was rather amusing to see the news today that Nintendo Switch sales doubled in the week after E3. The media and analysts will keep pushing the narrative that Nintendo is struggling, but the company finds itself in its best financial position in years.
Then why is the stock selling off so violently? If it were to keep selling off at the pace it unwound in June, Nintendo's stock would be at zero by October. These kinds of violent moves are not rare for Nintendo shareholders, and I think there are a few reasons why it is happening again.
Sadly, it isn't smaller retail investors who are moving this stock. Larger institutions have clearly soured on Nintendo as is indicated by the extreme stock trading volumes we have seen over the past few months. These firms have access to the Japanese shares of Nintendo which do offer options and added liquidity. To most of these firms, it is just easier to sell Nintendo and come back to it when it regains momentum or becomes cheap enough based on their own fundamental analysis.
Nintendo's stock is coming off of an amazing two year run on the back of Switch's massive sales success. From the bottom in 2015 of $11.80/share to the $58.45/share top earlier this year, Nintendo had given shareholders a 395% return in two years. This current sell-off is not surprising in the context of the broader move higher. While it is painful for long-term shareholders of the Big N, it honestly should be viewed as a buying opportunity for folks who felt like they missed out on last year's bull run. At some point, this sell-off will abate and the stock won't go to zero, but it felt like a good time to remind everyone that short-term sell-offs happen to stocks all the time. Sometimes when stocks are going down, they feel like they will never go up again.
While the financial world searches for reasons to blame Nintendo's stock price drop on, it is important to realize that nothing has changed fundamentally at the company. Market expectations may have gotten ahead of the company, but Nintendo finds itself in a very good place going into the back half of the year with the launches of Smash Bros Ultimate and Pokemon Let's Go Eevee and Pikachu.
---
Full Disclosure:
At the time of this article, Asif A. Khan, his family members, and his company Virtue LLC had the following positions:
Long Nintendo via NTDOY shares
Investors should do their own research or consult their advisor before acting on this information. This is an educational article and investors should consider each recommendation based on their own risk tolerance and suitability.