On Tuesday, Opera Software AS released an early build of its new gaming web browser, "Opera GX." The program, which is available as a free download, lets players dictate how much CPU and RAM the browser uses, along with various custom privacy and security options.
The Opera GX is an improved version of the Opera browser with various quality of life additions for gamers and streamers. Players can use the program's sidebar to log into their Twitch account for immediate notifications for when streams start, and they can also access a gaming news feed called the "GX Corner." The feed, which can be visited anytime from the tab bar, lists popular upcoming games, aggregates gaming deals, and tracks daily news from such sites as Polygon, The Verge, and GameSpot.
But Opera GX's most impressive feature is its "GX Control" RAM and CPU limiter options, which let users decide how the browser utilizes computer resources. Whereas competitors—such as Google Chrome—often take up memory and slow down in-game performance, Opera GX is particularly useful for streamers who may want to keep their web browser open while live on Twitch or PC gamers who want to watch a streamer while playing games. Opera GX even features a hard limiter option that prevents the browser from exceeding the user's specifically defined limit.
"Running a game might require a lot of effort from your machine. Even more so if you are streaming while you play," Opera GX product director Maciej Kocemba said in a press release obtained by GameDaily.biz. "Before Opera GX, gamers often shut down their browsers in order to not slow down their gaming experience. We came up with the GX Control feature to make people's games run more smoothly without requiring them to compromise on what they do on the web."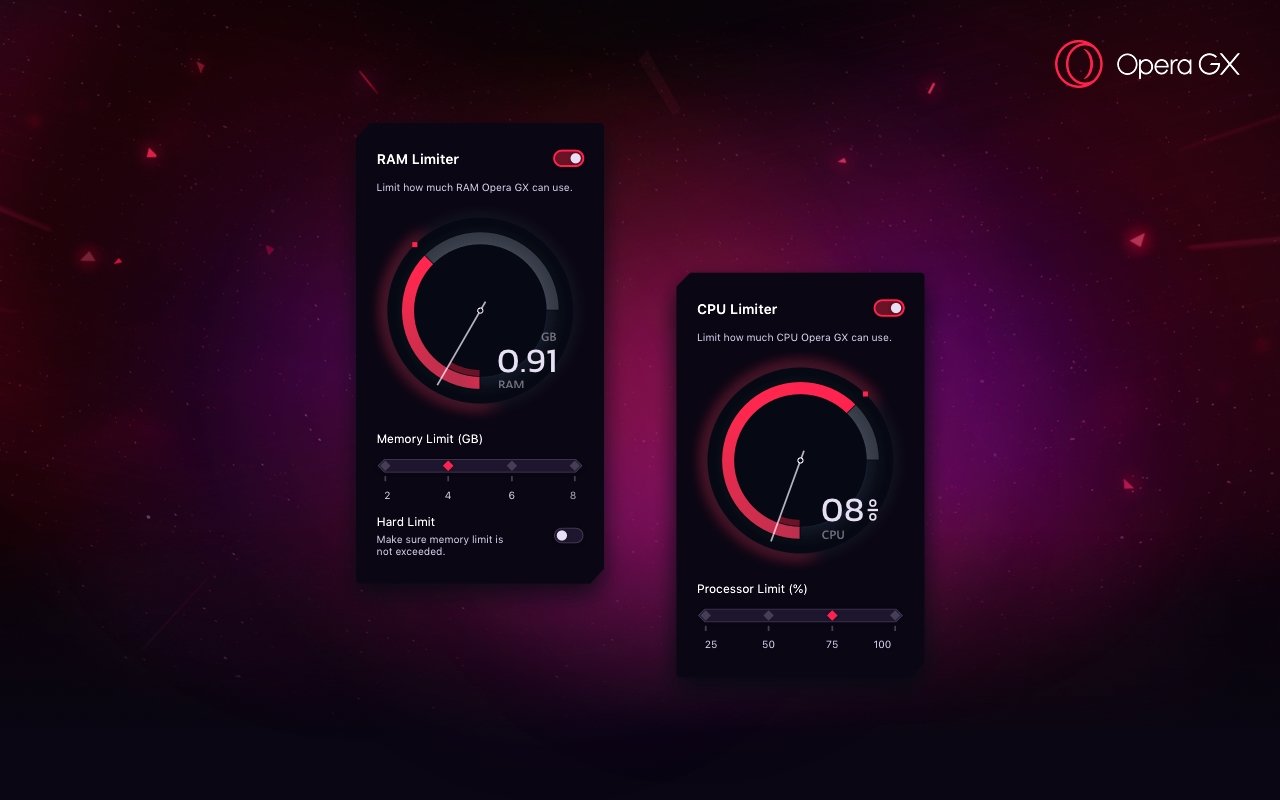 Alongside Opera GX's gaming features, users can also access Telegram, Facebook, and other messengers from extension sidebars. The browser has a built-in ad blocker as well, which is perfect for visiting gaming sites, and the program offers a "free, no-log browser VPN" for users concerned about privacy. Additionally, Opera GX lets users connect to a cryptocurrency wallet, send a "do not track" request to websites, control how websites access users' cookies, and prevent pop-ups and redirects from loading automatically, among other features.
For the time being, the Opera GX is available for Windows at the "Level 1" early access launch stage. Alongside ironing out bugs, some of its features are still being refined.
"At Opera, we want to set a new standard in browsing," Opera Executive Vice President of Browsers Krystian Kolondra said in the press release. "Today, no other browser is even close to having the kind of feature set you will find in Opera, and we hope people will enjoy the new additions coming with Opera GX."
Even in its earliest stage, Opera GX works quite well. When GameDaily demoed Opera GX's Level 1 build on a Microsoft Surface Pro 4, the browser loaded pages incredibly fast, provided easy access to gaming news, and even listed an extensive selection of games deals across Steam, GOG, the Humble Store, and the Epic Games Store. Twitch integration was quick and seamless, and Opera GX's Video Pop Out only experienced one visual hiccup while watching a Twitch stream and surfing the web. As for non-gaming uses, Opera GX features all pre-existing Opera extensions; installing the Telegram messenger was as fast as any other browser, if not faster.
Granted, it's unclear whether the Opera GX will convince Google Chrome and Mozilla Firefox users to switch over. But it's a promising start for a dedicated platform built for gamers, doubly so for enthusiasts that want more control over their web browsing experience. In the meantime, the Opera GX is planned for an official launch "later this year." For more information, users can visit the browser's official website.