Last week, Pokémon Homelaunched on mobile devices and the Nintendo Switch as a way for players to collect their pocket monsters into a single location. Trainers can import their Pokémon from across many generations of the franchise into Pokémon Home, where they can view, trade, interact, and store them. According to mobile analytics group Sensor Tower, the service has been ultra popular, having amassed 1.3 million downloads in its first seven days on mobile devices.
Essentially an evolution of the Pokémon Bank service on the 3DS, Pokémon Home serves as a sort of companion application to the core Pokémon experience. For Katie Williams, mobile insights strategist at Sensor Tower, the market for such companion apps is relatively untested, but not unheard of.
"For instance, the official Red Dead Redemption 2 companion app connects to the console game to enhance the player's experience by essentially moving much of the game's UI to a second screen," Williams told GameDaily. "That app in particular generated an estimated 718,000 downloads in its first week. With that said, we have yet to see a companion app that integrates as extensively as Pokémon Home does with other Pokémon titles."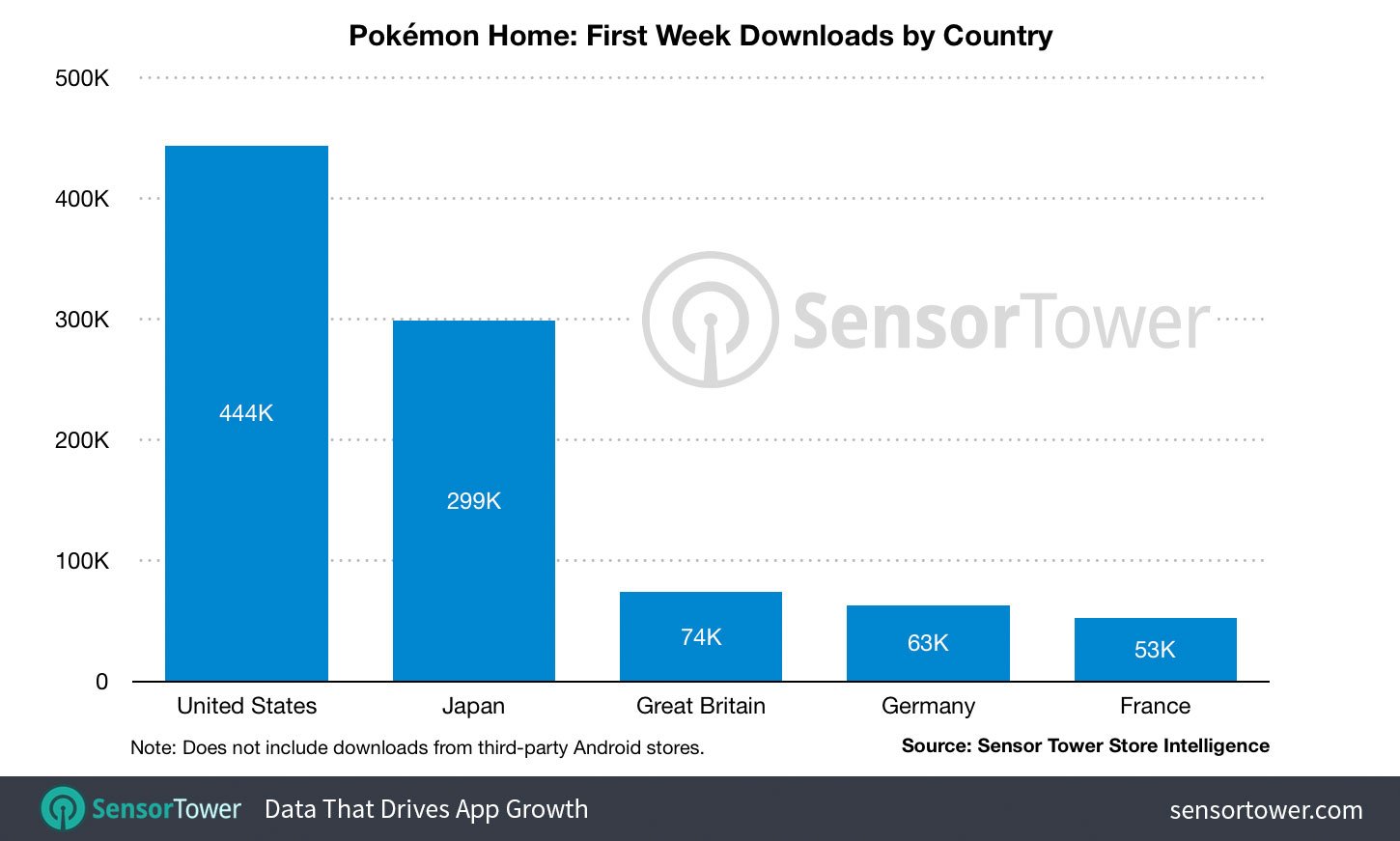 According to the report, 34% of global installs came from the U.S., with Japan and Great Britain contributing 23% and 5.7%, respectively. Pokémon Home has generated an estimated $1.8 million so far, care of the various subscription services offered by Nintendo.
Currently, Pokémon Home is directly compatible with Pokémon Swordand Shield, Pokémon Let's Go Pikachu and Evee, and the Pokémon Bank. By making Pokémon Home work with Pokémon Bank, users can collect creatures from as far back as the Game Boy Advance era into one place. In the future, Nintendo plans to add direct integration with Pokémon Go, the wildly successful AR mobile game.
When asked if Pokémon Home might further bolster revenue for Pokémon Go, Williams expressed skepticism.
"Since Pokémon Go offers one-off in-app purchases for additional Pokémon storage at the equivalent of $2 per 50 slots, we don't foresee Pokémon Home's subscription options holding much appeal for casual PGO players," she explained. "It's likely to be a bigger draw for the more hardcore players who play multiple Pokémon titles. The number of those players is likely to be just a fraction of Pokémon Go's player base, however, so we shouldn't expect to see a huge revenue bump once Pokémon Home is integrated with Pokémon Go."
Still, the novelty of Pokémon Home is undeniable, and illustrates impressive potential for developers and publishers to foster an all-encompassing ecosystem for their games.
"It's a compelling idea, and if it takes off we could see it having influence on other online-based games, particularly those with inventory systems such as MMORPGs," Williams said. "This is something that could potentially influence the gaming landscape in a notable way. If this pays off for The Pokémon Company, I don't think it's unlikely that other publishers of online games and cross-platform properties may begin to consider a similar model to help players bridge their experiences across multiple titles."
The Pokémon Home app is launching to the largest audience the Pokémon franchise has seen in its 24-year history: Pokémon Sword and Shield sold 6 million units in its first week, making it the fastest-selling entry in the series. Last month, Dot Esports reported that the games were on track to overtake Super Smash Bros. Ultimatelifetime sales in Japan. If Pokémon Home is able to leverage an audience of this size, we might see popularity for the franchise skyrocket even further, especially once it becomes compatible with Pokémon Go.