Call of Duty Mobile led the way as the biggest mobile game of October, according to new data from analyst firm Sensor Tower.
The franchise's debut onto mobile screens saw it top Sensor Tower's charts for most downloads overall along with most downloads on iOS and Android, respectively. The firm said the game was downloaded around 148 million times in its debut month. The US led the way in terms of total downloads per country with 16%, followed by India's 11%.
Additionally, Sensor Tower pointed out that the game more than quadrupled Fortnite's launch month downloads of 35 million and doubled its $27.1 million in gross revenue (keeping in mind that the figures only represent iOS since Fortnite is not available on Google Play and third-party storefront numbers are not included in the firm's estimates). Call of Duty: Mobile also more than doubled the nearly 60.7 million downloads that PUBG Mobile saw during the first month following its launch.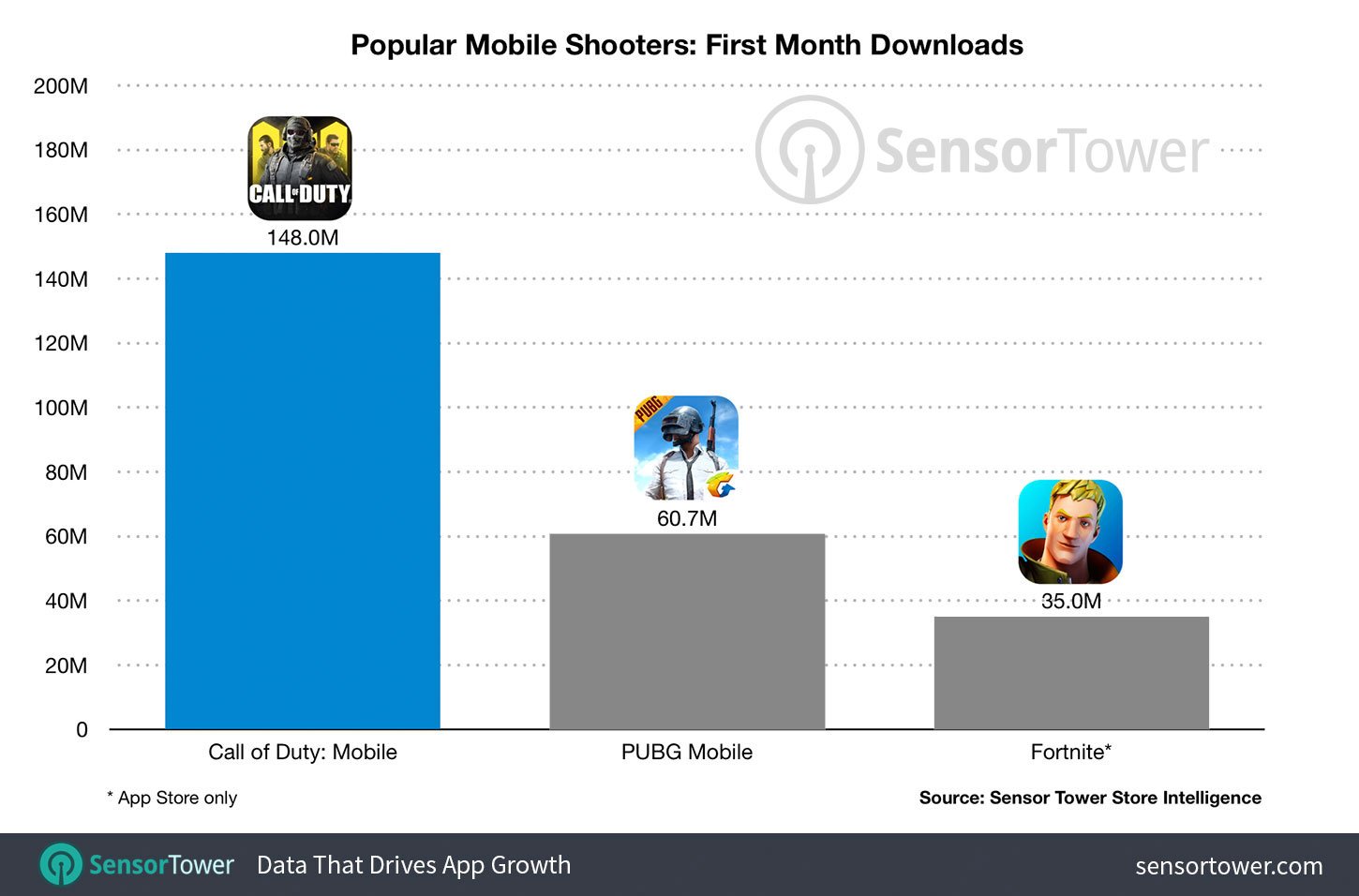 Figures like this for CoD Mobile will no doubt embolden Activision's management regarding the franchise's long-term success. The company confirmed last week the game had reached 100 million downloads from its launch, while this year's marquee game Modern Warfare from Infinity Ward has been outselling Black Ops 4. Apart from its King division (which relies heavily on Candy Crush) Activision Blizzard hasn't successfully leveraged many of its IPs in mobile. That could be changing now.
"As we introduce mobile and free-to-play games based on our franchises we believe we can increase audience size, engagement and monetization across our wholly owned franchises," Activision Blizzard boss Bobby Kotick said during the earnings announcement. "With a strong content pipeline and momentum in mobile, esports and advertising, we are confident we will remain a leader in connecting and engaging the world through epic entertainment."
Coming in behind CoD, according to Sensor Tower, was Nintendo's Mario Kart Tour, charting second in both the overall and iOS download charts, but third in the Android chart. The game saw roughly 40.3 million downloads last month, with the U.S. leading the way for downloads per country at 19%, well ahead of second-placed Brazil at 8%.
The game saw 20 million downloads in its first day and was followed by 90 million downloads within its first week, according to previous data released by Sensor Tower.
Three other games besides Call of Duty Mobile entered the charts last month too. Icing on the Cake entered the overall and iOS charts at seventh and third, respectively (though didn't chart in the Android charts) with 18.3 million unique downloads. Homescapes placed ninth, tenth and eighth, respectively, across all three charts with 15.4 million downloads. And My Talking Tom entered the overall chart at tenth, although slipped to tenth in the Android chart, with 12.4 million downloads. For the overall chart, Sand Balls and PUBG Mobile rounded out the top five, while Rescue Cat and I Peel Good rounded out the iOS chart, and Garnea Free Fire and PUBG Mobile rounded out the Android chart.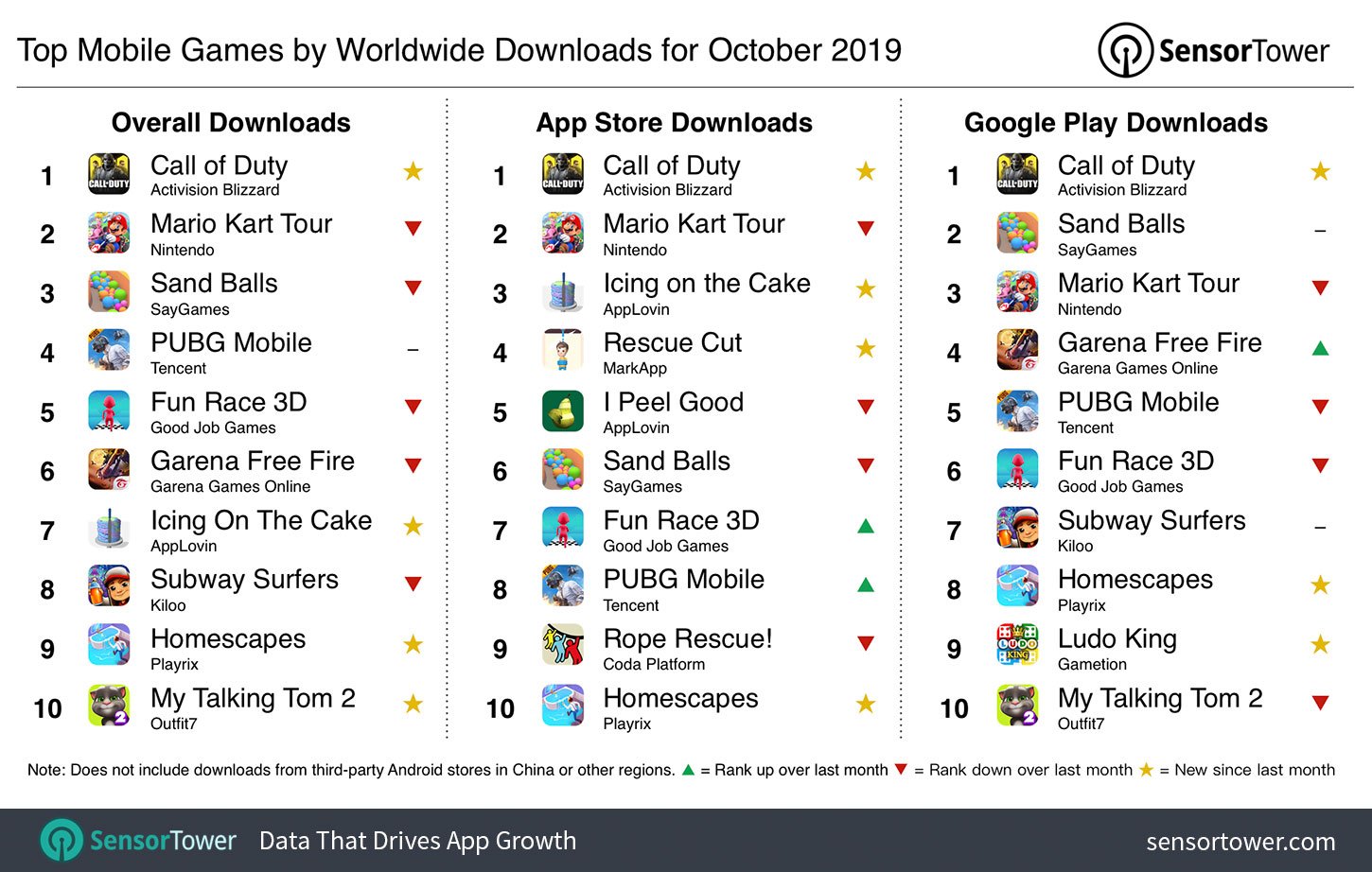 But the month belongs to Call of Duty Mobile and the monster success its had since launch. Activision will continue to feel more and more confident in what the game has done to date. And with plenty of content still to come for players, this one may have legs.
"Will Call of Duty: Mobile's success continue? Now that the shooter's drawn in an audience of millions, Activision will likely spend the next few months fine-tuning its monetization model like Tencent did for PUBG Mobile. We've seen just how successful that has proven, with PUBG Mobile recently hitting $1 billion in revenue, so this is likely just the beginning of an impressive journey for Call of Duty," commented Katie Williams, Mobile Insights Strategist at Sensor Tower.