The Call of Duty franchise made its debut on mobile platforms in October, and its first two months on the market have been very lucrative. According to a new report from mobile analyst group Sensor Tower, Call of Duty: Mobile generated nearly $87 million in player spending globally throughout October and November and snagged a cool 172 million total downloads.
It's important to note, however, that 100 million of these downloads occurred in the game's first week, marking a significant drop in the ensuing month and three weeks. In addition, Call of Duty: Mobile grossed $55 million in October, compared to around $31 million in November. According to Katie Williams, mobile insights specialist at SensorTower, this trend is unusual.
"We do see downloads drop with most games as hype dies down after release," Williams told GameDaily. "In terms of revenue, though, Call of Duty: Mobile's drop is unusual when compared to its competitors PUBG Mobile and Fortnite, both of which saw rises in revenue during their first two months."
In terms of geographical popularity, the United States led the way with 28.5 million downloads and over $36 million in spending during the two-month period. India and Brazil followed with 17.5 and 12 million installs respectively, while Japan and Great Britain brought in $11 million and $2.6 million in revenue.
"In the US, which is the leading territory for CoD: Mobile both in terms of downloads and player spend, it's a pretty safe bet that it will stay in the top 25 grossing titles for the next month or two," Williams predicted. "Looking globally, however, it has a lot to compete with. In the week beginning November 25, CoD: Mobile came in No. 16 for revenue across both the App Store and Google Play, grossing $11.2 million. That's only 35% of what was grossed by the No. 1 title, PUBG Mobile, which grossed $31.8 million worldwide. That's because so much is spent on mobile gaming in China; that's the market app publishers need to break into to stay in the global charts."
Published by Activision, Call of Duty: Mobile is developed in part by Chinese tech behemoth Tencent. With significant holdings in over 300 assorted companies worldwide, the media juggernaut has helped to mold the mobile sector into one of the most profitable entertainment markets on the planet. In September, games analyst group Newzoo predicted that the mobile games market would hit nearly $70 billion in 2019, thanks in large part to the enormous market saturation of mobile devices; it's estimated that half of the world's population owns some kind of smartphone.
Tencent has managed to tap into this rich vein in a big way. The company's mobile games portfolio boasts some of the most popular titles in the world, including PUBG Mobile, Honor of Kings, and Arena of Valor. It also recently took majority control over Supercell, adding to its stable more high-performance games like Clash Royale, Clash of Clans, and Brawl Stars, the latter of which brought in $150 million in revenue in its first three months.
Tencent strikes an imposing presence beyond the mobile market as well: it owns a large stake in Fortnite developer and publisher Epic Games, 80% of Path of Exile developer Grinding Gear Games,as well as the entirety of League of Legends dev Riot Games. It also holds minor stakes in Ubisoft, Activision Blizzard, Paradox Interactive, Funcom, and several more.
Tencent's deal with Supercell came during of significant trepidation on the part of the Chinese government, which has managed to negatively affect profits.
"Tencent's gaming revenue is still down following the upheaval around the Chinese government's approval process, and Supercell's revenue fell 21% year-over-year in 2018," Joost van Dreunen, managing director at SuperData, told GameDaily in October. "Supercell's 2018 release of Brawl Stars is doing well and is expected to pull numbers back up. It also announced the beta release of Rush Wars in selected markets. If I had to take a guess, I'd say that Tencent is observing greater uncertainty in the mobile games market and it is nailing down those parts of its business that work well to reduce its overall risk profile. No shame in fixing your roof while the sun is still out."
Also worth reporting is the fact that Call of Duty: Mobile did not figure all that heavily into Black Friday consumer spending. According to another Sensor Tower report from Thursday, Kabam's Marvel Contest of Champions led the way with around $2.7 million in revenue, followed by Candy Crush Saga, Coin Master, Roblox, and Clash of Clans. In all, mobile spending increased by 25% over Black Friday 2018, and hit an estimated $69.7 million, a record for the day. However, Call of Duty: Mobile did not place in the top 10 in terms of revenue generated.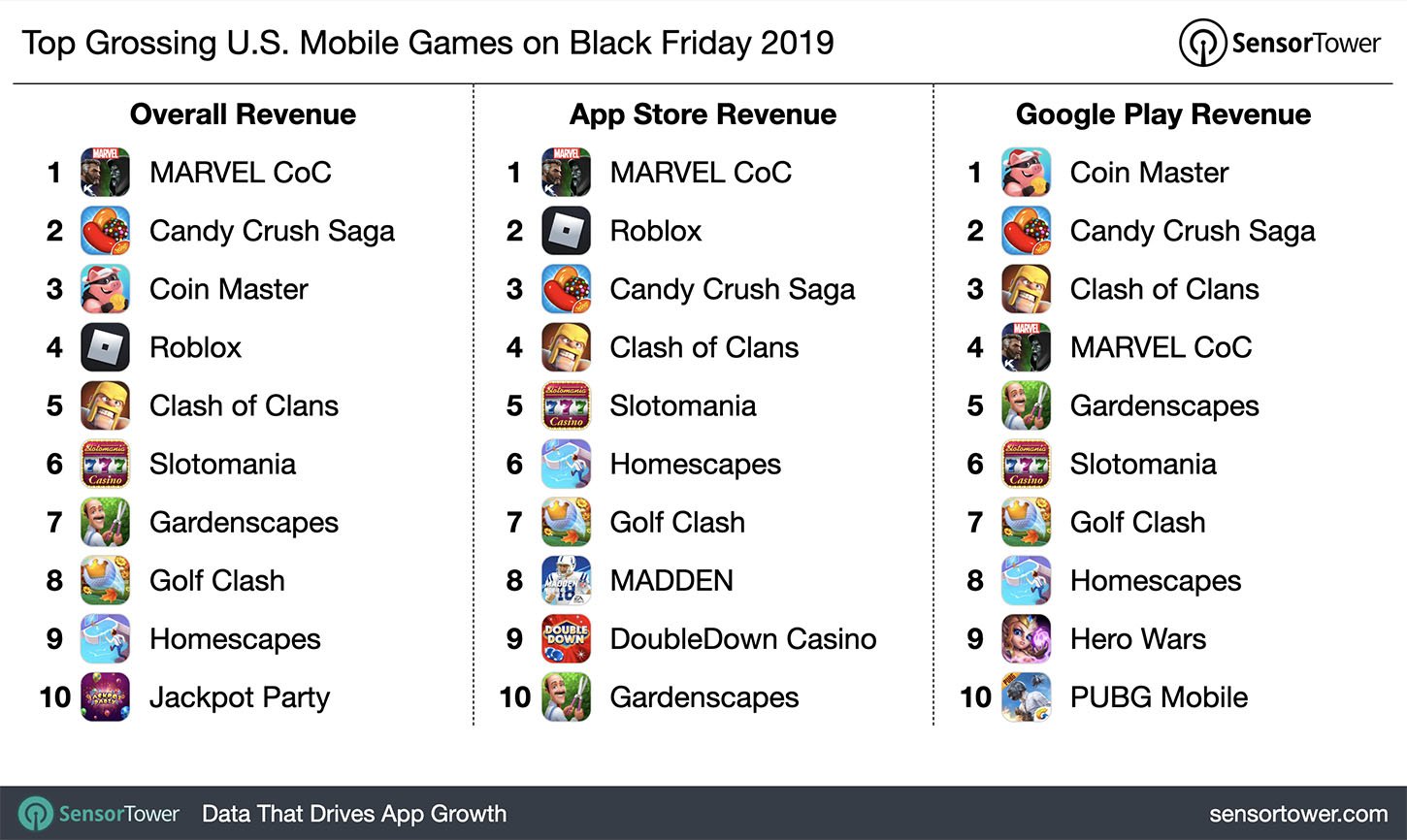 The impressive early performance of Call of Duty: Mobile may be another feather in Tencent's cap, but the significant drop off of downloads and revenue beyond the first week is certainly something to keep an eye on. Year after year, Call of Duty lands on best-seller lists across the console and PC platforms, so it will be interesting to see if it can replicate that success in the mobile market.
(Updated 12/5/2019 with additional comments)